Maranello Kart and Del Vecchio Win the Italian Cup in KZ2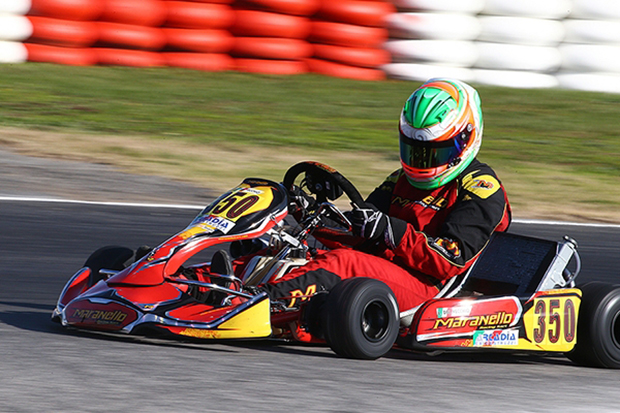 Maranello Kart confirmed its role as protagonist and scored a great result at the Italian Cup held at the International Circuit of Viterbo. Luigi Del Vecchio claimed in fact an excellent victory in KZ2, while other drivers have been taking good results in the other classes
The ACI Karting Italian Cup 2017 held in Viterbo has been a good race with 160 drivers at the start and a good presence in all the national categories.
Luigi del Vecchio has been among the quickest of KZ2 on Maranello-TM run by Team Oracle. He has been a great interpreter of the race in Viterbo and put in a crescendo of results after an unlucky qualifying. Del Vecchio quickly recovered several positions in the heats climbing up to P3 in Prefinal, before sliding in among the front runners in the Final. Del Vecchio has been among the absolute fastest of the closing race that awarded the Italian KZ2 Cup and installed himself on top of the classification leading Alesandro Buran, who crossed the finish line as first, but was later on penalized due to the dropped front spoiler. Del Vecchio secured in this way the Italian Cup ending season 2017 in the best possible way.
Among the quickest drivers on Maranello Kart, Matteo Luvisi completed a good race in 60 Mini taking P8 in the Final. Francesco Temperini and Mattia Giannini have been among the protagonists of KZ3 Junior but had to concede, respectively, the third and fourth place due to a 10s time penalty. Maranello Kart had quite a good presence in KZ3 Under: Stefano Bonanno closed his effort with a great second place, Francesca Cifola was fifth after a good comeback race, Maria Laura Di Muzio was also very quick and lost P2 due to a 10s penalty that relegated her to the final 10th place. Francesco Alaimo was seventh and Alberto Veneruso ninth, while Alessandro Cetraro, Irnerio Cittadini and Marco Cardinaletti did not finish, as Stefano Palmeri who had an incident at the start. Claudio Ambrogi was eleventh in KZ3 Over, while Maurizio Giberti was fifth in KZ4.
Please follow and like us: