Only Street Kart Race in Southeast Preparing for Biggest Year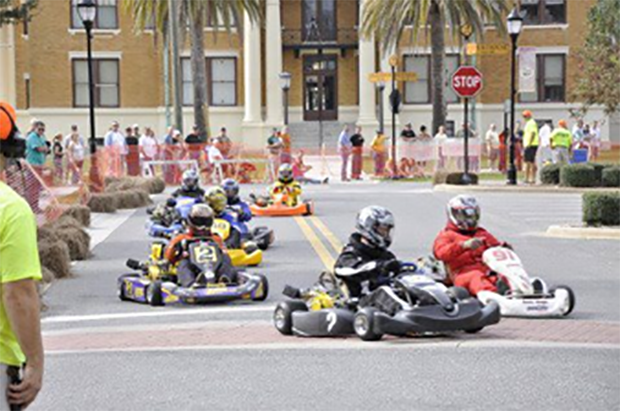 The City of Inverness announce plans for the seventh installment of the only kart street race in the southeastern United States. This year, the City welcomes "Big Daddy" Don Garlits considered the father of drag racing, to attend the event on Saturday, November 17 at 12 p.m.
[*]Race organizers announce the 2017 kart classes:
Kid Karts AKC & LTO
Kid Kart Comer TAG
LTO Karts Jr/Sr
LO206 Jr/Sr/Clone AKRA Specs with local option.
AKC Modified/Heavy AKC Specs.
Tags Jr/Sr/Heavy GSKA specs. with local option.
Yamaha-Animal Challenge
Champ Karts Jr/Sr. Florida Oval Asphalt Series Regs. Akra Engine Specs with Local Option
Race spectators should arrive before 9:00 a.m. on Saturday, November 18, 2017 for the best view of the action, and organizers recommend that spectators bring chairs. This challenging street track is a 3/8-mile course with five turns, and a 680-foot back stretch where karts have been clocked at 72 miles per hours. Awards will take place during the race, and veteran sports radio personality, Tony Modica, will return as race announcer.
The festival kicks off with a free downtown concert on Friday, Nov. 17, 2017 starting at 5 p.m. with vendors and food trucks.  At 7 p.m. the Bobby Friss Band will play live on the Old Courthouse grounds. Friss appeared on the David Letterman Show in the 1980s, and has built a strong following in Florida from annual appearances at Daytona Beach's Bike Week and Biketoberfest. Friss will take the stage a 7 p.m. for a three-hour show. While the concert is underway, event volunteers will transform the streets of downtown into a race track.
Event name:                 Inverness Grand Prix & Motorsports Festival
Concert Date:               Friday, November 17, 2017, starts at 5 p.m.
Race Date:                    Saturday, November 18, 2017, starts at 9 a.m.
Location:                      1 Courthouse Square, Inverness, Florida
Cost:                            Free admission for spectators
Phone:                          352-341-7820
Website:                       InvernessGrandPrix.com