First Round on Wet Asphalt at the WSK Final Cup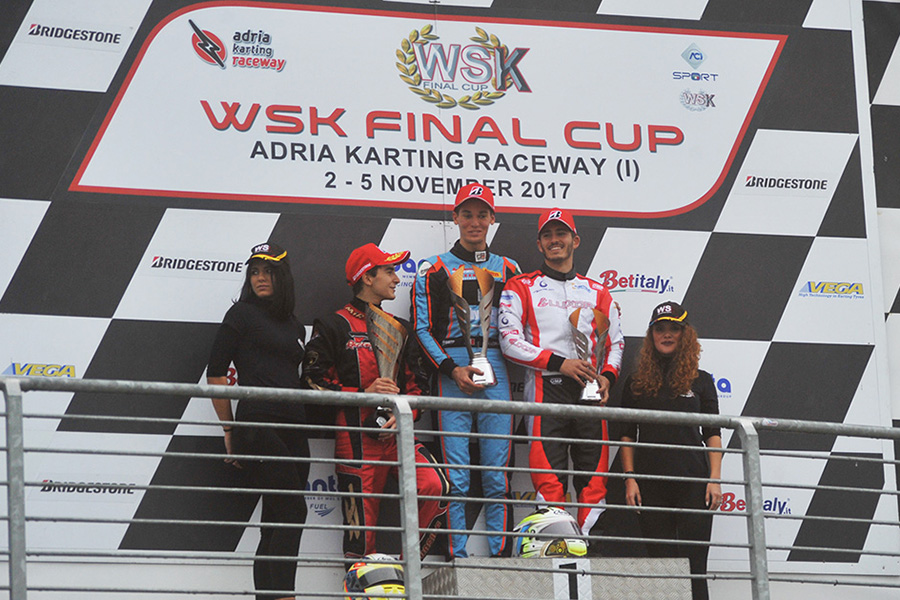 It was a heated race, today at the Adria Karting Raceway for the first round of the WSK Final Cup. The rain which fell before the beginning of the Finals turned the situation round and what we saw in the Prefinals was not confirmed in the decisive races. The names of the final winners will be decided next weekend, at the end of the second round hosted, again, by the circuit in Adria (I).
Travisanutto flies on the wet track in OK
After the end of the two Prefinals, won by the Polish Karol Basz (Kosmic-Vortex-Bridgestone) and the Danish Nicklas Nielsen (Tony Kart-Vortex), these two drivers became the favourites. But the Italian Lorenzo Travisanutto (Zanardi-Parilla) managed to gain an early lead, and after a while there was too wide a gap between him and his pursuers. Nielsen was the runner-up, while the Spanish David Vidales (Tony Kart-Vortex) placed third. In the standings, these drivers are in the first three positions with 80, 68 and 47 points respectively.
Gustafsson is the surprising winner of the OKJ
The winners of the OKJ Prefinals, the British drivers Dexter Patterson and Jonny Edgar (both on Exprit-TM-Vega), dropped back after the start of the Final, clearing the way for the Russian Alexey Brizhan, who led it until the race was halfway through. However, the Swedish Viktor Gustafsson (both on Tony -Vortex), who started from the 6th row, managed to take over the leadership and to win ahead of the Italian Luigi Coluccio, who recoverd 19 positions. Brizhan had to settle for the third place. The OKJ leader is Gustasson with 56 points; behind him Edgar (53) and Brizhan (43).
Lorandi wins again in KZ2
Alessio Lorandi (Tony Kart-TM-Bridgestone) was superb on wet asphalt too. The young driver – who took a break from the GP3 Series – won the KZ2 Prefinal and cruised towards victory rather effortlessly in the Final. Behind him, the Rumanian Daniel Vasile (DR-Modena), who managed to fend off the attacks of the Italian Francesco Iacovacci (Luxor-LKE). Lorandi leads the standings with 90 points, ahead of Iacovacci (49) and Vasile (37).
Bedrin succeeds in the 60 Mini
The Russian Nikita Bedrin (Tony Kart-TM-Vega) and the Norwegian Martinius Stenshorne (Parolin-TM) won the the Prefinals. The Final was won by Bedrin at the end of a duel against the Italian Alfio Spina (CRG-TM). Ruslan Fomin (Tony Kart-TM) placed second, followed by Francesco Pulito (IP-TM). Bedrin is the leader with 83 points, ahead of Stenshorne (55) and Fomin (41).