First Indications for CRG at the WSK Final Cup in Adria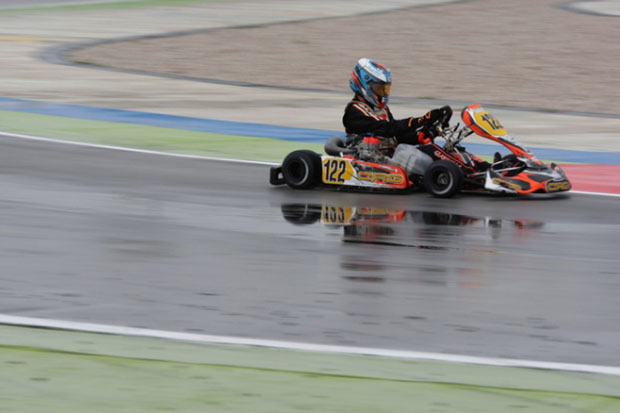 CRG Racing Team had the chance to test some technical solutions ahead of the next season in the first round of the WSK Final Cup held in Adria. Rain and some tough luck prevented CRG drivers to get on the podium. Final round on November 12th.
The Adria Karting Raceway has staged the first of the two rounds of the WSK Final Cup 2017. The next round is scheduled for the weekend of November 10-12.
CRG Racing Team has planned its participation in the WSK Final Cup in Adria with a two-fold purpose: testing some technical solutions ahead of next season and allowing some young drivers to get acquainted with the team eying 2018.
From the technical side, this has been an important weekend that allowed the team to collect a lot of data on chassis and other elements and will continue this work next weekend in the closing round. Regarding drivers, Andrea Rosso got back on track 7 days after his debut in OK, while Leonardo Bertini Colla continued his apprenticeship in OK Junior with an intense racing weekend.  Nikhil Bohra also made his debut in OK Junior.
Bad weather and rain created some problems to CRG drivers on Sunday after the good results obtained in qualifying.
The young Alfio Spina of team CRG Gamoto spun at the last corner, when was about to celebrate a deserved victory after the pole position and at the end of a good recovery in the Final. Spina was fifth leading team mate Marcos Flack from Australia.
Alessandro Giardelli claimed a great fourth in KZ2. He has always been among the best drivers, as the Brazilian Gaetano Di Mauro and Filippo Berto. Both drivers displayed a great speed but were handed a 10s time penalty in the Final due to the front fairing dropped after a contact. They respectively closed the race in 11th and 14th place. Emilien Denner had to retire on Kalì-Kart-Tm instead.
In OK, Andrea Rosso was eighth on CRG-Parilla after the fifth place in qualifying, while Vittorio Mangili was forced to an early retirement. In OK-Junior, the best of CRG drivers was the German Hugo Sasse of CRG TB Racing Team, who was fifth in the Final. The Spanish driver Javier Sagrera was 15th, Leonardo Bertini Colla 20th proceeding the OK-Junior rookie Nikhil Bohra. The Russian Artem Kosarev of CRG Keijzer was 25th. Gabriel Bortoleto and Mathias Torreggiani had to retire from the Prefinal.
The next round will take place on November 10-12 in Adria. Qualifying will is scheduled for Friday November 10th, heats will follow on Saturday 11th while Prefinals and Finals will close the event on Sunday November 12th.