Hold Shining Among Maranello Drivers at the Trofeo Delle Industrie in Lonato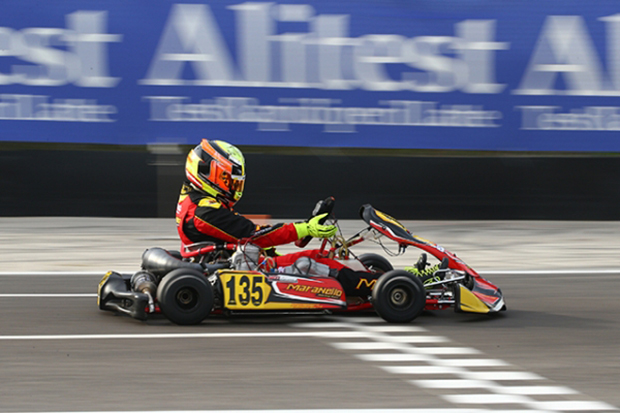 Hold and Maranello Kart ended the 46th Trofeo delle Industrie within the top ten. Sani, Cavalieri and Pastacaldi recovered after a troubled qualifying. Zanchetta forced to an early retirement in the final stages.
Maranello Kart drivers put in good performances at the 46th Trofeo delle Industrie hald at  South Garda Karting, even though several unlucky episodes prevented them to hit the big target, with the only exception of Christoph Hold who closed within the top ten.
It has been a particularly hard-fought edition the one held in Lonato with the organization of Parma Motorsport, that has seen a total of 248 drivers on track. The level has been high and this important international event has scored a participation record for the last 20 years.
A great result in KZ2 was scored by the Austrian driver Christoph Hold on Maranello-Tm. He was eighth absolute in the Final, after a good comeback started from heats and Prefinal. Flavio Sani's performance has also been a crescendo up to the 14th final place, following a difficult start and the retirement from the Prefinal, which forced him to start the Final from the back. Albero Cavalieri also completed a good recoup from the second chance race up to the final 17th place. Marco Pastacaldi had to run the second chance race too, due to an incident in one heat, but then he managed to qualify for the final stages and closed his effort in 21st position.
Among the most awaited protagonists, Italian reigning champion Marco Zanchetta was unfortunately forced to an early retirement in Prefinal due to a problem to the carburetor. His final had a similar epilogue after he was hit from behind on lap one. That was a real shame as qualifying and two good results in the heats had placed Zanchetta among the main protagonists.
Maranello Kart did not have much of luck in 60 Mini either. The Austrian drivers William Hofer and Lukas Zbul could not qualify for the second chance race, as happened to Lukas Hofer in OK-Junior.