One-on-One: Cambrian Go-Karts' Nic Le Duc
Streets of Lancaster Grand Prix winner talks about the victory and the upcoming SuperNationals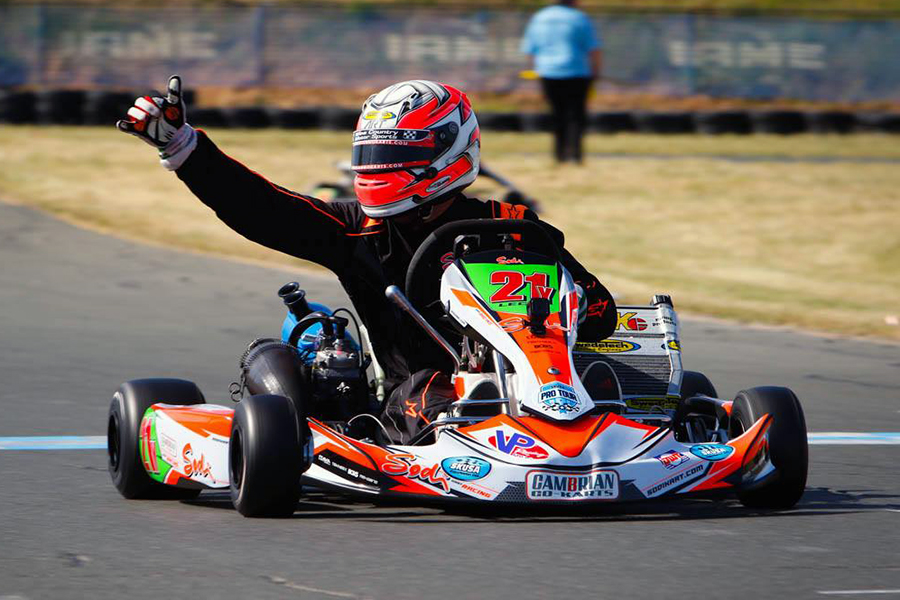 Cambrian Go-Karts' Nic Le Duc winning the SKUSA SpringNationals at Sonoma in May (Photo: On Track Promotions - otp.ca)
We're just over a month down the road from yet another exciting SKUSA Streets of Lancaster Grand Prix, and with the Superkarts! USA SuperNationals countdown underway, here's a cool 'Throwback Thursday' interview that works as both a report and a preview, as we expect to see this driver in the fight for a win in Vegas come SuperSunday. Cambrian Go-Karts's Nic Le Duc was a threat for the Lancaster race win all weekend, and when he came through to score the victory over Billy Musgrave, it was a crucial follow-up to his popular win in May at the SKUSA SpringNationals in Sonoma.  Social Media Manager Nichola White from Brand Spanking Nuu Racing in California caught up with Nic to talk about the win and the sport of karting ahead of the biggest race of the year in Las Vegas.
Nichola White: Nic, firstly, congratulations, and second, talk us through a few of the key moments from the weekend that led to that stunning victory in the SKUSA Streets of Lancaster Grand Prix?
Nic Le Duc: Lancaster is a great event. The fact that the town's people come out to support us is what makes it a stand out in the calendar, in my mind. The street race aspect is thrilling and then you add in the night atmosphere and it produces the most exciting racing environment. SKUSA has done a great job year after year in ensuring that it is a safe, and epic event. That, then, allows the driver to lay it down and have fun. I would love, love to see more street races around the country. Maybe a separate series for just the A and B licensed SKUSA drivers that travel to towns or small cities around the country to run some hyped up street races. That would be awesome to see!
NW: You have had a successful season this year, firstly at the SKUSA Pro Tour SpringNationals race in Sonoma and now at Lancaster. Why has 2017 been so great for you?
NL: Yes, it has been a good year so far. I've kept my head down and I've worked hard to find the speed it takes to win a national race. It's about the details, both driver and machine. I've worked to keep my confidence up after some tough runs and a lot of podium finishes. When you find something that works well for you on track, it allows your confidence to climb and that's what ultimately wins races. I don't enter every race, as my other hat is driver coaching with Infinity, the sister company of Cambrian, but this year I have tried to race at the more showcased events and so far, I am pleased with how the year has gone.
NW: Who, in your mind, is the person to beat in S1 racing at the moment?
NL: There are a lot of drivers capable of winning with the right tools beneath them. It would be great to see more S1 drivers on the grid. The up-and-coming S2 drivers will help increase the class, but sadly there are many great shifter drivers that have hung up their helmets. Maybe they feel they are too old or out of shape? With that being said, you can't deny that Jake French is the guy with the most consistent winning pace right now. His drives are stellar and he and his father Mark make a great team.
NW: We know you are part of the Cambrian Go-Karts family. What do you think separates Cambrian from other teams in karting?
NL: Cambrian Go Karts is grassroots and is run by two of the greatest guys I know. Donald Durbin Sr. and Jr. have helped me immensely and I would not have made it this far without them. The team offers a loving and supportive family vibe and will help you achieve any goal you have from the start to finish. Cambrian puts their sole emphasis on the driver and we offer anything and everything in the sport, whether you are a seasoned professional or just starting out. It's easy for a race team to turn into solely a business because sure, that's what it is. But the passion that Cambrian Go Karts has and offers is what separates the team from the majority of the paddock.
NW: What age were you when you started karting and what was your inspiration for getting into the sport?
NL: I was 11 years old and there was no question that I wanted to race. No inspiration, no obligation, nothing but pure love for the machines and for driving and separating myself from the rest. The relationship between man and machine, when you are inside that helmet and it is time to race, there is no better feeling. The driving alone is enough and everything else that comes with it is extra. The atmosphere, the competition and the metal! If you can succeed in this sport… your mind and body is far well suited for any challenges life may throw at you. The ones that are in this sport for love will all return to the same universe in the end. I was meant for it and I love it every day.
NW: What do you think makes karting different from other sports out there?
NL: So much! Too much to say it all here. Maybe it's because when the helmet is on, it's you and nobody else. Sure, it's a team effort, so you get the best of both worlds. When you leave the grid for a race, the feeling is out of this world and then you immerse yourself into battle. It's just different and you can't explain to people who have never raced. That's OK with me, because I feel no need to try and convince others what it's all about. The ones who know are enough. That's part of what makes the sport what it is. I also believe it's one of the most instant examples of manifest destiny. As you sit in your trailer for the second heat, you have a chance to create greatness and to shine above the rest. If you fail, you get to try again very soon. It's an instant manifestation of what you have created within yourself.
NW: Do you have any tips for people wanting to start out in karting?
NL: You need to have more than just a 'passing interest' in the sport. A passing interest won't get you far. For the ones who are serious, I would say find a network of people involved in the sport and/or a local shop/team and get involved with them. Go to a couple races and learn what it's all about. Be patient in the beginning with the process of everything, as it's a lot of work to simply go and drive for a day, both mentally and physically. If you are not mechanically inclined, then I would highly recommend some kind of trackside support that a lot of shops/teams can provide. Set a goal and don't give up!
NW: Thank you, Nic! Will we see you at the SuperNationals in Vegas to make it a third national win on the year?
NL: Yes, I will be there! And hopefully so!
Please follow and like us: