Manitoba Karting Association Honors Drivers and Sponsors at Year End Banquet 2017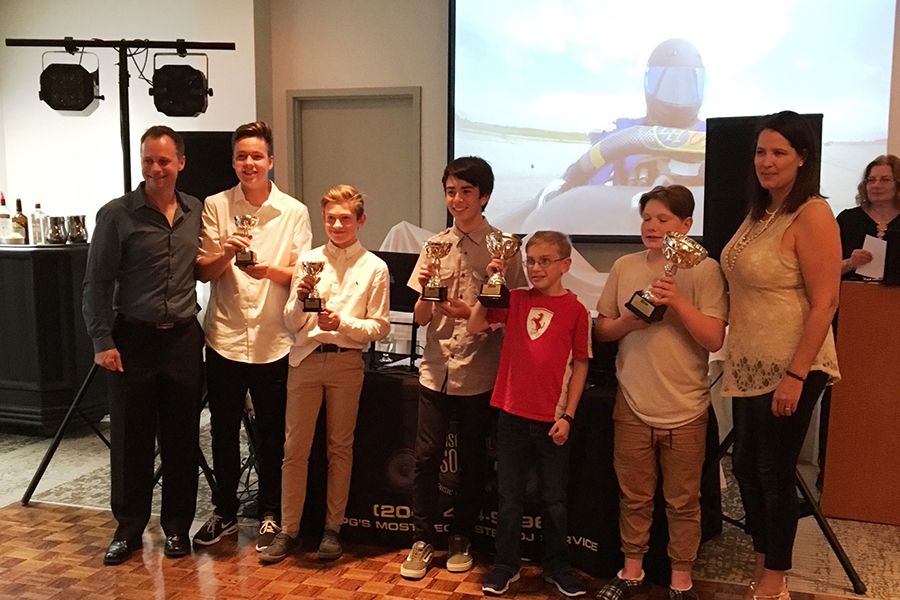 The Clarion Hotel in Winnipeg, Manitoba was the site of the Manitoba Karting Associations 2017 Awards Banquet. Friends and families showed up to celebrate our champions, special award winners and sponsors. In addition to great food, there were lots of silent auction prizes to be won.
Richard Fulham gave the address thanking the volunteers and MKA's generous sponsors. Highlights of the Manitoba Karting Association's 2017 season was the Annual Pink Ladies Race which raises money for CancerCare Manitoba, the Outlaw Race a fun race where we don't scale or tech the karts, and the Prairie Championship with the return of the Shifter Karts to Gimli Motorsport Park thanks to K&K West from Alberta.
Owen Boonstra was awarded the Junior 1 Briggs title. The Junior 2 Briggs championship went to Logan McDonald. The Senior Briggs top honor went to John Buzza. The Rotax Micro Max crown was given to Josh Gill. The Rotax Mini Max title was awarded to Nicole Schellekens. Curtis Veselinovich took home the Junior Rotax title. The Rotax DD2 championship went to Alexis Budel and Ken Madison won the DD2 Masters class.
The Junior Rookie of the Year award winner was Matthew Greskiw and the Senior Rookie of the Year was Reese Precourt.
Junior Sportsman was Nicole Schellekens and Senior Sportsman was Terry Bamford.
Alexis Budel was named the MKA Driver of the Year.
For more information, please visit http://www.manitobakarting.ca/