Race Report: GoPro Motorplex Karting Challenge – Round 11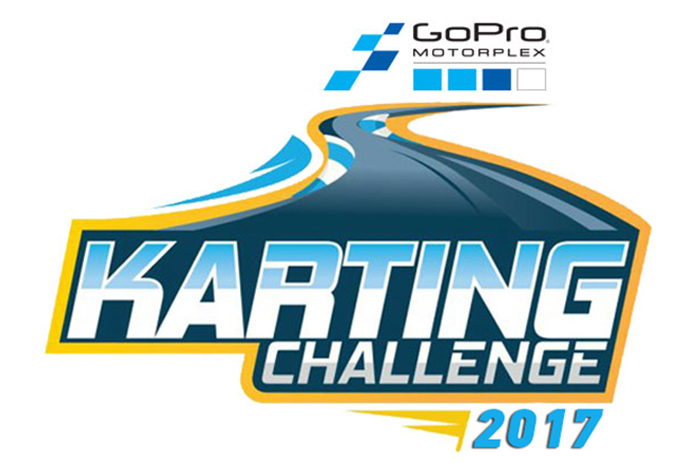 The chase for a championship was on among the 122 competitors entered across 10 divisions in Saturday's Round 11 of the 12-Round GoPro Motorplex Karting Challenge series. With just two rounds left to secure their chances to etch their names in the 2017 season history books, battles were fiercer than ever as each position could solidify or crush championship hopes and dreams.
Congrats to all Round 11 winners: Sebastian NG (Briggs LO206 Cadet), Winston Workman (Briggs LO206 Junior), Alex Keadle (Briggs LO206 Senior), Talan Drake (IAME KA100 Junior), Blake Hunt (IAME KA100 Senior), Caleb Gafrarar (IAME Mini Swift), Brent Crews (IAME Swift), Tyler Maxson (IAME Junior), Ashley Rogero (IAME Senior), Luke Stroud (IAME Heavy).
IAME Swift Division:
In the IAME Swift Division, to no surprise it was Brent Crews and Connor Zilisch out front of the pack of 17 drivers. The two quickly broke away from the field to create what appeared to be a two-kart race for the win. With two laps to go, Crews continued to dominate even with Zilisch locked to his bumper. However, on the final lap, Zilisch made his move to overtake Crews in Turn Four. His move may have been too soon as Crews returned the favor with a pass in Turn Nine. Crews scored the victory, followed by Zilisch and Eli Trull.
IAME Heavy Division Sponsored by Stitch 98:
In the IAME Heavy Division 14-lap final, Luke Stroud set the pace from the top of the field. Todd Shambo and Logan Cozzie followed suit running a close second and third behind Stroud. By halfway, it was Stroud's race to win with over a second lead on Cozzie. Stroud strolled away with the victory, followed by Shambo and Cozzie.
IAME Junior Division:
In the IAME Junior Division 14-lap final, a breakaway race among the top-three of Tyler Maxson, Caleb Bacon and Luca Mars quickly developed, leaving the rest of the field behind. Caleb Bacon had the lead in his control until the last five laps. Maxson used a strong run off the frontstretch into Turn One to complete the pass for the lead on Bacon. Maxson ran unchallenged for the final laps to score the win, followed by Bacon and Mars.
Briggs LO206 Senior Division:
In the Briggs LO206 Senior division's 13-lap final, Alex Keadle and Dan Koehler seamlessly broke away from the field in just five short laps. By halfway, Keadle was trying his best to leave Koehler behind by running the fastest laps of the race. However, Koehler remained just two kart-lengths back, eager to close on any mistake Keadle would make. Keadle was able to log flawless final laps to score the win, followed by Koehler and Justin Vancil.
IAME Senior Division Sponsored by CNC Performance Engineering:
In the IAME Senior 17-lap final, Blake Hunt wasted no time finding his way to the top spot. However, Hunt was outnumbered with the Dow brothers, Chase and Dalton, locked to his bumper. By lap five, Chase Dow had made his move around Hunt for the lead, but the two drivers made contact in Turn Four, taking them both out of contention. This gave a clear path to victory for Ashley Rogero who slipped into the lead. Rogero easily earned the win, followed by Dalton Dow in second and Keith Lee Holbrook in third. However, Rogero was disqualified following post-race tech inspection, altering the top-three to Dow, Holbrook and Hunt.
IAME KA100 Junior Division:
In the KA100 Junior Division 13-lap final, the top-three of Taylor Stanford, Westin Workman and Talan Drake were all in a hunt for the victory, running nose-to-tail. At halfway, Drake made his move past Stanford for the lead down the frontstretch. Drake held on for the final laps to earn the victory, followed by Stanford in second and Workman in third.
IAME KA100 Senior Division:
In the KA100 Senior Division, another great battle on the day was created between Blake Hunt, Ashley Rogero and Emory Lyda. Hunt and Rogero swapped for the lead during the opening laps with Lyda waiting patiently in the catbird seat just a kart-length back in third. Rogero led at halfway, but with two laps to go, Hunt overtook Rogero in Turn Four to try his hand at leading the final lap. Rogero challenged, but Hunt pulled off an impressive over-under move in the final turn to score the win. Lyda also won-out in a drag race to the line to score second and Rogero settled for third.
IAME Mini Swift Division:
In the IAME Mini Swift 11-lap final, Danny Dyszelski and Sofia D'Arrigo wasted no time swapping for the lead on the opening lap. Their close battle allowed Caleb Gafrarar and Adam Brickley to close into contention as well, making it a four-kart race for the win. After mechanical issues forced Gafrarar to DNF in the pre-final, he was a man on a mission in the final. By halfway, Gafrarar had captured the lead with D'Arrigo on his bumper. Gafrarar scored a comeback win, followed by D'Arrigo in second and Dyszelski in third.
Briggs LO206 Junior Division:
In the Briggs LO206 Junior division, Winston Workman completed his perfect day with a win over Will Cox in the final. Workman scored the pole in qualifying and also won the pre-final earlier in the day. It was Workman's first win in the division.
Briggs LO206 Cadet Division Sponsored by Kart Carolina:
In the Briggs LO206 Cadet Division final, a close battle was underway between the top-four of Sebastian NG, Brent Crews, Danny Dyszelski and Bree Miller all running nose-to-tail. By halfway, the top-four continued to draft together with Crews on the point. With two laps to go, no one was eager to pop out of line to make a move for the lead quite yet. Crews ran a defensive line throughout the final lap, holding off all three of his closest competitors until the last straight away. NG got a strong run exiting Turn 11 to overtake Crews and score the win in a drag race to the line. NG notched the win by just 0.009 seconds over Crews in second. Dyszelski rounded out the podium in third.
Round 11 Results, Standings>>(http://www.gopromotorplex.com/race-events/past-race-results/2017-karting-challenge-results/)
GoPro Photo Gallery>>(http://www.gopromotorplex.com/gallery/2017-karting-challenge/)
UP NEXT:
Up next is the series finale Round 12 of the GoPro Motorplex Karting Challenge on Saturday, Dec. 2.
For more information on the Karting Challenge club series, CLICK HERE>> (http://www.gopromotorplex.com/race-events/kart-owner-events/gopro-motorplex-karting-challenge)
2017 Karting Challenge Championship Banquet:
GoPro Motorplex will host their 2017 Championship Banquet celebrating their 2017 Karting Challenge Champions and top-3 in each division during a special ceremony directly following Round 12 on Dec. 2. There will be a reception with refreshments served from 6:30 p.m.-7:00 p.m. and the awards presentation will follow from 7:00 p.m.-8:00 p.m. Tickets are on SALE NOW!
TICKETS: $10/person in advance (by Nov. 26).
From Nov. 27-Dec. 2, tickets increase to $20/person and can only be purchased in-person at GoPro Motorplex. No online sales. Kids 5 and under free.
To purchase your tickets online now, CLICK HERE>>(http://www.gopromotorplex.com/online-store/2017-karting-challenge-banquet-ticket/)