Kohlbecker and Margay Win Inaugural New Castle Motorsports Park 125
Spike goes solo to win Briggs & Stratton 206 endurance event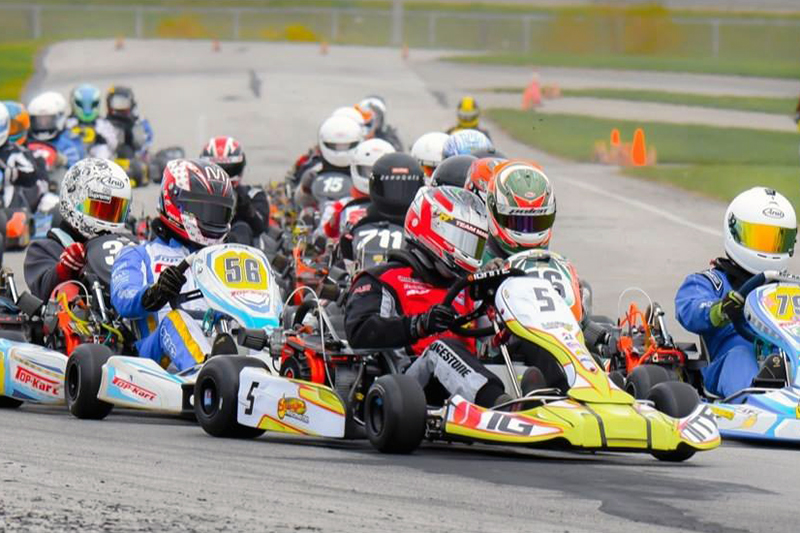 Spike Kohlbecker at the front of the 43-kart field to begin the NCMP 125 endurance event (Photo: Mike Alley)
New Castle Motorsports Park held its inaugural 125-lap endurance event this weekend featuring 43 teams to take on the challenge. Temperatures were on the cold side, with a little bit of snow and high temperatures reaching the low 40s. Teams had to battle the track, the other competitors, the weather and of course the challenge of lasting 125 laps without any mechanical issues. It ended up being a young man's race with 14-year-old Spike Kohlbecker piloting his Margay Ignite K3 chassis to victory.
Kohlbecker ran solo on the weekend with support from the Margay Racing operation. Piloting an Ignite K3 chassis fresh off the assembly line in St. Louis, Kohlbecker fought for the lead early with Top Kart USA 1 (Bill McLaughlin Jr.) and MP16 (Matthew Mockabee / Zach Pretorius) after top qualifier Team Ramrod (Dakota Pesek / Francis Wilson) slipped back – eventually retiring early after a broken chain and bent sprocket. Kohlbecker pitted early with the 2 Liters of gas given to all teams to begin with, stopping on lap 26 after hearing the engine sputter. It dropped him down the order until the rest of the field began pitting, including race leaders MP16. When they stopped on lap 48, Kohlbecker was able to work past them for the lead.
That was the winning move, as the Margay driver led the remainder of the race to become the inaugural NCMP 125 winner. Mockabee / Pretorius – both Junior racers as well, finished 39 seconds back for the runner-up spot as the only two entries on the lead lap. McLaughlin was running third until breaking a chain with eight laps to go, handing third over to the Eagle Kart of Iron Knight Racing (Steve Knight / Cameron Parr). Brothers PJ and Ben Lyde (Sausage & Whiskey Racing) finished fourth with Blake Korth / Mick Gabriel (Nervous Nelly Racing / Eagle) making it three American-made chassis into the top-five.
| | | | | | | | |
| --- | --- | --- | --- | --- | --- | --- | --- |
| Pos. | No. | Team | Driver One | Driver Two | Chassis | Diff | Best Lap |
| 1. | 5 | Spike Kohlbecker Racing | Spike Kohlbecker | | Margay | – | 1:14.610 |
| 2. | 16 | MP16 | Matthew Mockabee | Zach Pretorius | Tony Kart | 39.205 | 1:15.000 |
| 3. | 06K | Iron Knight Racing | Steve Knight | Cameron Parr | Eagle Kart | 1 lap | 1:15.249 |
| 4. | 91 | Sausage & Wiskey Racing | PJ Lyda | Ben Lyda | Merlin | 1 lap | 1:15.249 |
| 5. | 31 | Nervous Nelly Racing | Blake Korth | Mick Gabriel | Eagle Kart | 1 lap | 1:15.250 |
| 6. | 51 | Young Pups Racing | Palmer Eicher | Jay McFall | Track Kart | 2 laps | 1:15.963 |
| 7. | 128 | TBKart Indy 1 | Devon Smith-Harden | Zach Schiff | TBKart | 3 laps | 1:15.810 |
| 8. | 84 | Margay 84 | Avery Schwalm | | Margay | 3 laps | 1:15.888 |
| 9. | 6 | Law Racing | Levi Wilbur | Mathew Gruenholz | Ionic Edge | 3 laps | 1:15.553 |
| 10. | 11 | Team Hangover | John O'Keefe | Johnny O'Keefe | Eagle Kart | 3 laps | 1:15.401 |
| 11. | 711 | SR Racing | Kevin Scott | Ryan Wilson | Eagle Kart | 3 laps | 1:16.238 |
| 12. | 97 | 4 C Ya Later | Brennan Hanville | Matt Dean | Top Kart | 4 laps | 1:14.938 |
| 13. | 28 | Dos Bros Tacos and Racing | Mark Nevill | Dave Creech | Arrow | 4 laps | 1:15.827 |
| 14. | 8 | GRB Racing | Gary Beresford | Clay Smith | Eagle Kart | 4 laps | 1:16.133 |
| 15. | 126 | BS Racing | Tyler Sawyers | Nate Bley | All-Kart | 5 laps | 1:16.585 |
| 16. | 18 | Fastimes Indoor Karting | Tom Harleman | | Eagle Kart | 5 laps | 1:16.839 |
| 17. | 12 | Skuderia Cobra | Grant Pendrey | Jason Matzel | K&K | 5 laps | 1:16.611 |
| 18. | 2 | Geriatric Maniacs | Jeff Hill | JD Marksbury | Eagle Kart | 5 laps | 1:16.382 |
| 19. | 194 | New Gen Racing | Derich Cutshaw | Nick Denny | Arrow | 6 laps | 1:15.476 |
| 20. | 5A | McGunegill Engine Perf. | Corey Flint | Amber McGunegill | Arrow | 6 laps | 1:15.321 |
| 21. | 179 | IUPUI Racing | Seth Winter | Alex Noel | Coyote | 6 laps | 1:16.414 |
| 22. | 94 | G&J Boys | Dave Libecap | Don Fogt | Margay | 6 laps | 1:17.410 |
| 23. | 46 | Top Kart/Mitchell Racing | Jeremy Morales | Kallie Kanakos | Top Kart | 7 laps | 1:17.199 |
| 24. | 56 | Top Kart USA 1 | Billy McLaughlin | | Top Kart | 8 laps | 1:14.982 |
| 25. | 2 | Soda Shop Racers | Mike Baukert | James Parsons | Eagle Kart | 8 laps | 1:16.520 |
| 26. | 15 | Team Reluctant | David Cox | Chris Beasley | Eagle Kart | 8 laps | 1:15.680 |
| 27. | 0 | Home Alone Racing | Dave Simmermon | Alan Elwood | Margay | 9 laps | 1:16.390 |
| 28. | 70 | 130 | Vincent Schneider | Rob Lehmann | Eagle Kart | 9 laps | 1:17.225 |
| 29. | 43 | Longshore Racing | Ryan Longshore | | Eagle Kart | 10 laps | 1:18.172 |
| 30. | 57 | TBKart Indy 2 | Doug Harden | Tim Sawyers | TBKart | 13 laps | 1:20.251 |
| 31. | 63 | Turn 1 Champions | Matt Abel | Ronald Swift | Birel | 14 laps | 1:16.617 |
| 32. | 3 | McMonnett Racing | Gary Monnett | Tom McNay | Top Kart | 15 laps | 1:16.152 |
| 33. | 24 | Cincy/NYC Connection | Scott Lawley | Miles Maloney | Arrow | 15 laps | 1:18.363 |
| 34. | 7 | Hot Wheels Racing | Scott Banner | | Coyote | 16 laps | 1:22.112 |
| 35. | 157 | Top Kart USA 2 | Blake Deister | | Top Kart | 17 laps | 1:14.918 |
| 36. | 112 | Black Flag Racing | Travis Schebler | Clayton DeClue | Eagle Kart | 22 laps | 1:15.660 |
| 37. | 60 | Turn 7 | Keith Gaw | Jennifer Hindsley | Energy | 23 laps | 1:18.809 |
| 38. | 22 | Racing4Vets | Kevin "Doc" Kleier | Alex Hoblik | VLR | 28 laps | 1:19.027 |
| 39. | 26 | 1 Dad 2 Moms | Kacy Stahl | Ben Stahl | Eagle Kart | 49 laps | 1:15.833 |
| 40. | 0R | RPM Missions | Stuart Rickert | Mike Wells | Arrow | 53 laps | 1:17.795 |
| 41. | 79 | Team Ramrod | Dakota Pesek | Francis Wilson | Top Kart | 74 laps | 1:15.329 |
| 42. | 10 | Bodywork Debate | Taylor Bookout | Tyler Prestel | Birel | 110 laps | 1:17.063 |