eKartingNews.com Driver of the Month: September 2017 – Cal Stewart
Last year's Rock Island Grand Prix star adds three victories to two-year total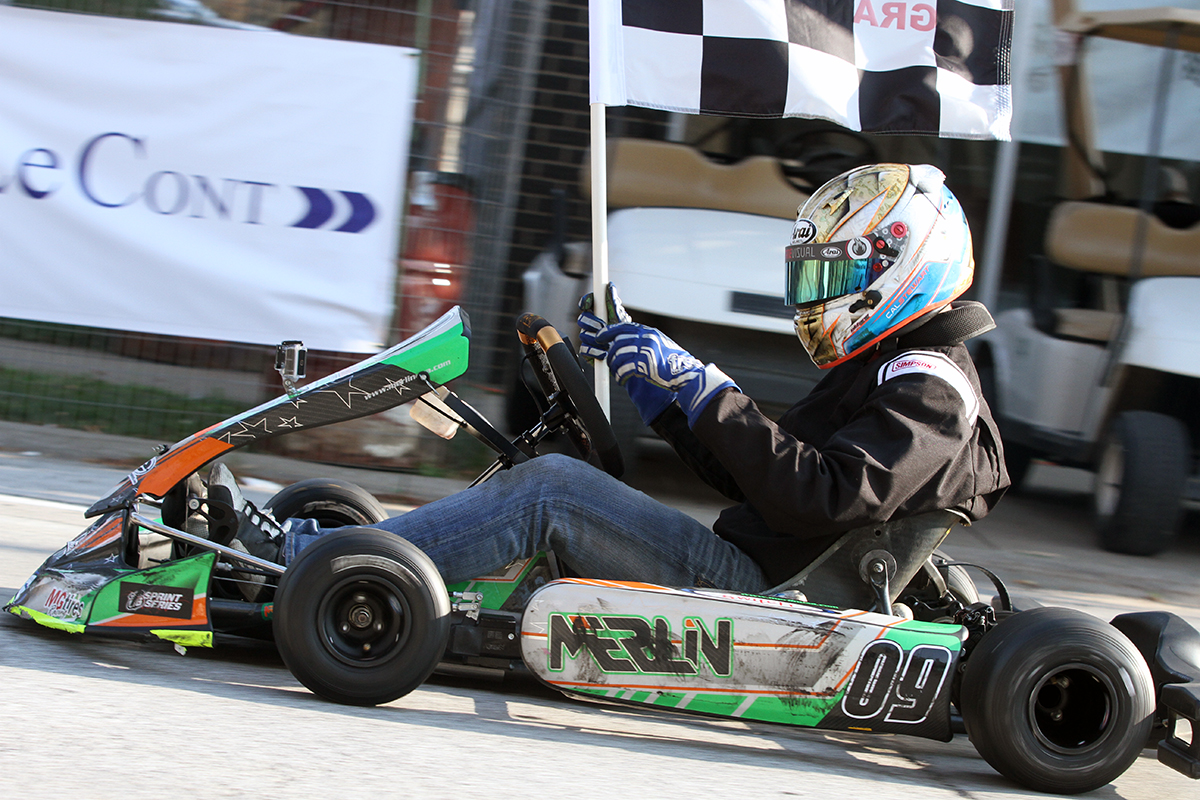 Cal Stewart carried the RIGP victory flag three times in 2017 (Photo: EKN)
In a continued effort to highlight the many outstanding performances by drivers around the country, eKartingNews.com is proud to introduce the 'Driver of the Month' program. Each month, the staff at EKN will determine the one driver who stood out above the rest and give the viewers a chance to know exactly what they accomplished and who they are.
Every Labor Day weekend, the city of Rock Island, Illinois morphs from a normal riverside community to one of the sport's largest karting festival overnight. Countless volunteers from the Quad Cities area and throughout the karting community come together to take care of all the tasks need to be completed to turn the city streets into a 6/10-mile course that will host the two-day Rock Island Grand Prix. The 23rd edition of the race welcomed its largest total number of entries since 2007, with just over 300 entries being recorded. During the two previous years, records were set for the number of victories posted by one driver, as Tony Neilson recorded six wins. Cal Stewart was right there, racking up five Rock trophies in all five categories he contested. Fast forward to 2017, and Stewart was again on his game, increasing his overall win total to eight with three more victories in three distinct categories.
The large number of total entries can be attributed to the number of different classes that drivers can enter with one kart. For Briggs, a driver who qualifies could race in four classes, as Neilson has done for the last three years. Yamaha racers have three classes that offer a chance to compete for a Rock. Add in the TaG, shifterkart and Ignite categories, and there are plenty of options for racers to battle for victory. Stewart's three wins in 2017 were unique in that they came in the three different engine formulas.
The Illinois native, who now resides in North Carolina, ended the 2016 RIGP with a victory and began the 2017 event by winning the first class on the schedule. The first class was the Briggs 206 Heavy category, and neither Stewart or Neilson scored wins in the heat races. The duo picked up the pace for the main event on Sunday, with Stewart leading the last nine laps aboard his Jesse Clooney-prepared Coyote, holding off a charging Neilson at the line for the victory, his second straight in the category. After placing third in Briggs 206 Medium class, Stewart was leading the Briggs 206 Heavy 2 feature when his nose piece broke, forcing him to retire early. Stewart was visibly upset as another possible Rock trophy was taken away by a simple mechanical issue. Stewart finished third in the Briggs 206 Medium class in between those two races.
Stewart's second victory came in the TaG Senior division. A long list of drivers have won the category over the history of the RIGP. Piloting a Franklin Motorsports Merlin, Stewart scored the win in the heat race, but the entire top-five finished within two seconds. Stewart started on the pole position in the main and led all 20 laps of the feature on Sunday, becoming the 13th different winner in the category.
Last year, Stewart originally entered just one Yamaha category, racing the Medium class. After winning that race, he jumped to the scoring trailer to enter the Yamaha Heavy 2 class. Coming from the tail of the 18-kart field, Stewart was able to come away with his fifth victory of the 2016 event. This year, Stewart entered all three Yamaha divisions. Stewart drove his Franklin Motorsports / Merlin machine to fourth in the Yamaha Heavy feature. The heartache came in the Yamaha Medium feature, as he was looking to repeat when his engine would not fire on the grid. He was forced to watch the field pull away as his kart sat with no fire. Stewart's last chance was the Yamaha Heavy 2 race, starting from 16th on the grid thanks to coming in underweight after winning the heat race on Saturday. Add in the fact that he switched engines to a borrowed Comet Racing Engines powerplant, and it was a crapshoot. Stewart wasted no time in the 20-lap main event, knifing his way into the lead group. Contact on the final circuit involving Carter Pease and two-time winner on the day Tim Goettsch gave Stewart the lead. Neilson trailed, but still came up just 59-thousandths of a second short at the line as Stewart locked up his third victory of the event in the third different engine platform.
The eight total wins in the two years at the Rock Island Grand Prix has put him tied for fifth overall for career wins in the 23-year history, matching the totals of Todd Bolton, Michael Dittmer, Mike Welsh, and King of the Streets legend Alan Rudolph. Stewart, Neilson and all the other competitors and die-hard RIGP racers will have to wait until September 1-2, 2018 for the 24th running of the Labor Day weekend street race to add to their totals.
September 2017 EKN Driver of the Month – Cal Stewart
Bio
Born: 5/14/94
Hometown: Rockford, Illinois
Marital Status: None
Children: None
Height/Weight: 5'10" / 160lbs
Education: Studying Manufacturing Engineering at Northern Illinois University
Occupation: Setup Plate Mechanic for the Hendrick Motorsports #48
Racing Resume
Chassis: Merlin / Coyote
Engine/Engine Builder: FMS Engine Works
Sponsors: Franklin Motorsports, Paulsen Specialties
Series You Compete In: None, currently, as I have not run a full series in over two years. I just focus on one-off events now that I have moved to North Carolina. Route 66 Sprint Series, USPKS, and WKA are series that I have competed in previously.
Years Karting: 19
How did you get started in karting? I started out at a local track in Brodhead, WI called Sugar River Raceway. It was something my father decided to get us involved in after a split between himself and my mother. Starting in Kid Karts, we slowly progressed into the "Box Stock Honda" classes, which are comparable to the Briggs and Stratton Flatheads. Leaving the local track at age 11, we decided it was time to take the karting a little further, which is when we got hooked up with Stan and Lisa Guess of Express Karts and Parts. From there, we continued with the 2-Cycle karting, running series such as Midwest Sprint Series, Route 66 Sprint Series, WKA, and USPKS and teamed up with Franklin Motorsports.
What has been the high point in your racing career? A high point in my racing career would probably have to be winning my first national event in Daytona in the TaG category in the WKA Manufacturers Cup race in 2012, and then again in 2014. Honestly, Rock Island Grand Prix this year ranked pretty darn close to those wins. RIGP was a special weekend for me for sure and always will be.
What are your goals in racing? My goals in racing have changed over the past few years. Like many young kids, all we think about is making it big. However, now that I have moved to North Carolina, I am really turning my focus to my career with Hendrick Motorsports. It's an opportunity that I cannot afford to let get away from me. It is time to make the best of it!
In a few words, how would you describe your driving style? Aggressive
Funniest moment at the race track? Probably when Bill McLaughlin and the Top Kart USA crew set up a table out in front of the hauler with the words "THE LEGEND, 5-Time RIGP winner, Cal Stewart autograph session" at Pitt. Along with five rocks that they found in the landscape somewhere.
Likes
Favorite Track: Sugar River Raceway
Favorite form of professional motorsports: Supercross / Motocross
Favorite karting driver: I'd have to say TJ Koyen. I have always been a fan of his style.
Favorite professional driver: Travis Pastrana
Favorite website: Craigslist.com
Favorite movie: Tommy Boy
Favorite actor/actress: Jennifer Aniston, of course.
Favorite music/group: Country music
Favorite vacation/activity spot: Charlotte, NC
Favorite food: Chicken Tortellini
The Real Deal
What do you do when not at the track? I do my best to spend time out on the motorcycle exploring places I have not been.
What are your goals outside of karting? They have shifted again since starting my new job. I really want to make the most of my time here and see what I can do in the world of NASCAR. I have met some incredible people already in the industry, and I cannot wait to see where it takes me.
What type of street car do you drive? 2012 BMW 328i
What type of street car would you like to drive? 1968 c10
What are your pet peeves or things that irritate you? Not listening. I cannot stand when people talk, just to talk. Although, I am guilty of it myself sometimes I'm sure.
What do you think could be done to improve the sport of karting? I truly feel the sport of karting is stretching itself too thin. The number of series we have, the cost for entry fees, and the number of tires we have to purchase are things that could all be reduced. I do like that USPKS, and Route 66 have gone to a smaller class structure, allowing for more track time.
What are your favorite aspects about the sport of karting? My number one favorite aspect of karting would have to be the family aspect. At a young age, I didn't realize how much karting has brought my family together, but the older I get the more I realize that karting has shaped my family and myself into who we are today. You can easily put a price on the time spent traveling, the tire bills, the engine rebuilds, that new chassis you just had to have, but you CANNOT put a price on the time spent with your family.
September 2017 Driver of the Month – Honorable Mention:
– Alex Bertagnoli: United States Pro Kart Series – Two Wins (KA100)
– Zach Collins: United States Pro Kart Series – One Win (Yamaha Cadet)
– Brandon Jarsocrak: United States Pro Kart Series – Two Wins (IAME Senior)
– Marco Kacic: Can-Am Karting Challenge – Junior Rotax Winner
– Gray Leadbetter: United States Pro Kart Series – One Win (IAME Junior)
– Tony Neilson: Rock Island Grand Prix – Three Wins (Briggs 206 Medium, Briggs 206 Masters, Briggs 206 Heavy 2)
– Kyle Wick: Can-Am Karting Challenge – Shifter Winner
– Austin Wilkins: Rock Island Grand Prix – Two Wins (King of the Streets, Open Shifter)