Race Report: Margay Ignite Challenge – 61 Kartway
Inaugural series finale held at Delmar, Iowa facility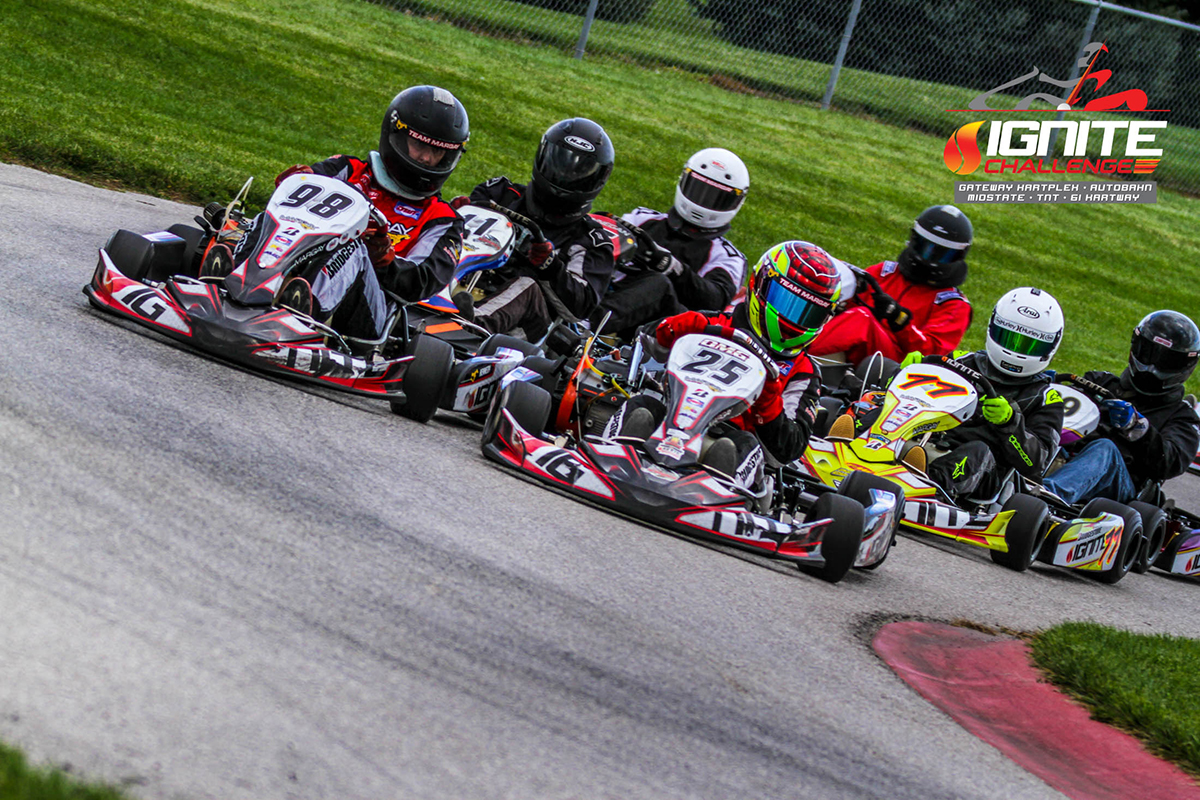 (Photo: Margay Racing)
The inaugural Ignite Challenge season wrapped up last Saturday and we couldn't have asked for a better closing venue! Everyone needs to put 61 Kartway on their calendar for 2018, what an incredible, fun and well-maintained track. Thanks to Tony Neilson and his family for help making this event such a success. Thank you to all of the drivers and families who followed along this season, we're excited to grow even bigger and better in 2018! Stay tuned!
This is the inaugural year for Margay's Ignite Challenge Series, a 5-race summer series that visit's all of Margay's Ignite Series tracks. The goal of the series is to give the drivers an opportunity to affordably travel and compete at a new track without the extensive costs usually tied into a regional or national program along with utilizing the same rulebook across each track.
Ignite Senior
In "Pistol" Pete Vetter's surprise return to karting this year, he has proven that he's not lost his abilities behind the wheel. From a runner up finish in both Ignite Senior and Yamaha Masters at the inaugural USAC Battle at the Brickyard and an Ignite Masters win at this year's Rock Island Grand prix, he continues to get quicker! His performance at 61 Kartway was no exception. From start to finish, he was at the top of the charts, every single session. It only took him a few laps to master the technical Iowa layout before he had the field chasing. It left Ken Williams, Eric Loddeke and Colin Predith to battle it out for the podium. In the points chase, Loddeke had to finish two positions ahead of Williams. In the closing laps, Williams was able to hold off Loddeke for second place and claim the inaugural Ignite Senior championship.
Ignite Junior
It was the battle between the 61 Kartway and St. Louis "hot-shoes" in Ignite Junior. 2016 Rock Island Grand Prix Ignite Junior Champion, Ashton Wheeler, 2017 Champion, Spike Kohlbecker and multi time Gateway Kartplex Track Champion, Evan Stamer were the favorites coming into the event. When it came time to race, Ashton showed his "home track" experience and schooled the competition on how to get around 61's rolling hills. On the start of the feature, Wheeler and Kohlbecker started on the front row. Heading into turn 2, Hunter Richardson made the inside pass which dropped Kohlbecker to second place. It took a few laps for Kolhbecker to get back around Richardson which allowed Wheeler to pull away and take the eventual victory. Kohlbecker and Richardson would round up the podium with Iowa local Gage Kemp and St. Louis shoes, Evan Stamer followed close behind.
Ignite Master
Pete again showed his speed in Ignite Masters, getting around pole-sitter Ken Williams in the pre-final. Williams and Brandin Moore would trail Vetter the whole race, with Craig Loddeke, Jim Miller and Pete Schaefer battling close behind. Vetter would take the win with Williams and Moore rounding up the podium. Moore's third place finish was enough to clinch the Master's championship, needing to finish ahead of Rod Scharf.
Ignite Rookie & Ignite Kid Kart
In Ignite Rookie, Jaiden Beckman would take the win and clinch the championship, winning 3 of 5 rounds. Her younger brother, Race Beckman, would clinch the championship in Ignite Kid Kart, winning 4 of 5 rounds. Lane Mayer took the win in the final round with Quinn Ahrens finishing second.
For more information on the Ignite Challenge series, visit http://www.margay.com/race-withus/ignite-challenge.html
For Margay Racing updates, follow us on Facebook and Instagram.