PROgression: Strong Drives for Kotyk, Jeansonne in Thrilling Formula Ford Festival Final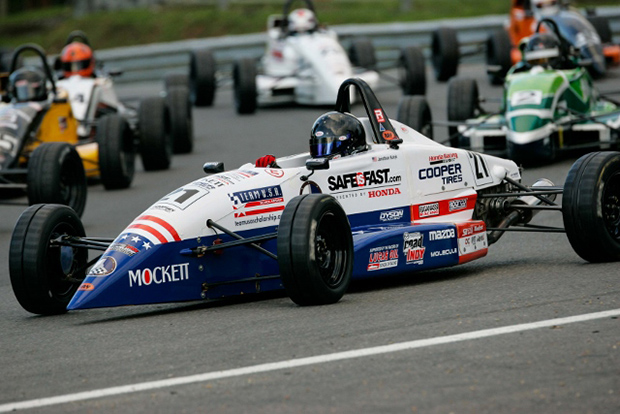 (Photo: Jack Mitchell/JAM Photography)
Team USA Scholarship drivers Jonathan Kotyk and Aaron Jeansonne posted excellent performances during a hard-fought 20-lap Formula Ford Festival Final this afternoon at Brands Hatch. The pair finished just outside the top 10 but posted very competitive lap times as they worked their way forward from 16th and 18th on the grid, with Kotyk's fastest time of 50.809 seconds slightly quicker than race winner Joey Foster's best of 50.892.
The veteran Cornishman won by just over a tenth of a second from 20-year-old Irishman Keith Donegan. Scottish teenager Neil Maclennan also finished very close behind in third.
Weather conditions remained stable throughout the day – dry and decidedly cool but a marked improvement over Saturday – and provided some typically fraught action as an appropriate celebration of the 50th anniversary of the first-ever Formula Ford race, which was held at Brands Hatch in July, 1967.
The day began with a pair of 15-lap Semi-Final races. Kotyk and Jeansonne lined up 12th and 16th, respectively, on the grid, and immediately began to make some passes. Kotyk slipped inside the top 10 on Lap 9 with a fine move under braking for Clearways and ran as high as eighth before being pipped at the finish line by Sebastian Melrose. Jeansonne ran virtually in his wheel tracks, making bold maneuvers both at the daunting Paddock Hill Bend – "That was a lot of fun," he said – and at the Druid's hairpin to finish in 10th place.
Both Team USA drivers were elevated one position after seventh-place finisher Jordan Dempsey was excluded post-race, which meant they lined up one behind the other in 16th and 18th on the grid for the 20-lap Final.
Kotyk's attempt to make a pass around the outside at Druid's on the opening lap briefly cost him a few positions, but after a short Safety Car interlude while a few cars further down the order were removed from the gravel trap at Paddock Hill Bend, the 23-year-old from Atlantic Beach, Fla., immediately began to make up the lost ground. Both youngsters continued to display their overtaking prowess, with Kotyk rising as high as 10th and Jeansonne 13th, not too far adrift of the leading pack.
One final attempt to oust Matt Round-Garrido from eighth at Paddock Hill Bend actually cost Kotyk a position, but 11th still represented an impressive result.
"It was a really good day," he said. "I think from where we started we definitely made  good improvements and I'm very happy with the result. The team helped me progress through the weekend and we were right there with the leaders on pace toward the end. I feel that we're going to be in really great shape for the Walter Hayes Trophy. We have another day's test later this week at Donington and I think we'll definitely have the pace to run up front."
"That was probably – no, definitely the most interesting and fun race I've ever been involved in in my life," added Jeansonne, 19, from Sulphur, La. "The guys you are battling with for 15th are just about as fast as the guys who are battling for the lead so you have to fight for your life for every position. It was absolutely insane having a chance to run somebody off the track and block somebody and not get penalized! It was absolutely a blast for me. I want to do it again."
About Team USA Scholarship:
The program has been providing opportunities for talented American race car drivers at an early stage in their careers since 1990. Supporters include Doug Mockett & Company, the Road Racing Drivers Club and SAFEisFAST.com, Cooper Tire & Rubber Company, Team Penske, Mazda, Chip Ganassi Racing, Honda Performance Development, Robertson Racing, Lucas Oil School of Racing, PitFit Training, RaceCraft1, Sparco USA, RACER Magazine, Speedstar Management, Styled Aesthetic and Manifest Group. For more information, please visit www.TeamUSAScholarship.org or find us on Facebook or Twitter.