Maranello Kart Protagonist at ROK Cup International Final with Tonoli and Dante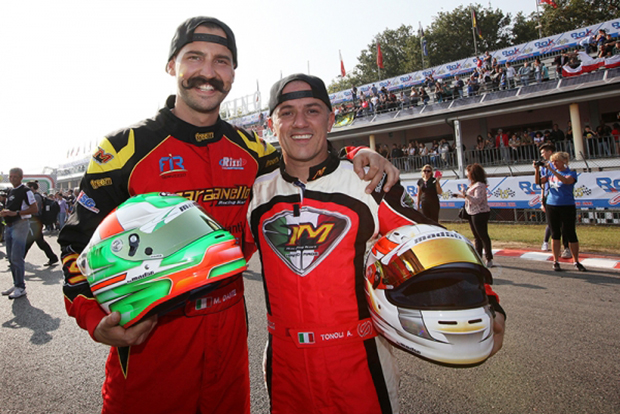 A great Andrea Tonoli and Massimo Dante have displayed very good competitiveness in the Shifter at the Rok Cup International Final with Maranello Kart.
A series of strong performances have been put in once again by Maranello Kart's drivers in the recent Rok Cup International Final held in Lonato, where an excellent Andrea Tonoli and Massimo Dante, who has been a protagonist also in this category, have been shining in the Rok Shifter grade.
Andrea Tonoli deserved a round of applause, as he has been very quick in all situations during this International final that has seen a record number of 415 drivers on track from 50 nations. Tonoli has led several good qualifying races in Shifter Rok, climbing up to the fourth place in the heats. In the Final, Tonoli managed to stay among the leading group and crossed the finish line taking an excellent sixth place. He has always been among the quickest on track even compared to a direct rival (due to the age range) of the likes of former F1 driver Rubens Barrichello. The battle among the two ended when Barrichello was forced to an early retirement, but the gap built by Tonoli up to that point was already quite big.
Massimo Dante has also put in very good performances closing his effort in tenth place. The weekend of the Maranello Kart's driver has been ruined by a 10s time penalty he was handed when his front fairing dropped in a heat that he ended in P2. Despite this hiccup, Dante managed to recover, but he had to start the Final from the back and was involved in some incidents that made him lose some positions before getting back up to P10. The Pole Lukas Korbela was assisted by ST Racing Team and ended right behind Dante.
Jacopo Vanelli has competed in Rok Shifter ending 25th on Maranello run by Maranello Kart's distributor for Tuscany, team Kart Evolution. Pietro Rangone defended Maranello Kart's colors in Mini Rok. He found his place in the Final B Vortex Trophy, but an incident on lap one forced him to an early retirement. That was a shame as Ragone had a strong weekend up to that point, displaying a good shape among the 162 drivers challenging each other. The Polish drivers Igor Borowski and Jan Jozwiak were also present on Maranello, but they unfortunately could not get access to the final stages. The two drivers have been wearing the colors of Poland's Maranello Kart distributor ST Racing Team.
Stefano Mira closed the Final in tenth place of Rok Senior on Maranello. He secured this top ten finish recovering from the 18th place on the starting grid.
The next racing appointments with Maranello Kart will take place again at the South Garda Karting circuit. The team will get on track in fact for the important round of the German Championship DKM on October 22nd and the Trofeo delle Industrie on October 29th.