CRG and Cebrian Win IAME International Final X30 Super Shifter Title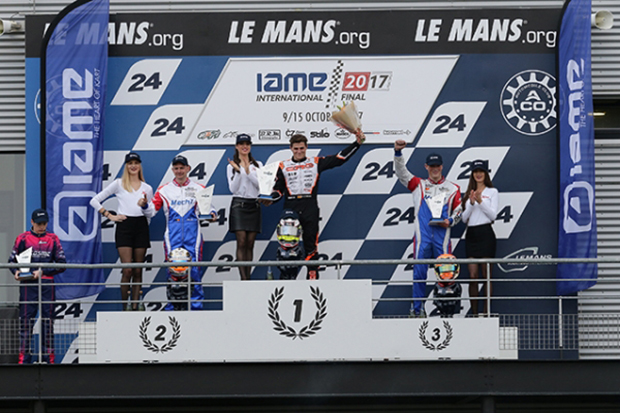 An intense end-of-season racing weekend has just ended in France for the International Final of the Iame X30 series. CRG's driver Gerard Cebrian Arizafrom Spain took a great victory in the Final at the end of an excellent performance in X30 Super Shifter.
Cebrian Ariza and CRG have always been among the main protagonists of the weekend in Le Mans: the Spanish driver was fifth in qualifying, fourth after heats and fourth again in the Prefinal. Cebrian Ariza managed to install himself on top positions early on in the Final, taking the lead on lap two. He kept the lead all the way to the flag that was waved after 17 laps and built a good margin on his nearest rival.
In X30 Senior, the British driver of CRG Callum Bradshaw has also been very quick. He posted in fact the second best time of his qualifying session and claimed two victories in the heats. Bradshaw was fifth in the Prefinal and scored a good seventh place in the Final.
In X30 Junior, Tuur Stalmans from Belgium was ninth in qualifying and scored a win in the heats. He crossed the finish line of the Final in fifth position, but a 10s time penalty relegated the CRG driver to the final 21st place.