Race Report: GoPro Motorplex Karting Challenge Round 10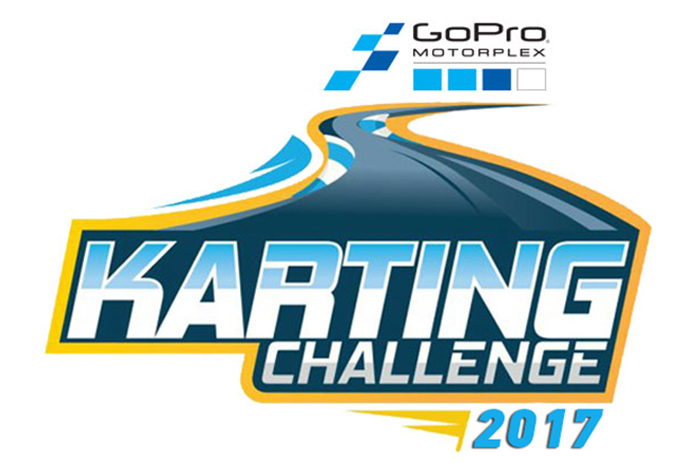 Rounds of the 2017 GoPro Motorplex Karting Challenge championship club series may be winding down, but entries are revving up. Saturday's Round 10 of the 12-Round series featured 129 competitors across 10 divisions.
Congrats to all Round 10 winners: Brent Crews (Briggs LO206 Cadet), Jon Seiler (Briggs LO206 Junior), Dan Koehler (Briggs LO206 Senior), Taylor Stanford (IAME KA100 Junior), Ashley Rogero (IAME KA100 Senior), Caleb Gafrarar (IAME Mini Swift), Brent Crews (IAME Swift), Drew Lindley (IAME Junior), Dusty Davis (IAME Senior), Luke Stroud (IAME Heavy).
IAME Swift Division:
In the IAME Swift Division, Brent Crews checked out to a huge lead over the 16-kart field. Connor Zilisch and Dalton Hanes rounded out the top-three by the halfway point. With two laps to go, Crews had improved his lead to over three seconds with Hanes and Mateo Rubio-Luengo now running second and third. Crews scored the win, followed by Rubio-Luengo and Hanes.
IAME Heavy Division Sponsored by Stitch 98:
In the IAME Heavy Division 14-lap final, Todd Shambo and Luke Stroud exchanged for the lead several times in the opening laps. However, by halfway, Stroud had secured the top spot with nearly a second gap back to Shambo in second. Stroud went on to score the win followed by Shambo and Logan Cozzie.
IAME Junior Division:
In the IAME Junior Division 14-lap final, Drew Lindley led the way with Gray Leadbetter chasing from his bumper in second. By halfway, Hayden Jones had also joined the fight by closing onto the leaders to create a three-way battle for the lead. On the final lap, Leadbetter attempted a move for the lead in Turn Four but was unable to make it stick. Lindley scored the win, followed by Leadbetter and Jones.
Briggs LO206 Senior Division:
In the Briggs LO206 Senior division's 13-lap final, the largest field of the day with 28 competitors stormed into turn one with Dan Koehler leading the pack. Koehler remained out front of the six-kart group of frontrunners all running nose-to-tail. With two laps to go, the three-kart pack of Koehler, Rink and Keadle broke away from the rest of the field. Koehler went on to score the win, Rink followed suit in second and Billy Duff came through with a surprise pass on the last lap to steal third. Following post-race tech, Rink was disqualified, giving Duff second and Keadle third.
IAME Senior Division Sponsored by CNC Performance Engineering:
In the IAME Senior 17-lap final, Dusty Davis led the 19-kart field of competitors through the opening laps. By lap two, Dalton Dow made his move to take control of the lead in Turn Four. Ashley Rogero followed Dow's lead to secure second. However, Rogero wasted no time overtaking Dow for the lead on the very next lap with Davis in tow to take second. With 10 laps to go, Davis maneuvered around Rogero for the lead in Turn Four. Rogero remained glued to Davis' bumper. It wasn't long before Davis dropped back to third, allowing Rogero to take the lead and Dow to run in second. With two laps to go, Dow passed for the lead in Turn Four over Rogero. On the final lap, Davis was in the catbird seat when Rogero and Dow made heavy contact in the final corner, allowing Davis to sneak by for the win, followed by Blake Hunt in second and Dow in third.
IAME KA100 Junior Division:
In the KA100 Junior Division 13-lap final, Taylor Stanford was on the point of the four-kart battle of frontrunners that also included Westin Workman, Emil Schulz and Talan Drake. Workman waited until the final lap to make an attempt to pass for the win in Turn Four. Unable to make it stick, Workman dropped to third and Stanford held on for the win. Drake finished in second.
IAME KA100 Senior Division:
In the KA100 Senior Division, Emory Lyda led the opening laps before Ashley Rogero wasted no time in stealing the lead away. Rogero checked out to a two-second lead over the field with an eight-kart train of karts behind her battling for second. Rogero scored the win, followed by Lyda and Luke Wallace.
IAME Mini Swift Division:
In the IAME Mini Swift 11-lap final, Caleb Gafrarar completed his perfect day by leading flag-to-flag to win the final. Gafrarar proved he was the driver the beat early on in the day after winning the pole in qualifying and the pre-final. Adam Brickley and Preveil Perkins rounded out the podium.
Briggs LO206 Junior Division:
In the Briggs LO206 Junior division, Jon Seiler was the single entry in the division, but was able to log some laps of experience and improved his lap time by over a second throughout the day.
Briggs LO206 Cadet Division Sponsored by Kart Carolina:
In the Briggs LO206 Cadet Division final, it didn't take long before Brent Crews had checked out to a nearly two-second lead over the field. However, Bree Miller and Hunter Yeany teamed up to reel in Crews' lead. Their teamwork payed off, closing onto Crews' bumper. With four laps to go, Miller powered past Crews with a move entering Turn one to take the lead. On the white flag lap, Crews returned the favor on Miller to take the lead back in Turn One with a similar move. Two corners later, Miller regained the lead only to be overtaken by Cruise in a final blow in Turn Eight. Crews scored the win, followed by Yeany with a last-corner pass on Miller, dropping her to third.
Round 10 Results, Standings>>(http://www.gopromotorplex.com/race-events/past-race-results/2017-karting-challenge-results/)
GoPro Photo Gallery>>(http://www.gopromotorplex.com/gallery/2017-karting-challenge/)
UP NEXT:
Up next is Round 11 of the GoPro Motorplex Karting Challenge on Saturday, Oct. 28.
For more information on the Karting Challenge club series, CLICK HERE>> (http://www.gopromotorplex.com/race-events/kart-owner-events/gopro-motorplex-karting-challenge)
2017 Karting Challenge Championship Banquet:
GoPro Motorplex will host their 2017 Championship Banquet celebrating their 2017 Karting Challenge Champions and top-3 in each division during a special ceremony directly following Round 12 on Dec. 2. There will be a reception with refreshments served from 6:30 p.m.-7:00 p.m. and the awards presentation will follow from 7:00 p.m.-8:00 p.m. Tickets are on SALE NOW!
TICKETS: $10/person in advance (by Nov. 26).
From Nov. 27-Dec. 2, tickets increase to $20/person and can only be purchased in-person at GoPro Motorplex. No online sales. Kids 5 and under free.
To purchase your tickets online now, CLICK HERE>>(http://www.gopromotorplex.com/online-store/2017-karting-challenge-banquet-ticket/)