PROgression: Elliot Finlayson – One Step At a Time
Former USPKS champion looking to climb the motorsports ladder with SCCA and Team USA Scholarship program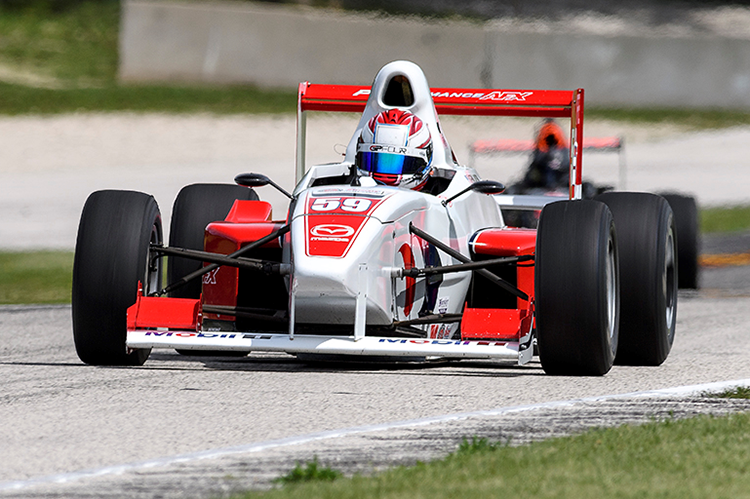 Elliot Finlayson is in his second year racing SCCA Formula Enterprises class
The dream of many kids and young adults in the sport of karting dream of racing as a professional driver. The path to the upper echelon of motorsports is not an easy one, which requires hours upon hours of work, both on and off the track. One of the great programs that helps introduce drivers to the world stage is the Team USA Scholarship developed and operated by Jeremy Shaw. One of the finalists for this year's program is 2015 United States Pro Kart Series champion Elliot Finlayson. The Illinois driver provided us a glimpse into his path toward the Team USA Scholarship program, including his efforts in SCCA.
Making a career as a racing driver requires an individual to go through a lot of steps. For myself, the current step is trying to solidify a spot in the Team USA Scholarship. The Team USA Scholarship provides opportunities to young, talented American racing drivers. The program has helped launch the careers of a long list of top American drivers since it's introduction in 1990. Prior to this stage in my motorsports career, there were many steps that helped prepare me for this opportunity.
Progressing Through the Karting Ranks
In my case, it all began in Karting when I was nine years old at Concept Haulers Motor Speedway. My dad bought me a Birel cadet chassis with a Yamaha engine and we began racing in the local club series out of our 6'x10' trailer. Over the years I continued to improve and that's how we knew we were ready for the next step.
A weekend I will never forget was my first ever Florida Winter Tour event in 2012. My dad and I were one of the only entrants competing without the help of the large teams. I was competing in Rotax Junior and hopelessly far off the pace. I significantly remember watching Ben Cooper (4-time Rotax World Champion) compete in Rotax Senior and thinking to myself how on Earth I would ever be able to compete against him. In 2014, I took a new step by joining team Koene USA thanks to team owner Mike Maurini. That year I came back to the Florida Winter Tour, this time in Rotax Senior. In round two of the FWT series I was able to finish sixth and beat Ben Cooper. I left the track that weekend with a sense of pride in my development!
From that point on I was competitive in nearly every event I attended over the next two seasons with Koene USA. In 2015, I scored my first major championship at the United States Pro Kart Series in the Leopard Pro division. It was at that point that I knew it was time to take the next step in my racing career. Some of the important fundamentals to master in Karting before taking the next step into a car include race craft, patience, consistency over a championship, the ability to win races, understanding the technical aspect of the machine you drive.
Karts to Cars
As many will say, the transition from karts to cars is one of the most difficult steps that drivers will experience. During this step comes many new challenges; suspension, aero packages, a gearbox, a much heavier machine, and working with engineers. For the 2016 season, I began racing in the SCCA Majors Tour in the Formula Enterprise class, which features a 2.3-liter natural aspirated engine, a five speed sequential gearbox and, and a minimal aero package. The first season proved to be a learning year. This year I definitely began to hit my stride in the class, winning the SCCA Northern Conference Majors Tour as well as the SCCA Super Tour. With the great results achieved I knew I was ready for the next step.
Team USA Scholarship
Over my near two full seasons of driving a car, I made a great connection with Primus Racing Parts. Jon and Brad Baytos from Primus played an instrumental role in my development through their role in creating the GP Four race series. Primus opened the door for the next step in my career; the Team USA Scholarship.
I received the news from Team USA Scholarship founder Jeremy Shaw that I was invited to stage one of the selection process at Mid-Ohio for the Honda Indy 200 in August. The weekend provided a lot of opportunities to meet countless people within the IndyCar, Mazda Road to Indy, and Pirelli World Challenge paddocks. In practice one, I fortunate to sit on Dale Coyne's pitbox with a headset. I was able to visit race control thanks to IndyCar race director Brian Barnhart for practice two. Friday night included an interview process with a large group of judges. I will admit, I was nervous but I remained composed.
A few weeks later I received the news that I was invited to the next step of the Team USA Scholarship in Detroit, MI. Friday morning we all headed off to our first tour at Ilmor Engineering. The company is a high performance autosport engineering company that builds the Chevrolet IndyCar engine package, ARCA engines, racing boat engines, upon many other projects. Our second tour of the day was at Pratt & Miller, which is most notable known for maintaining and running the Corvette racing team.  For me, this was a special facility to visit. Growing up my dad had built a C4 racecar, a C6 GT2 racecar, and still owns a C5 street car. Naturally, I have always been a lover of the Corvette and a supporter of Corvette racing team. Following the tour at Pratt & Miller, we headed off to M1 Concourse for a seminar with Dr. Jacques Dallaire from Performance Prime to learn about how to develop the mindset of a champion. The seminar was very insightful and I suggest everyone to check out Dr. Dallaire's book Performance Thinking for lessons that not only will help individuals in their respective sport as well as in life.
It was an early morning Saturday that included three sessions (practice, qualifying, and a race) at M1 Concourse aboard the Lucas Oil School of Racing Cars. Following our sessions Saturday, we did strength tests, reaction timing tests, and a skin fold analysis with PitFit training.  Sunday was another early morning that included two more on track sessions (qualifying, and a race). In between the two sessions was a circuit with Pit Training, as well as a business seminar with professional drivers Dane Cameron and Marc Miller.
I feel extremely fortunate to have the opportunity to be apart of this program. In the past seven weeks I have been able to learn many new lessons and made so many new connections with people in the racing industry. It will be a few weeks time before I will know if I am a finalist in the Team USA Scholarship and heading off to England for the Formula Ford Festival and Walter Hayes Trophy. Until then I am waiting close by to my phone!
Preparing For The Next Step
In racing the off-season goes by quick! It is important to explore your options for the following year. For that reason I made an appearance in the F4 US Championship at VIRginia International Raceway with Jay Howard's Motorsport Driver Development. Jay's MDD program has a very professional approach and the opportunity to learn from Jay Howard is a great one. I also completed a test in the Tatuus USF-17 at Autobahn.  At the test I was fortunate enough to learn from 2017 Pro Mazda champion Victor Franzoni.
SCCA Runoffs
The 2017 SCCA Runoffs are being hosted at Indianapolis Motor Speedway for the first time September 25 through October 1.  Coincidentally, it will be my first time competing in the SCCA Runoffs. I cannot explain the feeling I had making my first lap around IMS; honestly I was mostly doing some sight seeing rather than trying to set purple sectors! The SCCA Runoffs is the pinnacle of grassroots racing. This weekend I will be fortunate enough to have support from Mazda Motorsports, as will all Mazda competitors. We are the favorite to win the Formula Enterprise class. With lots of hard week hopefully we can grab the win at IMS and kiss the bricks.
While no plans have been made for my 2018 race season I am looking ahead to prepare for the next step. For now, I'm taking it one step at a time with the Team USA Scholarship.
Thanks,
Elliot Finlayson
Facebook: ElliotFinlayson
Twitter: @FinlaysonElliot
Instagram: @Elliot_Finlayson