A Tough World Championship at PFI for Birel ART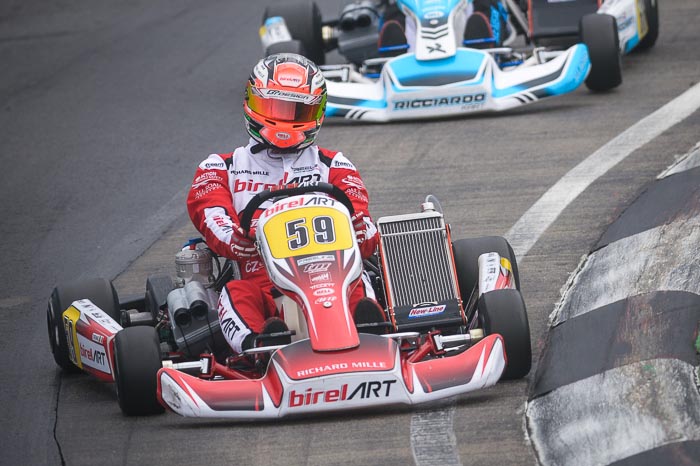 After the good results of the Wackersdorf World Championship, the Birel ART Racing team did not hide its disappointment in the evening of the OK and OK-Junior World Championship of 2017. The British circuit of PFI was the scene of an arduous competition, punctuated by many disappointments. However the Birel ART factory chassis allowed the drivers to achieve truly convincing performances that deserved to be rewarded with much better results.
It must be admitted that the particular track at PFI undoubtedly favoured the regulars in the English competitions. This did not prevent the young Italian rookie Luigi Coluccio to highlight his qualities in OK-Junior. At the wheel of his Birel ART with a TM Racing engine built by Macháč Motors, he was already close to the top 10 in Timed Qualifying against nearly a hundred experienced opponents. Luigi then followed with remarkable performances during the heats. Unfortunately, he was heavily penalised due to the loss of his transponder and was only in 22nd position for the start of the Final, when he should have stayed in the top 10. By starting from so far back, he found himself in an unfavourable position in the heart of the fray. Delayed in the opening laps, Luigi was not discouraged and gained almost 10 places by the finish.
The situation was more complicated for the OK drivers in Timed Qualifying where the different sessions did not encounter the same track conditions because of the rubber deposited by the tyres of the Junior category. Caio Collet was the 7th fastest in the group, with 37th overall and Marjin Kremers (Ricciardo Kart) 52nd. The TM Racing engines prepared by Macháč Motors, however, allowed the Lissone brand chassis to show very good speed during the Qualifying Heats. Felice Tiene was able to highlight this very good potential by winning one of his heats before being eliminated from the event due to an accident. Several other incidents on the track and penalties for dislodged spoilers slowed down the progress of the Birel ART drivers. Thus Kremers, despite all his talent, did not qualify and Collet managed to climb 11 places in the Final, before being penalised again. The best performer of the day on a Birel ART, the Englishman Oliver Hodgson crossed the finish line in 5th position before being demoted as well.
The difficulty of the event never undermined Birel ART's will to progress. The team will rely on its positive performance improvements to continue the work in the right direction.