Lots of Challengers for CIK-FIA World Championship Titles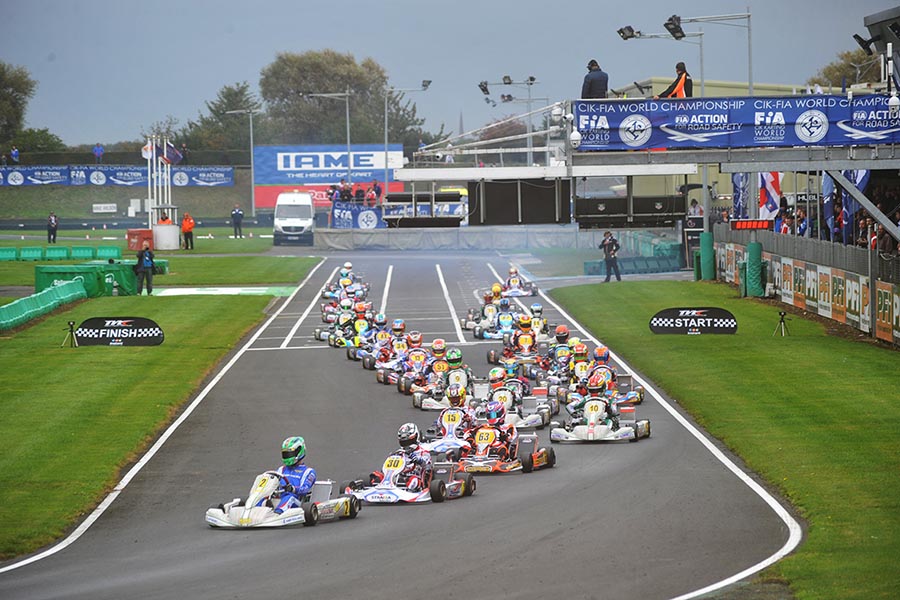 None of the 181 drivers at the PFi Circuit in Brandon (GB) wants to miss the chance to wear the crown of World Champion of kart racing. The proof is given by the outcome of the qualifying heats (in the photo above, the start of one of today's heats), which took place today on the track that is hosting the World Championships of the OK and OKJ categories. Lots of drivers have won at least one race: six drivers in OK and seven in OKJ. Tomorrow's Finals are definitely going to be exciting and unpredictable.
The World Championship live
The last heats will take place tomorrow morning, just before the presentation of drivers. Then the event will reach its climax in the afternoon at 02.20pm with the OKJ Final followed by the OK Final. Don't miss the live streaming on cikfia.tv and cikfiachampionship.com from 10.30am. The streaming will continue until the end of the day, with the prize-giving ceremony. On Motorsport TV, during next week, the special TV report with the recap of the whole weekend.
Pedro Hiltbrand against all odds in OK
The reigning champion, Pedro Hiltbrand (TonyKart-Vortex-LeCont, above), redeemed himself from yesterday's poor result (only 18th) with three victories in today's heats. The Spaniard – who aims at winning his second title after his victory in 2016 – will have to keep at bay the English Danny Keirle (Zanardi-Parilla), his most dangerous rival after his two successes. The Finnish Juho Valtanen (Kosmic-Vortex) and the British Finlay Kenneally (Tony-Vortex) confirmed the good performance in qualifying with a victory each. Another Spaniard, David Vidales (TonyKart-Vortex), the runner-up of the OKJ World Championship in 2016, gained ground and placed himself in the short list of the frontrunners thanks to a win in the heats. Tomorrow morning the last qualifying races to establish the grids of the OK and OKJ finals.
Harry Thompson bids for in OK Junior
The British Harry Thompson (FA Kart-Vortex-Vega) has definitely laid his cards on the table winning his three heats till today (in the photo above, he is leading the pack during one of today's races). He had already set the best time in yesterday's qualifying and he is now the frontrunner of the competition. The surprise of the day was the English Dexter Patterson (Exprit-TM), who managed to do better than yesterday and won twice. Same result for the Russian Aleksey Brizhan (Tony Kart-Vortex) and the driver from Barbados Zane Maloney (FA Kart-Vortex). A victory each for the Brazilian Gabriel Bortoleto (CRG-Parilla), the English Christoher Lulham (Exprit-TM) and the Australian Jack Doohan (FA Kart-Vortex).