World Class Performance by Mach1-Kart in Wackersdorf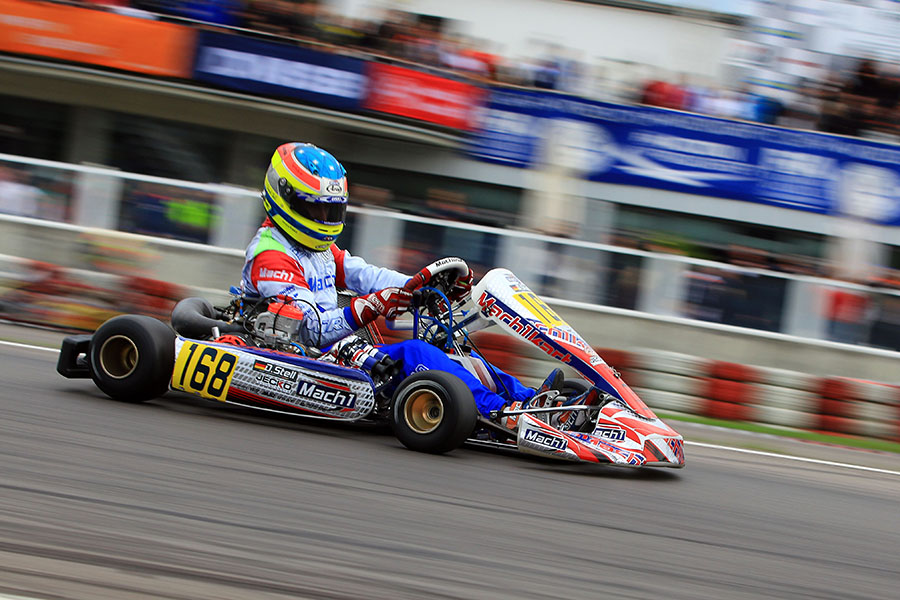 In front of a local audience, German kart manufacturer Mach1-Kart knew how to impress at the World Championship in Wackersdorf. From the beginning, Daniel Stell belonged to the top drivers at the CIK-FIA International KZ2 Super Cup and finished the weekend on the impressive seventh place.
The Shifterkart World Championship 2017 became a great kart racing festival in Germany. More than 160 drivers from 23 nations started into the fight for the highest international kart racing title. Mach1-Motorsport sent three drivers into the races: Daniel Stell, Pawel Myszkier and Thierry Delre.
Strong competition awaited the three drivers at the CIK-FIA International KZ2 Super Cup. During qualifying and six heats respectively, they had to manage ending up among the best 34 drivers of overall 113 participants. The conditions on the 1.190m long track of the Prokart Raceland were challenging. Rain caused changed conditions especially on Saturday afternoon.
Local driver Daniel Stell achieved a perfect start. On second place after qualifying, he had a great starting position for the following heats. "The field is unbelievably close together. The first 104 drivers are less than a second apart", team leader Martin Hetschel summed up. Daniel wasn't intimidated though. With two heat victories, three second and a fourth place, he held his own among the best drivers in the world and started into the big finale over 26 laps from fourth place.
More than 3000 spectators experienced a kart racing spectacle par excellence in Upper-Palatine. The drivers showed incredible fights during the final race and postponed the decisions until the very end. Daniel defended his position as best German driver and came in seventh. "Summarized, this was a great week for us. Daniel proved that you can fight for victory with our material. He is a strong driver and has a lot of ambition. We didn't have the perfect tire setup during the final race and still belonged to the best with the third-fastest lap. I really have to praise Daniel who withstood the pressure during all three days", said team leader Martin Hetschel in the evening.
His two team mates didn't end up among the 34 best drivers after the difficult heats. Their performances were still impressive. Thierry Delre highlighted his driving skills repeatedly in the rain. During one heat he drove forward from 26th starting position to third place. Pawel Myszkier got close to the top ten several times as well.
After the World Championship Mach1 Motorsport is going to continue with full-speed. The finale of the ADAC Kart Masters is going to take place from September 30th to October 1st in Wackersdorf as well. The last races of the German Kart Championship are going to take place in Italian Lonato at the last weekend of October (20th-22nd). In the meantime the manufacturer is going to start at the X30 International Finals in LeMans (France) as well.