Texas ProKart Challenge Combines Round 5 and Season Finale at SpeedSportz on October 13-15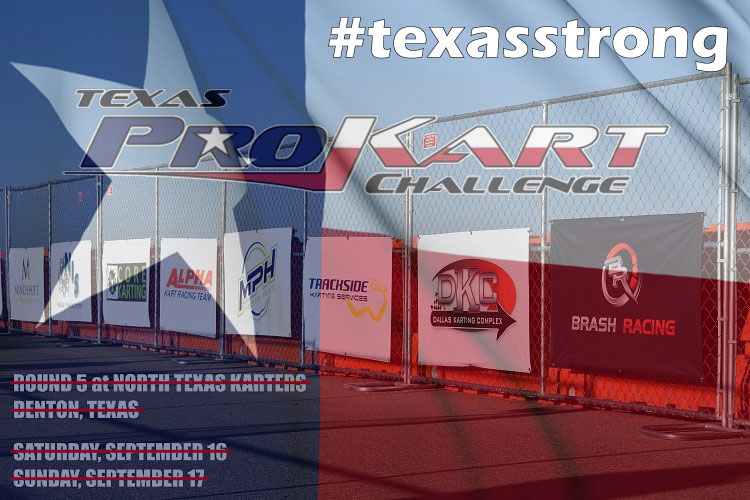 Many of our racers are facing challenges as a result of hurricane Harvey.  In order to give them time to work through these difficulties, Texas ProKart has decided to cancel the round 5 event scheduled for September 15 & 17 at NTK.
TPKC will wrap up the 2017 season with a double-header, combining rounds 5 & 6, at SpeedSportz in New Caney, Texas October 13-15.
Our thoughts and prayers are with those of you who have endured the devastation in South and Southeast Texas.  #texasstrong
Host Hotel:
Courtyard by Marriott Houston Kingwood
130 Northpark Plaza Drive
Kingwood, TX 77339
When making reservations, follow these steps:
1.  Call the hotel directly, 281-973-1790.
2.  Group name: SpeedSportz.
3.  Check in as early as 10/11, Check out 10/16.
4.  $95/night
5.  CC needed to secure a reservation.
6.  24-hour cancellation.
7.  Currently there are 25 rooms available.
Any racer who pre-registered for Round 5 at NTK can request to have their entry transferred to Round 5 at SRP or request a refund (minus 6%). Please contact Gina French at 214-402-7484 or ginafrench19@gmail.com and let us know how you would like to proceed.