EKN Trackside: 2017 Rock Island Grand Prix – Race Report
Stewart and Neilson collect three Rock trophies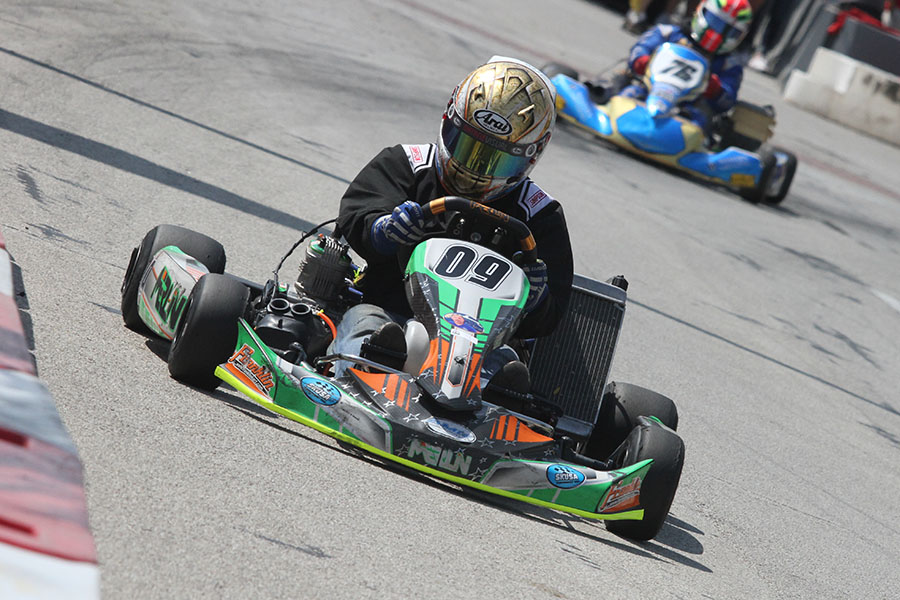 Cal Stewart won three Rock trophies in three different categories - Briggs, Yamaha, TaG (Photo: EKN)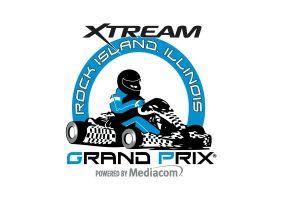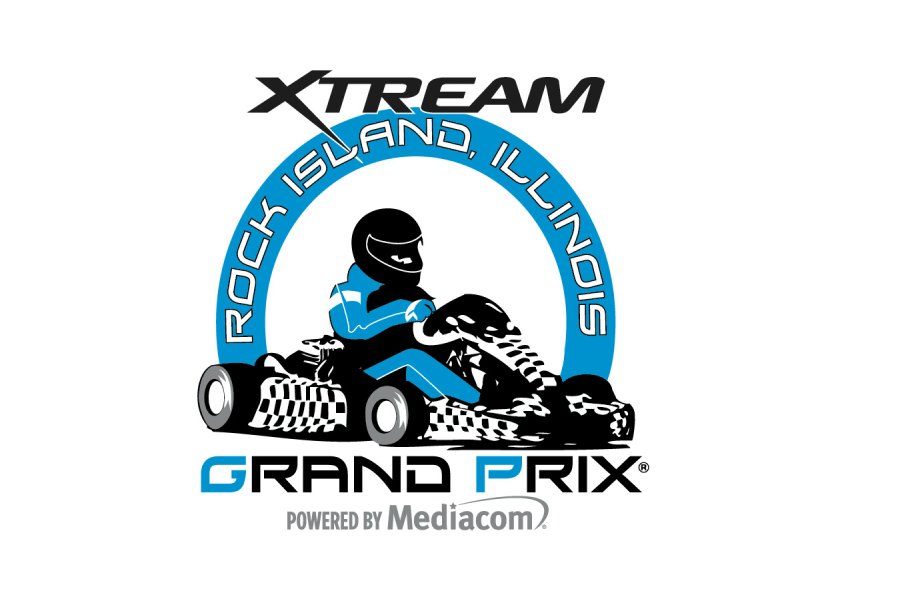 The 23rd edition of the Xtream Rock Island Grand Prix powered by Mediacom completed with perfect weather conditions all weekend long. The Labor Day festival for the Quad Cities area welcomed racers from across the country, thanks to the hard work and dedication of the non-profit volunteer organization that turns the city streets at 5pm Friday into a two-day racing spectacle, and back to city streets by Labor Day morning. All come for the fun on and off the track, but in reality drivers seek the coveted Rock trophy. A total of 16 were handed out on the weekend, with former winners Cal Stewart and Tony Neilson earning three each to add to their career totals.
A record field of 44-drivers opened up the main events in the Briggs 206 Heavy category. Cal Stewart (Coyote) defended his first career RIGP victory from last year in the class that honors Travis DeVriendt. Stewart held off a charging Tony Neilsen (Margay) with Justin Wishard (Coyote) placing third. Michael Welsh (Arrow) was fourth ahead of Dustin DeMattia (Keener) with Matt Pewe (Margay) making up the lead pack.
Stewart's second victory came in the TaG Senior division, featuring only seven entries. Stewart (Merlin) went wire-to-wire in the 20-lap main event for his first RIGP victory in the category. Anthony Honeywell (Praga) chased him the entire time, placing second. Josh Lane (DR Kart) was third ahead of Austin Wilkins (Sodi Kart) – who posted fast lap of the race – and Aaron Snyder (Energy).
The final race of the day was Stewart's third triumph – Yamaha Heavy 2- very similar to last year's performance. Coming in underweight in the heat race on Saturday, and also borrowing a Comet Racing Engines powerplant, Stewart started 16th on the grid – same as in 2016. Stewart was quick to grab positions, and worked his way into fourth, back by nearly two seconds to Tim Goettsch (Praga), Carter Pease (Merlin) and Tony Neilsen (Margay). While Stewart caught the trio, Goettsch and Pease were able to break away late, and were 1-2 on the final circuit. Contact between the two in turn two, ended both their races, handing the win to either Stewart or Neilson. Stewart reached the line first – by 59 thousandths of a second – completing the last to first drive once again for this third Rock trophy of the event. Neilson settled for second, with Morgan Schuler (Margay) moving up to third ahead of Brant Carter (Top Kart) and Shane Wells (Margay).
The three Rock trophies this year for Stewart added to the five from last year put him now tied for sixth overall.
Matching the total on the day was 2015 record holder Tony Neilson. The driver from Delmar, Iowa now has a total of 17 victories at the Rock Island Grand Prix. The first in 2017 came in Briggs 206 Medium. Another large lead group formed and Neilsen was able to triumph once again, holding off the field after a restart for a red flag, crossing ahead of Justin Wishard (Coyote), last year's winner Cal Stewart (Coyote), Michael Welsh (Arrow) and quick driver Dustin DeMattia (Keener Kart).
Neilson than defended his sweep of the Briggs 206 Masters class, earning a fourth straight. It did not come without controversy. Dan Newell (Praga) hounded Neilson throughout the race. Newell made his move coming the to white flag, taking over the lead. Neilson was able to pass him back, reaching the checkered flag first for the win. In tech, it was discovered that Neilson had a loose header and thus was disqualified, handing the win to Newell. A protest was filed, stating rule 35 from the Briggs & Stratton rule set that a driver can not be disqualified for a loose header that remains mounted. Officials reversed the call, giving Neilson the victory. Ken Paulson won the race for third over Ken Williams (Margay) with Mark Cerk in fifth.
The third Rock for Neilson came in the shortened Briggs 206 Heavy 2 class. Cal Stewart (Coyote) led early until a broken nose piece sent him into the pit lane. A hard wreck caused by a lap kart collected Matt Pewe and Michael Dittmer, bringing out the red flag. With 11 laps completed, officials called the event with Neilson at the point. Justin Wishard (Coyote) placed second with Michael Welsh (Arrow) third, Dustin DeMattia (Keener Kart) fourth and Connor Lund (Arrow) fifth.
The next driver ahead of Stewart and chasing down Neilson is Tim Goettsch, who added two victories on the day to bring his total to 10. Goettsch struck first in Yamaha Heavy. The Praga driver was able to win a duel between he and Casey Jacobs (Top Kart) – with the two posting the same fast lap. Carter Pease (Merlin) was third with Stewart falling down to fourth after starting on the pole position. Rounding out the top-five is Michael Welsh (Praga).
The second was in Yamaha Medium, one of the longest running classes at the Rock Island Grand Prix. Aaron Bromberek (DR Kart) led early on, with polesitter Goettsch able to come away after 20 laps with the victory, now his fifth in the category. Carter Pease (Top Kart) was second ahead of Tony Neilsen (Margay) and Bromberek. Devon Smith-Harden (TB Kart) rounded out the top-five.
Last year, Austin Wilkins (Sodi Kart) laid down the fastest lap ever at the Rock Island Grand Prix – 31.084 – in a third place finish during the King of the Streets event. Rory van der Steur (FA Kart) grabbed the holeshot, leading the first 18 laps of the main event. Wilkins slipped back to fourth, and worked his way past Colton Aldridge (GP Kart) and Josh Lane (DR Kart). Wilkins moved around Rory for the lead, holding on to the checkered flag to be crowned the King, earning his first Rock trophy. van der Steur placed runner-up in his RIGP debut, placing ahead of Aldridge and Lane. Three-time KOS winner Jordon Musser (Birel ART) came from 19th to fifth.
Wilkins added a second Rock trophy with a win in the Open Shifter class. It was a wire-to-wire win, also turning the quickest lap of the weekend – 31.273 – for a second straight year. Andrew Bujdoso (PCR) was runner-up in his RIGP debut weekend, besting Josh Lane (DR Kart). Bermuda's Scott Barnes (Intrepid) was fourth with Battle at the Brickyard winner Alex Conlin (Birel ART).
Musser, the 2017 SKUSA Pro Tour S4 champion, added his first win 125cc Masters class at RIGP. Musser (Birel ART) led the entire distance, able to hold off Lance Lane (DR Kart) in a five lap shootout after a red flag. Chris Jennings (Sodi Kart) was third with Josh Martin (Praga) and Troy-Trei Smith (Praga) completing the top-five.
Rounding out the shifter divisions was the 80cc Shifter category, welcoming the sixth different winner in the event. Joe Ruch (DR Kart) grabbed his first ever Rock trophy by outrunning the 10-driver field. Josh Lane (DR Kart) posted fast time, but finished second with Chase Allard moving up to third after Devon Smith-Harden (TB Kart) crashing hard with two corners remaining. Jason Ewers (TB Kart) was fourth with Troy Allard in fifth.
Anthony Honeywell (Praga) scored his second victory in the TaG Master division. Honeywell drove away from last year's winner Ethan Wilson (Tony Kart) to a nine-second advantage, while also setting a new fast lap for the class by one thousandths of a second (32.851). Peter Cook was third with Dean Leifhelt in fourth.
The Margay Ignite Shootout program made its third appearance at the Rock Island Grand Prix with another solid turnout. The Ignite Senior class welcomed the third different winner in the three years. Jordan Bernloehr was able to best Nick Todtenhaupt to earn his first Rock trophy. Veteran Pete Vetter ran third with EKN's own David Cole in fourth for his best RIGP result. Andrew Coulter completed the top-five.
Vetter went wire-to-wire in the Ignite Masters class, making its RIGP debut. Colin Predith drove to second in his RIGP debut, beating out Ken Williams and Bryan Bernloehr. Margay's own Keith Freber stepped in and drove the main event, placing fifth.
Ignite Junior made its second appearance at the RIGP with Spike Kohlbecker coming away with the Rock trophy. Defending winner Ashton Wheeler retired on lap seven, ending his chance at a repeat victory. Spike was able to best Evan Stamer and Jacob Bolen for the victory. Hunter Richardson finished fourth with Gage Kemp in fifth.
Now, racers will have to wait roughly 360 days to once again return to the Quad Cities for a chance to attack the Rock Island city streets and a chance to win that Rock.