Race Report: Tuto Super One Series – Round 9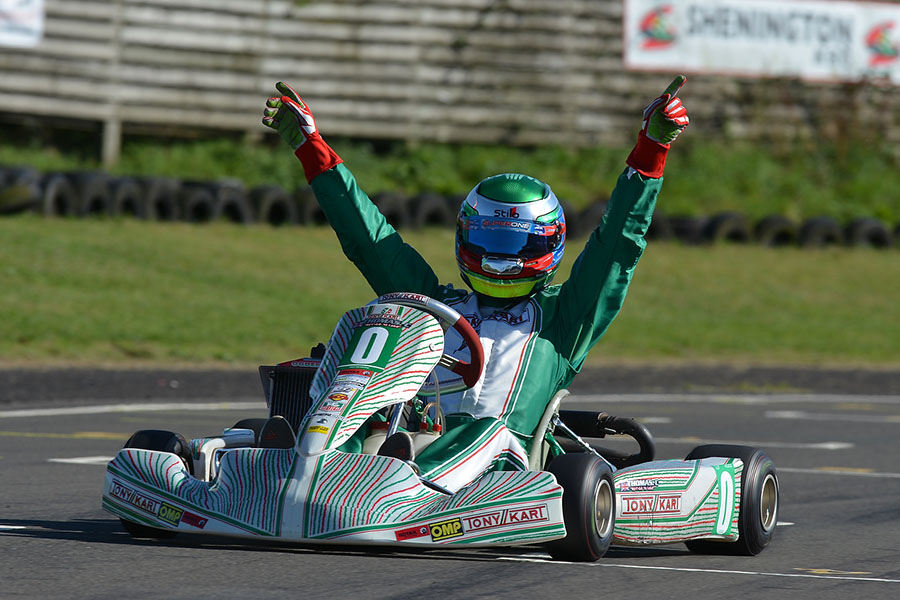 (Photo: kartpix.net)
Summer weather at Shenington accompanied close racing in the six classes present, with five classes seeing a change of Championship leader. The next and final round for all classes except Rotax 177 will be at PF International on 9th-10th September.
Rotax 177 have completed their three rounds for the year with Chris Thomas and Tony Dickinson the recipients of Rotax Max Grand Finals tickets, meanwhile in OK and OKJ the World Championship ticket recipients are Guy Cunnington, Alex Eades, Kieran Long, Ben Wooldridge, Oliver Clarke and James Lingard.
MSA British Kart Championship
Round 3
On Saturday Mark Kimber took pole, just 0.01s ahead of Oliver Clarke and 0.05s ahead of Jamie Flynn then it was straight into the Finals as part of the two-day double-header format.
Roy Johnson gained five places to win Final 1 ahead of Bobby Game with Ryan Green a further 4s behind. Johnson had a battle with Clarke towards the end but Clarke then dropped back into the pack.
Johnson went on to win Final 2, leading throughout, while Clarke came back from 6th on the grid to take 2nd from Joe Turney on the last lap, and Flynn inherited 3rd after Turney dropped back.
Round 4
Turney took pole on Sunday morning, a fraction ahead of Kimber and Flynn, and then Kimber took the Final 1 win ahead of Clarke and Turney after defeating Turney for the lead. Former leader Flynn dropped out.
Johnson took another win in Final 2 after Flynn, Game and Turney all seized, Flynn while way out in the lead. Clarke took 3rd from Turney just before halfway and hung on for 2nd when Flynn seized.
Kimber has taken the lead of the Championship, 11 points ahead of Clarke with Turney another two points behind that.
MSA British Junior Kart Championship
Round 3
Harry Thompson took pole by 0.4s from Shihab Al Habsi in Timed Qualifying on Saturday and won Final 1 ahead of Morgan Porter and Al Habsi in a race that included a Battenberg flag period due to a crash for Kieran Long and Joe Weaver.
In Final 2 Thompson led all the way, with Guy Cunnington spending most of the time in 2nd but unable to stop Thompson increasing the gap. Porter took 3rd from Al Habsi just after halfway.
Round 4
On Sunday Jamie Day took pole in a field depleted by the absence of Thompson and Porter, while Cunnington won Final 1 from Luca Griggs and Day.
Cunnington battled Al Habsi for the lead in Final 2 but Al Habsi eventually dropped back, leaving Cunnington to win three tenths ahead of Alex Eades, who had come from the back of the grid.
Cunnington and Day are joint leaders of the Championship going into the Final round with Al-Habsi 17 points behind.
MSA TKM Senior National Championship
Alex Rees took pole and two heat wins in this popular class with Harry Moore taking the other heat win, but Rees remained in the lead of the Intermediate Classification.
In Final 1 Rees held the lead at the start before Moore overtook on lap 3, with Stephen Letts reeling in Rees all the time until he passed for 2nd towards the end.
Moore, Letts and Rees battled for the lead in Final 2 with tiny gaps separating most of the field, and Moore secured the lead near the end with Rees dropping to the back after Letts took 2nd.
Letts has now taken the points lead ahead of Simon Vercoe, who didn't achieve his usual results this weekend, with Adam Sparrow 3rd.
MSA TKM Junior National Championship
Abbi Pulling qualified on pole while the heat wins went to Ross Deal and Robert Welham.
Final 1 saw a victory for Welham less than a tenth ahead of Pulling after they had battled for the lead throughout the race, with James Pashley finishing 3rd.
Welham also won Final 2 in a close-fought race where Pulling was disqualified from 3rd after an incident with Pashley, which promoted fastest lapper Zak Taylor onto the podium behind Connor Kearney.
Pulling has appealed the disqualification which has obvious Championship implications, but as things stand Deal is in the lead by 22 points ahead of Pashley with Pulling 3rd.
ABkC Honda Cadet National Championship
Oliver Bearman took pole 0.04s ahead of Oliver Greenall then went on to take 1st and 2nd in the heats. Greenall and Aston Millar took the other heat wins with Greenall taking 2nd on the Final 1 grid and Khali Atkins 3rd.
Bearman battled Archie Brown in the early stages of Final 1 then led the rest of the way, but he never managed to shake Brown, or Greenall, off and the top three finished within 0.2s. Championship frontrunner Joshua McLean went off at the start.
Final 2 was a hard-fought race with Bearman, Brown, Alfie Rigby and Theo Micouris all spending time in the lead, but Bearman prevailed again to beat another lead pack member Sonny Smith by 0.17s with Greenall completing the podium.
Bearman now has a 30-point lead over Lucas Ellingham with McLean another 21 points behind.
ABkC Rotax 177 National Championship
The Rotax drivers have now completed the season after rounds at Clay Pigeon and Whilton Mill. Chris Thomas qualified on pole with Marcus Bazley 2nd but bad luck in the heats put Bazley down the Final 1 grid while Thomas was on pole next to the other heat winner James Beacroft.
Thomas won Final 1 while Beacroft secured 2nd after fighting off Alexander Luck who came in 3rd. It was a similar story in Final 2 which finished with the same podium positions.
Results
MSA British Kart Championship
Round 3
Final 1 (24 laps): 1 Roy Johnson (Kosmic); 2 Bobby Game (Alonso); 3 Ryan Green (DR); 4 Mark Kimber (Tonykart); 5 Jamie Flynn (Alonso); 6 Oliver Clarke (Tonykart)
Final 2 (22 laps): 1 Johnson; 2 Clarke; 3 Flynn; 4 Kimber; 5 Game; 6 Joe Turney (Kosmic)
Round 4
Final 1 (24 laps): 1 Kimber; 2 Clarke; 3 Turney; 4 James Lingard (Tonykart); 5 Game; 6 William Pettitt (Tonykart)
Final 2 (24 laps): 1 Johnson; 2 Clarke; 3 Ben Wooldridge (Alonso); 4 Kimber; 5 Roman Haskett (Tonykart); 6 Pettitt
Championship Standings
1 Kimber 494
2 Clarke 483
3 Turney 481
4 Johnson 464
5 Game 458
6 Pettitt 446
MSA British Junior Kart Championship
Round 3
Final 1 (22 laps): 1 Harry Thompson (Alonso); 2 Morgan Porter (Tonykart); 3 Shihab Al Habsi (Tonykart); 4 Jamie Day (Kosmic); 5 Alex Eades (Tonykart); 6 Luca Griggs (Tonykart)
Final 2 (23 laps): 1 Thompson; 2 Guy Cunnington (Tonykart); 3 Porter; 4 Day; 5 Eades; 6 Griggs
Round 4
Final 1 (23 laps): 1 Cunnington; 2 Griggs; 3 Day; 4 Joe Weaver (Haase); 5 Kieran Long (Tonykart); 6 Al Habsi
Final 2 (23 laps): 1 Cunnington; 2 Eades; 3 Day; 4 Griggs; 5 Al Habsi; 6 Nicky Taylor (Birel ART)
Championship Standings
1 Cunnington 481
Day 481
3 Al Habsi 464
4 Eades 454
5 Griggs 444
6 Long 415
MSA TKM Senior National Championship
Final 1 (18 laps): 1 Harry Moore (Jade); 2 Stephen Letts (Tonykart); 3 Alex Rees (Jade); 4 Joe Stockford (Tal-Ko); 5 Adam Sparrow (Tal-Ko); 6 Matthew Taylor (Tonykart)
Final 2 (18 laps): 1 Moore; 2 Letts; 3 Taylor; 4 Lewis Wadley (Tonykart); 5 Stockford; 6 Sparrow
Championship Standings
1 Letts 1047
2 Simon Vercoe (Tal-Ko) 1026
3 Sparrow 987
4 Sam Fowler (Jade) 985
5 Moore 974
6 Christopher Whitton (Tonykart) 901
MSA TKM Junior National Championship
Final 1 (17 laps): 1 Robert Welham (Tonykart); 2 Abbi Pulling (Tal-Ko); 3 James Pashley (Jade); 4 Ethan Newsham (Tal-Ko); 5 Connor Kearney (Tonykart); 6 Daniel Butterworth (Gold)
Final 2 (17 laps): 1 Welham; 2 Kearney; 3 Zak Taylor (Jade); 4 Ross Deal (Tal-Ko); 5 Dan McKeown (Jade); 6 Oliver Stratford (Jade)
Championship Standings
1 Deal 1063
2 Pashley 1041
3 Pulling 1029
4 Kurt Roberts (Jade) 1021
5 Taylor 895
6 Alexander Page (Tonykart) 894
ABkC Honda Cadet National Championship
Final 1 (15 laps): 1 Oliver Bearman (Synergy); 2 Archie Brown (Synergy); 3 Oliver Greenall (Project One); 4 Alfie Rigby (BRK); 5 Daryl Taylor (Project One); 6 Daniel Guinchard (Project One)
Final 2 (15 laps): 1 Bearman; 2 Sonny Smith (Synergy); 3 Greenall; 4 Aston Millar (BRK); 5 James Walker (Synergy); 6 Neo Phipps (Synergy)
Championship Standings
1 Bearman 1019
2 Lucas Ellingham (Zip) 989
3 Joshua McLean (Synergy) 968
4 Millar 966
5 Theo Micouris (Synergy) 946
6 Rigby 915
ABkC Rotax 177 National Championship
Final 1 (18 laps): 1 Chris Thomas (Tonykart); 2 James Beacroft (Kosmic); 3 Alexander Luck (Exprit); 4 Jason Wilson (Alonso); 5 Tony Dickinson (Gillard); 6 Marcus Bazley (Tonykart)
Final 2 (18 laps): 1 Thomas; 2 Beacroft; 3 Luck; 4 Wilson; 5 Dickinson; 6 Bazley
Championship Standings
1 Thomas 572
2 Beacroft 556
3 Dickinson 530
4 Luck 506
Bazley 506
6 Jamie McGeoghan (GMS) 490