EKN Driver Diary: Kyle Kalish – 2017 SKUSA SummerNationals
Franklin Motorsports / Merlin driver makes S1 debut at SKUSA Pro Tour finale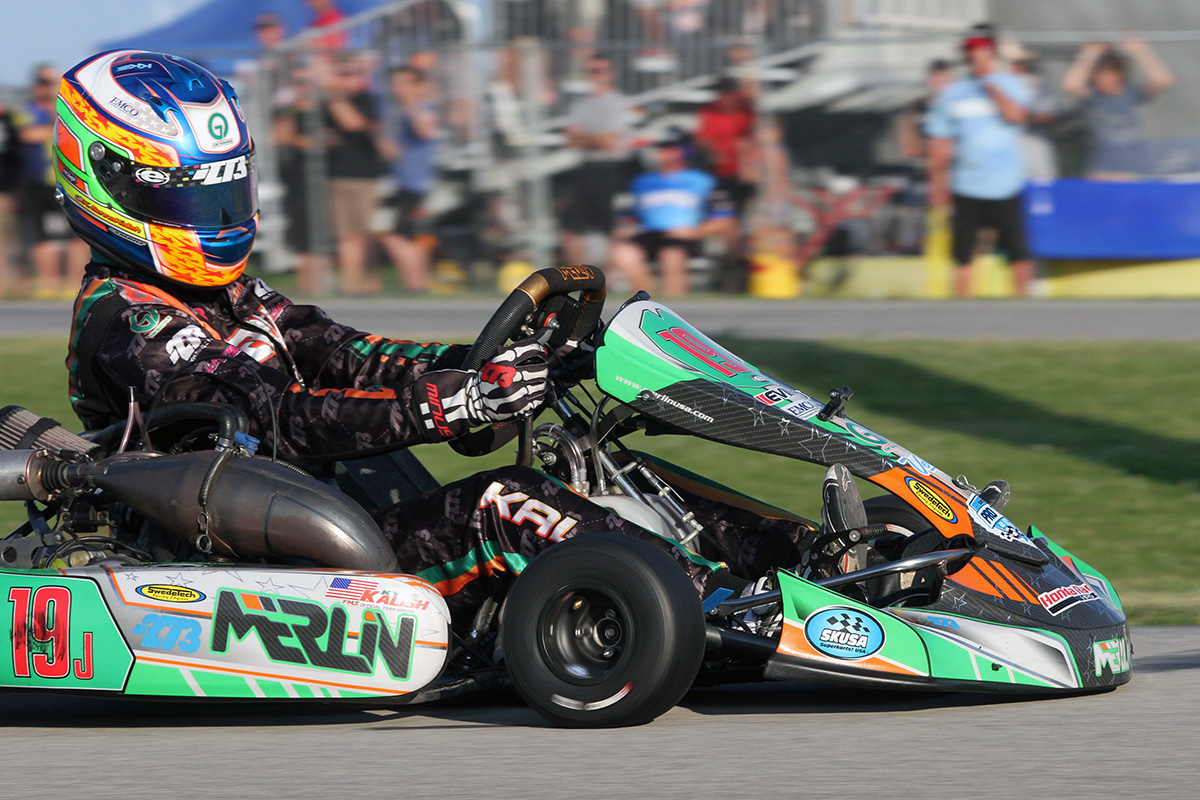 Kyle Kalish made his S1 Pro debut at the 2017 SKUSA SummerNationals (Photo: EKN)
Kyle Kalish is a longtime Franklin Motorsports / Merlin driver, and he chronicled his 2015 rookie season in the Stock Honda category. In 2016, Kalish scored his first SKUSA Pro Tour S2 Semi-Pro victory, finishing the season runner-up in the championship standings. For the 2017 season, Kalish focused on his schooling, returning to the track for the summertime. At the 2017 SKUSA Pro Tour SummerNationals, site of his first victory, Kalish returned to shifterkart racing for the first time since the 2016 SKUSA SuperNationals to make his S1 Pro Stock Honda debut.
As some people have noticed, I've been fairly absent from the karting scene so far in 2017. Heading into my junior year at the University of North Carolina-Charlotte, my racing has quickly been put onto the back burner. In the 2015 and 2016 seasons, I only competed in the SKUSA Pro Tour plus a couple other races outside of the series, as that was all that my school schedule really allowed for. After running in a limited schedule the past two seasons, we made the decision that it was time to finally walk away and focus 110% on school. I didn't feel that I would be able to compete at the level that I considered acceptable for myself if I tried to do any racing and with moving into the S1 Pro Stock Honda category, I knew I was going to have to be at the top of my game if I wanted to be able to run up front. I told myself that once school got out in the spring, I would start looking at possible options to race this summer. It all pretty much started in the beginning of June.
Preparation and Organization
We sold our chassis from the past two seasons right after the SuperNationals last year so that left us without a kart to race this year. Luckily, there was still a few-races old Merlin shifter chassis laying at Franklin Motorsports from last season (thanks Darin Marcus) that we were able to race. Once we got everything prepped and ready to hit the track, we had about a month to get some testing in. We started off with a short test day at Concept Haulers Motor Speedway on my way home from the Route 66 Series in Springfield. Followed that up with another day at the new and improved Badger Kart Club. After those two test days, I'll be completely honest and say that I had no intention in racing. I felt like my driving wouldn't be up to par and didn't want to spend my last weekend home before heading back to school be spent struggling at the race track.
Luckily for us, New Castle was holding a "SKUSA Tune Up" the weekend before the race. It was a full weekend of open practice which really allowed myself to get a better feel for if I would be ready. Within the first day, I felt like I was able to get back into a rhythm and starting feeling more like my usual self behind the wheel. While no S1 drivers showed up for the test, a few of the top S2 drivers were there testing, which allowed us to have a very good gauge on what kind of times we should be running. With the times we were running and the progress we were making with testing on the kart, we felt confident that we'd be able to compete up front.
Thursday and Friday Practice
The Superkarts! USA Pro Tour SummerNationals were here! I got back to New Castle Wednesday night and getting set up early Thursday for the afternoon sessions. We got four sessions in Thursday afternoon and felt alright with the progress of the day. It was hard to really get a comparison with the other drivers as everyone was doing their own different testing rather than just going for pure fastest lap. Overall, we felt happy with the work we had done throughout the day and felt like we had decent momentum heading into Friday.
Friday was definitely not the way we wanted it to go. We felt alright in the morning but still was never that confident with the times we were putting down. Once the transponders were on, we really knew we weren't in a good spot. We came through in the last three rounds in 8th, 8th and 11th. Considering there was only eleven karts in S1, it was really not where we wanted to be. It had a bit to do with my driving as I was struggling a bit with hitting my lines in Turns 1-3. With the kart, we wanted to have the kart come in faster so we'd be strong in shorter sessions. We knew that kart was fast, just needed it to come in like 2-3 versus 5-6. Now the last session was a bit of an exception because we suffered a brake failure during the session, we still knew we needed a couple tenths if we wanted to be anywhere near the front come Saturday. That was easily one of the toughest things about the S1 field, the competitiveness of each driver. While the eleven kart field could be seen as disappointing, it was quite possible for any one of these drivers to stand on the top step of the podium at days end.
Race Day 1
The mentality of Saturday was that it was a new day. Of course, warm-up wouldn't have been without an adventure. In the class right before S1, a S4/S4 SM driver lost the drain plug on the bottom end and ended up spilling transmission oil around the entire track. That not only put us behind schedule, but it made the track fairly interesting once we got going on. With oil dry covering most of the race line, we didn't really get a great idea of how the kart was which made the decision making surrounding the qualifying set up to be a bit interesting. On the bright side, we ended the session in fourth, which gave us a bit of hope going into qualifying. We decided against changing anything for qualifying as we had put in a softer axle Friday night and still had yet to get a true test of its capabilities. Sadly, we didn't get to do that in qualifying either. As I was starting my first hot lap, my chain decided it didn't want to work anymore and proceeded to snap. So not only did we go three sessions without getting a proper run with the axle change, but would also have to start last in this close S1 field.
The Prefinal was my first taste of shifterkart racing in over eight months. While shifterkart driving is hard to get readjusted to, the racing side of it is what I really struggled with early. I got a good start and then just kept putting myself in bad spots, costing me positions. We had the speed, posting the third quickest time of the race, but I just struggled getting back into the racing mode. We finished in seventh and after penalties, starting sixth for the main event. Luckily, they don't hand out the trophies for how you do in the Prefinal. While I was overall bummed with how I drove that race, I knew it was important for myself to get a race under my belt before the main event because it allowed me to shake off the dust and get back into racing the way I know how.
Now of course, I didn't listen to my own advice and preceded to drive myself to the rear. After starting sixth, I drove myself into ninth on the opening laps. At that point, I figured I threw away any and all opportunity at having a decent finish. But, I tried not to get too discouraged because I knew that we would be fast regardless of our finishing position. So I just put my head down and kept on digging. Slowly and surely, I kept picking off position after position and found myself in fourth with about 10 laps to go in the 25-lap race. Then, we got a bit lucky with the third place driver falling victim to a DNF with about seven laps to go. It was at this point that I was in a three kart battle between myself, Billy Musgrave, and Nic LeDuc for the final step on the podium. After a bit of dicing between us, I was able to hold them both off for the final handful of laps and secure the podium in the S1 debut.
With 20 laps to go, I had no one behind me and the entire field in front of me. With about 15 laps to go, my brakes started to go away and quickly was running with maybe 60-70% of the braking power that I should've been racing with. With about five laps to go, I noticed the engine temp was pushing 150 degrees and looked back and noticed we were spilling water on the track. Of course, a blown head gasket. I was talking to one of the officials after the race and we said they were talking about black flagging me off the track which I responded "With all due respect, I'm glad you didn't because I was never going to pull in anyways." When it was all said and done, we were on the podium. Never slowed down, never gave up, and pulled through.
Race Day 2
After leaving the track at 11PM the night before rebuilding the entire brake system – big thanks to Jamie Sieracki – and putting back together our engine, we were up early to get going for the last day of competition. Warm-up was a bit less adventurous today, but we luckily had the same strong result with the fourth fastest lap. The gap wasn't where we wanted it to be, but we were still happy with the result. Qualifying was a tough battle, but we luckily came out in a much better position than we did the day before. I was able to throw down a strong lap on my second to last lap (1:02.58), which slotted me in the fourth grid position for the Prefinal. Not only was I only 0.002 seconds off third-place, but third through ninth were within one tenth of a second. Once again showing the strength of this field.
Sadly, we didn't go in the direction I was hoping to in the Prefinal. Not only could I not seem to be able to hold position, but I was lacking pace overall. We fell back to seventh as I struggled with getting the most out of the kart that I could. I knew we had some work to do on the kart but also I had some driving problems that I needed to resolve within myself.
Once the main event came around, being the last race of the weekend, we just wanted to try and have as strong a run as we could. But of course, I once again decided not to listen to my own advice. I struggled early, falling to the back of the field, but really wasn't able to replicate my run from Saturday. The kart still wasn't where I wanted it to be, but 90% of our speed struggles during the race were from me. One of the biggest things that I had been struggling with over the weekend was getting the most out of a kart that wasn't perfect. When everything was great, we were great because the kart could pretty much drive itself. But when the kart was even just good, I still couldn't seem to get the most out of it, which was purely a driver issue. But even the lack of pace, I was still able to keep moving through the field and settled into fifth place, giving me two top-five finishes on the weekend.
While our pace in the morning was promising, I put myself in the back of the pack with the way I was driving. The physical fatigue of driving a shifterkart was finally starting to catch up to me as I wasn't in the shape that I truly wanted to be or where I have been in years past, as well as the mental fatigue was really starting to get to me. I think the grip level had an effect on my performance but wasn't necessary an excuse for them. I'd say the grip level was similar to what it has been in years past, maybe a little more, but being away for as long as we had caused us to struggle a bit with both the driving and tuning as the track started to really grease over towards the end of the weekend. While I don't think we would've been battling for the win considering the speed of Jake French all weekend, there is absolutely no reason that I shouldn't have been able to podium again on Sunday.
Reflection and Thank You
As I sit in my college apartment, reflecting on the weekend we had, I can say I'm still very happy with how we were able to end up. The only thing that really bums me out was the way I drove on Sunday. I felt I left a lot on the table, but we still had a decent day. By no means was it the perfect weekend, by myself or anyone else, but I feel that I was able to accomplish everything that I set out to accomplish. Of course, there is no denying I would've loved to battle it out for a win, but French was on another level all weekend and he is a worthy S1 champion. When I decided to come back for the one race this year, I wanted to once again prove to myself that I can be fighting for wins and podiums. Even though this is what I expect from myself, I still have to step back and realize that I'm not in the seat as much I used to be and compared to the people I'm racing against, I'm basically not in the seat at all. But going into last season, the goal was to win a Pro Tour race in S2 to prove that I could win at the highest level in every category, from Cadet-Junior-TaG-Shifter, and I was able to accomplish that. Going into this one off, I wanted to prove to myself that I'm still capable of being a top driver in the country and battle up front in S1, and I feel that I was able to accomplish that.
While my priorities have shifted and racing is now nowhere near the top of the list, I'm still extremely grateful that we were able to put this together for SummerNationals. First off, I would like to thank my mother and sister for not only their support over the past couple of weeks, and the last 15 years really, but for also allowing me to steal most of dad's time so that we could do this. Next, I'd like to thank Jamie and George Sieracki at Franklin Motorsports/ Merlin USA for being the incredible people that they are. They made sure we had everything we needed to be able to run up front and continued to give us unbelievable support over the last decade and a half. There was only one Merlin shifter chassis in any of the shifter classes and it ran up front with a guy who's been out of the seat for over 8 months and the only major change we made was go from a very hard to a hard axle. A great kart is nothing without a great engine, so I'd like to thank SwedeTech Racing Engines for their support on the weekend and over the last two seasons. I would also like to thank my other supporters: EMCO Chemical Distributors, Minus 273, and GO Designs for their continued support. I've been blessed to work with many different companies but these are the best in the business.
The last and most important thank you goes to my dad for not only making this happen, but continuing to provide with the best prepped and tuned kart on the track. There are few people in this world who are blessed to have a father like I have. And those few people are my sister and I. There is no one on this planet that does more for their kids as my dad does for us, and I'm not just talking about what he has done for me in racing. Take away all of that, and he has still given me more in my life and prepared me more for life than I could truly ever imagine and frankly more than I probably deserve. I honestly don't know how I could ever repay him in a way that would be equal to everything he has done for me. So to my dad, who I know is reading this, thank you for everything.
Back to reality, as I get back started on my junior year of college. A lot less racing and a whole lot more studying. As always, thank you to eKartingNews.com for allowing me to do another Driver Diary. I always enjoy writing these and I hope that the readers get to enjoy them as well!
Thank you,
Kyle Kalish
www.kylekalish.com
Facebook: KalishRacing
Twitter: @KyleKalish19
Instagram: @KyleKalish