Michael d'Orlando Closes Out European Series and Karting Career in Scandinavia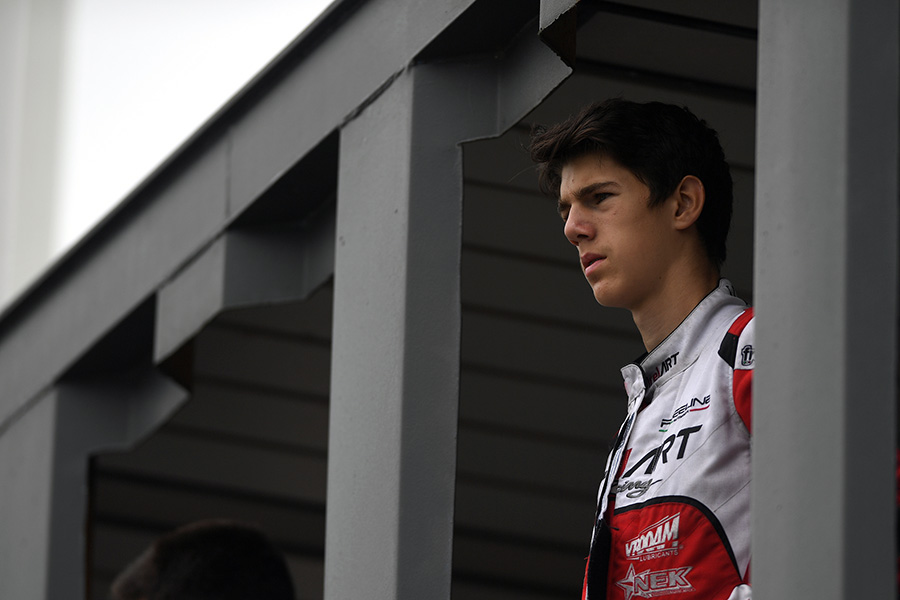 After a very successful nine year career in karting, competing at the highest level of competition North America has to offer, and just over a year of competition at the world's highest level as a factory driver for one of the world's top karting teams, Michael d'Orlando completed his karting career in Scandinavian territory at the final two rounds of the CIK FIA European Championship Series.  Though it has been a tough stretch recently for the rookie in the OK (senior) category, the only thing holding him back on the track is bad luck.  Following weeks of either engine issues or unavoidable contact out of his control, d'Orlando has used his experience and work efforts overseas to move on to the next level in his career.
The first week of his Scandinavian tour took place at PowerPark Circuit in Alaharma, Finland.   The entire weekend of ever-changing mixed weather conditions made the trip even a bigger challenge… as if the 20+ hour flight from New York City, on 4 planes, wasn't hard enough.  His qualifying effort of 13th in his qualifying group would set him in the 7th row for each of the four head-to-head heat races.   And from there his bad luck from Le Mans would follow him when contact in his first heat race resulted in an early retirement.  Proving that his greatest quality as a driver is his determination and work ethic, this poise helped him bounce back slightly in the next two heats, scoring a respectable 16th and 17th place finish but still struggling to find the setup.   And once again, for the final heat race, a mechanical issue would force another early retirement, and therefore miss him an opportunity to compete in Finland's main event.
Leaving that frustration back in Alaharma, but taking with him valuable experience and learning tools, the New York native would focus on the next, and final round of the European Championship Series, at the Asum Ring circuit in Kristianstad, Sweden.  D'Orlando began with an impressive 11th place qualifying run in his qualifying group, providing a much needed spark to his team.  And then teaming up with his younger brother Nicholas (J3 Competition/COMPKART) in group C for all four of the head-to-head heat races, together they avoided early trouble amongst the competition in the first heat race, for Michael to finish 12th (and Nicholas 13th).  However,a 10-second post-race bumper penalty at the scales would officially score him 17th.  With the weather starting to look fickle, the eldest brother was able to race to a 14th place finish in his next heat.  But then disaster struck again in the third heat when he was collected in the midst of contact in a group of other drivers sending him off track.  Although he was able to push back on track and the get the #147 Birel ART kart going again, the deficit was too great to overcome and would officially finish 20th.  Still focused for better results, albeit a position in the main event unattainable, the determination of Michael d'Orlando continued into his final heat for a respectable 14th place finish, and an end to his nine-year karting career that began at the age of only six years old.
"The races in Finland and Sweden were tough, no doubt, but I continued to push through it. " says Michael d'Orlando.  "  It's important to keep pushing every session, even when it looks like all hope is lost.  But I have always been a driver that doesn't give up not matter what curve balls are thrown my way.  And even though the results didn't show it, I feel that we really did all we could do together as a team."
Although the recent setbacks in karting was not how Michael d'Orlando had pictured his transition from karting to cars, d'Orlando and the entire d'Orlando Racing squad are confident that this is the time for the 15-year-old driver to move his talents into open-wheel cars.  What he has learned from his career in karting and the support he has received from various teams, numerous race series and friends & family, has developed for him a strong foundation for the next step in his motorsports career.
"Now I am ready to take on the next challenge of my racing career and move on to cars," continues d'Orlando.  "and I am very confident that I will be able to do very well at that level also.  Karting was a great start to my career in motorsports, I learned so much here, and I believe it to be a valuable step for the next level.  I'd like to thank my the teams that I have worked with in the past [OVRP, J3 Competition, KoeneUSA and Birel ART] for helping me develop the foundation in this sport.  I'd like to Thank my friends and family for always being there and to continue to support me through the good times and the tougher times.  We never give up.  And a special thanks to all of my fans who have been with me over the past nine years… here's to a new beginning.  It's not over yet.  We're just getting started."
The entire d'Orlando Racing squad would like to extend their sincere Thanks & gratitude to the entire Birel ART factory team, especially Ronni Sala and Rickard Kaell Franchini.  We sincerely appreciate all the support and expertise they have provided over the past year or so, in the development of the driver both on and off the race track.  A continued Thank You to our support provided by Focused Project Management, Design Build Collaborative and Fyshe USA/Adidas.  And finally, a sincere Thank You to all our family, friends & fans for your love & support and we look forward to being together with all of you for the future!