Nicholas d'Orlando Completes European Championships with Strong Momentum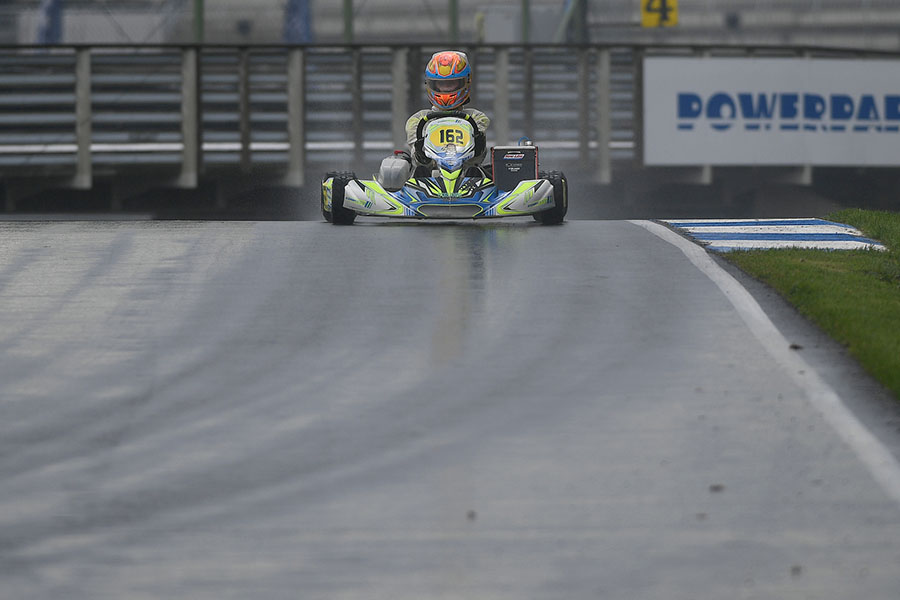 Following a strong week at the world's historic Le Mans race track in Le Mans, France, Nicholas d'Orlando and his J3 Competition/COMPKART team moved to Scandinavian territory for the final two rounds of the CIK FIA European Championship Series, in successive weeks in Finland and Sweden.  The young rookie has been impressive in his last few races,  providing consistency  in speed throughout the race weekends.  While it is technically an "away" race for d'Orlando, Europe has become a second home for him and his race team.
The first stop on the tour took place at PowerPark Circuit in Alaharma, Finland.  The weather was completely uncooperative and each session provided different track conditions, ranging from full rain to a completely dry track at any given time.  Struggling to find the power in the opening days, "Nitro" Nick d'Orlando qualified 15th in his qualifying group.  His overall qualifying position among the 65 drivers in attendance would set him in the outside of the 8th row for each of the four heat races of head-to-head action – a tough position in any karting grid.   But the young rookie in this OK (senior) class continued to push hard and he would remain consistent to cross the finish line in 16th, 13th, 18th and 12th in the heat races.  However, contact is almost immanent in that section of the grid therefore he would suffer two post-race drop-down bumper penalties, each with a 10-second time addition to his final race time, in the official results.  Unfortunately, these penalties ultimately affected his overall final points standings and therefore the results were not enough to earn a spot in the main event, where only 34 drivers can compete.
The following week, d'Orlando and his team continued their Scandinavian adventure for the final round of the CIK FIA European Championship Series in Sweden.   Arriving at the tricky Asum Ring in Kristianstad, Sweden, d'Orlando and the J3 Competition/COMPKART duo remained consistent with a 12th place result in his qualifying group.  This effort put him back on track together again with his older brother, Michael d'Orlando (Birel ART Factory driver) in Group C for head-to-head action in the four heat races.  In the opening heat, the brothers worked together to avoid early trouble amongst their competitors to finish 12th (Michael) and 13th (Nick) respectively.  The young rookie would further progress in the second heat with an official 9th place finish but early trouble in the third heat would find him with an 18th place result.
Looking to score that spot in the main event on Sunday afternoon, the young talent put it all together for his best performance in European competition to date, for the 4th and final heat race, to pull off an impressive 6th place finish.  And it paid off by securing the 27th starting position for the main event.  But just when it looked like everything was falling into place, d'Orlando's impressive and stout weekend was cut short just only a few short laps into his main event race due to power issues with the engine, forcing him to retire from the competition early.
"It was a tough weekend in Finland with the ever-changing weather conditions but with each race we get more & more comfortable on these European circuits with this high level of talent & competition." explains Nicholas d'Orlando. " And even more so, it was a tough way to end the European Championship Series like that [in Sweden].  We were definitely making good progress over these past few races and I felt like things were starting to come together.  But ultimately things like that [engine failure] happen in this sport, but what we showed prior to the main event is just the tip of the iceberg and I'm very confident for what we can do in the future."
Nicholas d'Orlando will shift his focus to compete at his highest level of competition in his 8-year career, at the CIK FIA World Championships at PF International circuit in Grantham, England from September 20-24th. Stay tuned for continued updates and more information on Nicholas d'Orlando at www.dorlandoracing.com and be sure to follow him on Facebook (Nicholas d'Orlando Racing), Twitter (@dorlandoracing) and Instagram (@dorlandoracing).