Birel ART claims S4 and X30 Championships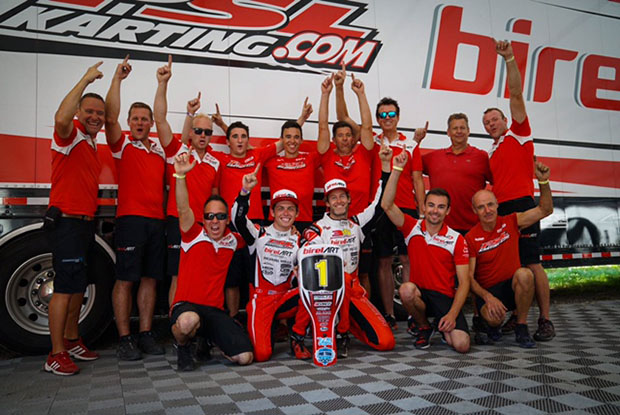 Last weekend marked the final round of the SKUSA Pro-Tour, a 6 race, 3 event series, kicking off in the south at NOLA Motorsport Park, then back to the West Coast in Sonoma, CA then New Castle, Indiana for the final rounds. Birel ART has had a strong showing all season long, claiming championships almost every class and every series. The Pro-Tour had almost 250+ drivers, on average, at each event creating some of the most competitive races in the country. However, Birel ART was able to succeed in S4 and X30 Senior as series champions, but not without a difficult fight.
PSL/BCR driver, Justin Arseneu, competed in the Mini-Swift class, classifying P8 out of 44 drivers, a big accomplishment in a class where the racing is so close. By the end of the day, in the final, just would finish P14, however not without a good battle and good pace throughout the race. The eldest of the junior drivers, Thomas Nepveu, competed in the X30-Junior class, qualifying P13 overall. The categories offers some interesting driving, and it can be difficult to avoid crashes and incidents on track. Thomas would be classified as DNF on lap 6 due to unavoidable accidents.
Senior X-30 saw Palmer, Hayes, Dow, Mallozzi, Kremers and Norberg all take the checkered flag in the 55+ kart field. Kremer's and Norberg would be the team standouts, with Norberg leading the championship coming into the final round. By Sunday, Norberg would clinch the X-30 Championship in what would be considered one of the most challenging Senior fields to date.
In X30 masters class, another group which is compromised of North America's most decorated 32yrs + drivers, Tatikian would qualify P4 only missing the top 3 by a tenth. Driving his Ricciardo Kart (PGR Racing), the final would prove to have some ups and downs in the opening lap pushing Tatikian down in the field eventually finishing P15.
S4 Champion, and veteran in karting, Jordon Musser of 3G Karting, would be the protagonist throughout the weekend, making it look too easy on his Birel ART shifter chassis, qualifying pole against some of America's best drivers. In the final, Jordon would finish P2 and grab the S4 Championship for Birel ART & 3G Karting based out of Texas.
S2 saw some familiar faces return to the PSL / Birel ART team with Garrett Boone and Michael Ilavia competing in the S2 shifter class, which utilized the Stock Honda engine package. Boone qualified P9 and Ilavia P18 in a field of 28 pilots. For the final, Boone and Ilavia would finish P10 and P14 respectively.
"As our 18th year competing as a Team, the drive and passion for winning only becomes stronger at each event. We would like to thank all our drivers for their continued support and our partners at Birel ART providing our customers and drivers with the best chassis's in the world. As well, Allison Racing Engines, who takes the extra time to support each and every one of his customers in the paddock." – Coy Arbour, Team Manager Birel ART North America
For more information on joining PSL for the Las Vegas Super Nationals, please contact info@pslkarting.com. To purchase chassis's or engines from the event, contact info@pslkarting.com. Visit www.pslkarting.com to learn more about Birel ART and our dealer program. Follow us on facebook.com/PSLKarting and Instagram @pslkartingofficial