One-On-One: Rock Island GP's Roger Ruthhart
2017 edition of karting's 'bucket list' race shaping up nicely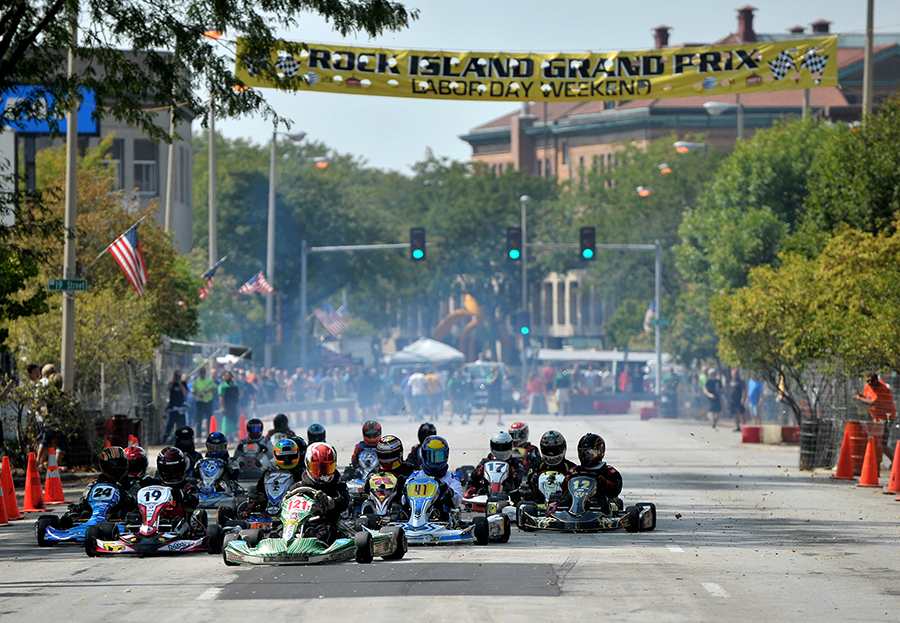 The Rock Island Grand Prix is a primary bucket list event in the karting community (Photo by Paul Colletti / pcolletti@qconline.com)
Over the past 20+ years, the Rock Island Grand Prix has firmly planted roots as a one of the true 'bucket list' events in the sport here in the United States. When asked, current and past racers will go on about a laidback, fun atmosphere that is coupled with the intense competition. The 'cool factor' of the city's Arts and Entertainment District and the host hotel's position just outside the paddock are major components of the 'Rock Experience'. It's an event, and simply one of the most fun weekends you can have racing. The Rock has it all. In addition to the racing, incredible dining options are within walking distance of the hotel and the nightlife is full throttle.
The RIGP line-up offers a true cross-section of the sport, with classes for Briggs 206, Yamaha, TaG and shifters. The track is fast and straight-forward, but it has its secrets to a quick lap. The race is just two weeks away, so we tracked down RIGP President Roger Ruthhart to hit him up with questions that would give him the opportunity to bring us all up to speed on this year's race.
eKartingNews.com: This year's Rock Island Grand Prix is just over two weeks away and we know the everyone is hard at it, getting things in place. Let's kick off this interview with the question that everyone is wanting to know – how are entry numbers and what are the biggest classes for this year's race?
Roger Ruthhart: We never really know what the turnout will be since a majority of the entries come in over the last three weeks. So far, we are tracking similar to last year. The generous incentives provided by Briggs & Stratton to discount the second class entered by B&S 206 drivers has obviously encouraged those teams to enter sooner, but those 30 discounted entries have now all been claimed. Those 206 classes, along with the Margay Ignite program, will be large for us again this year as they continue to grow and bring new racers to the sport and to our event. The Ignite entries – supported by their arrive-and-drive program – are doing well too, but we expect solid race classes across the board. Last year, we had 38 drivers in the Travis DeVriendt Memorial Briggs & Stratton LO 206 Heavy Race sponsored by Gett Industries, which is the most we have ever run on our downtown street course, so that will be the mark we are trying to top this year.
EKN: The gearbox classes have always been a big part of the RIGP, headlined by the King of the Streets race. The numbers bounced back in 2016 with an increase in both KoS and the 125cc Masters class, and the addition of the 80cc Shifter brought in new entries as well. You've added a 125cc Open Shifter class to the line-up this year to give shifter racers a chance for more track time on the same tires. What do the shifter fields look like for Labor Day weekend? We know that former KoS winner Josh Lane has been pounding the pavement on Facebook to drum up support. He's always excited to get back to Rock Island.
RR: Josh Lane has been a great ambassador for our event, as have others. Gearbox racing here at the Rock dates back to Year 1 and the King of the Streets' run has been almost as long. Getting that cape and crown in front of thousands of race fans is a rush like no other. I've seen drivers who were no strangers to winning get excited like little kids after winning the King of the Streets. Scott Speed has said it was the biggest win in his karting career and I think Bobby Wilson would tell you the same. Nelson Phillippe won his first race in a shifter kart here before going on to Champ Car and GP2. If you look back at the people who have won, it's an impressive list that anyone would like to be seen on: Joey Hand won before it was 'King of the Streets', Bobby Wilson, Alan Rudolph (5 times), Jordon Musser (4 times), Scott and Alex Speed, Josh Lane, Kyle Wiegand, Derek Crockett, Connor Iseli and then, of course, Remo Ruscitti last year.
And last year, Austin Wilkins broke a 10-year-old track record for the fastest lap ever run on our track and he still didn't win. Then you have names like Philip Giebler and Graham Rahal, who raced here but didn't win it. The list of winners is an elite group. We know for sure that we have two previous Kings — Josh Lane and Jordon Musser — back this year. I don't know if Remo Ruscitti will be back to defend, but I can't wait to see who else will show up to see if they can measure up and become King of the Streets – one of the most coveted titles in kart racing.
We're also excited about the rebirth in popularity of the 80cc shifters here in the Midwest and we're happy to support that effort.
This year, we instituted a program that has proven popular with Yamaha and Briggs drivers where we have two separate races run on the same tires. This gives those who make the trip here an opportunity at twice as much practice time and two chances to win. The gearbox racers have raised concerns about running two races on the same tires due to the soft compounds and high horsepower of the karts, so we are revisiting that and should have an announcement soon. But so many of the gearbox teams are from outside the Midwest, so it makes sense to do something like this, giving them the opportunity for more track time too.
EKN: There is obviously renewed excitement for the race and positive momentum. What new additions are you particularly excited about for 2017?
RR: We're really excited about a new effort to broadcast the race over Facebook Live and we appreciate eKartingNews supporting this effort by allowing us to incorporate its audio. The people we are working with are hoping to integrate all kinds of bells and whistles that have never been tried before on Facebook Live at a live racing event. There may be some hiccups, but there is also the opportunity that the broadcast could go viral. In any case, people all around the US and even worldwide – not to mention in the pits and trackside – will be able to follow the racing live on their phones. We're pretty excited about what this could mean for Facebook, for the exposure of karting in general, for exposure for eKartingNews.com and obviously for the Xtream Rock Island Grand Prix powered by Mediacom.
EKN: Roger, one final question. For racers who are on the fence, what would you like to add in regards to the Rock Island Grand Prix on the whole, as a bucket list experience?
RR: Wow, that's a great question. Probably the number one thing is the festival atmosphere. The event is held in Rock Island's Downtown Arts & Entertainment District, which features a casino, dinner theater, comedy clubs, live music venues, coffee shops, restaurants and unique boutique retailers. Each night there are live music concerts outdoors on the Great River Plaza. This year features 'Good Company' and Friends at 8 p.m. Friday during track setup. The big headliner Saturday night is the nation's top AC/DC tribute and party band 'Electric Shock' with 'Bad Hair' as the opener. Sunday night after the Awards Ceremony will be 'The Shagadelics' as disco returns to The District, with 'Smooth Grooves' as the opener for another big night of partying. I guess that's a long way of saying lots of people come to Rock Island for the party, too. For many, it's the one race each year they bring family, friends and sponsors to.
If the concerts aren't your thing, the nearby Jumer's Casino & Hotel is also a popular draw and a long-time sponsor of the event. The Quad-Cities in general – with a population of 400,000 split between Illinois and Iowa -also offers a wide variety of fun things to do, places to go and eat, if you venture outside of Rock Island.
I'd recommend that people talk to racers who have been here. Since its a temporary circuit track, it varies a bit each year. But generally, it's a level playing field where no one can practice on ahead of time. You show up, have two practice sessions to figure it out, and go racing. It's a good test of your race team. Looking at the map, the course doesn't seem technically difficult, but it is in ways many racers have never experienced before. Some streets are concrete, others are asphalt; there are patches, bumps and manholes; Some streets bake in the sun all day while others are in the shade; some streets are flat while others have crowns; there are tight corners and a 750 foot straight. I almost forgot the fake brick crosswalks. Racing at Rock Island will teach you things that will make you a better racer.
Most kart racers have never had the experience of racing in front of thousands of spectators and lots of local media. I think that's always a big part of the experience, and this year you can add in coverage on Facebook Live too.
Lastly, there's nothing quite as cherished as a 'Rock' trophy for your mantle. Many have come here for years and never won one. Each year you have the chance to race against karters from coast to coast. Eight foreign countries have been represented over the years. There really are many reasons to come to Rock Island and enjoy the experience.
If you have not yet entered for this year's Rock Island Grand Prix, today is the final day for pre-registration. You can enter HERE.
More information is available on the event website- http://www.rockislandgrandprix.com/competitors.html