Elkhart Riverwalk Grand Prix Debut A Success
Nielson and Borntreger double-up as karting returns to Elkhart streets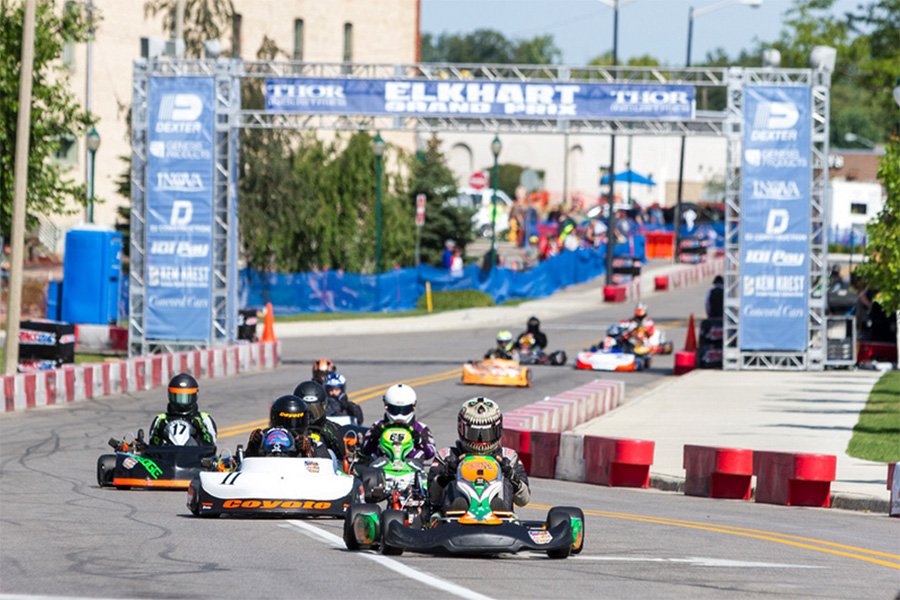 The Elkhart Grand Prix made a successful return to the karting schedule last weekend, entertaining the crowd on the Riverwalk
(Photo: Digital Mitchell Event Photography)
For the first time in 22 years, karts were raced on the city streets of Elkhart, IN. In the early to mid 1990's, the Elkhart Grand Prix was one of the largest events in all of karting, attracting over 600 entries and were broadcast on the then-new ESPN2 network. However, due to safety concerns and legal actions, the race was cancelled but never forgotten among locals or veteran karters. During his election campaign, Mayor Tim Neese stated that one of his goals was to bring new events to downtown Elkhart, including the revival of the Grand Prix. On August 11-13, that dream became a reality as the city came together to warmly welcome karting's return to the streets of Elkhart.
The track layout was unique to street racing. Karters crossed the Elkhart River twice each lap while circulating the 0.6-mile course that went around the scenic riverfront setting. Additionally, the adjoining City Center Park played host to concerts on Friday and Saturday night, as well as activities for the whole family including kid's tricycle racing, obstacle courses, face painters and more. On Saturday alone, an estimated 10,000 spectators lined the course to watch the racing!
With incredible corporate backing from Elkhart's RV manufacturers, including title sponsor Thor Industries and presenting sponsor Genesis Products, 140 kart entries competed in 13 classes. ABC Excavating, owned by local karter Troy Allard, sponsored three classes including dual features for the strong 80cc Shifter class. TB Kart Indy drivers Zach Shiff and Devon Smith-Harden split the honors of winning the 80cc races.
Saturday also featured a new concept in street racing; a 90-minute Briggs 206 Endurance Race. Dustin Courter of Colorado drove the whole event solo to claim victory in this unique twist on endurance racing.
Margay pilot Tony Nielson was a double winner on the weekend, taking home the hardware in both Stealth Trailers Yamaha Heavy A and Yamaha Medium. The weekend's other double champion was Allen Borntreger, who ran to a dominant win in the largest class of the weekend, Stealth Trailers Briggs 206 Heavy A. He also won the ABC Excavating Briggs 206 Heavy B race by just over a tenth of a second from Garritt Powell.
Finally, the race that really got the massive crowd's attention was the Stealth Trailers-sponsored 125cc Shifter class. The gearbox drivers were flirting with 100mph top speeds on Waterfall Parkway as they raced by the huge spectator crowd. Joe Ruch took the win over Dustin Courter and Devon Smith-Harden, and in true style, Ruch entertained the crowd with donuts on his victory lap!
"The Thor Industries Elkhart Riverwalk Grand Prix turned out to be an amazing event, not my words, but every competitor I talked to," stated USAC Karting Director Mike Burrell. "It had atmosphere thanks to the city, the thousands of fans, the bands, and all the great corporate sponsors. And it's the first event I've been to in years the competitors were 'complaining' that they got too much track time!"
"The city has already asked us to come back in 2018 and beyond, and I look for Elkhart to join Rock Island as prominent stops for street racers each year," Burrell continued. "All the sponsors were ecstatic, and I look for this event to grow and grow alongside our Indianapolis race and other potential events."