Maranello Kart Scoring a One-Two-Three in Siena's Prologue of the Italian ACI Karting Championship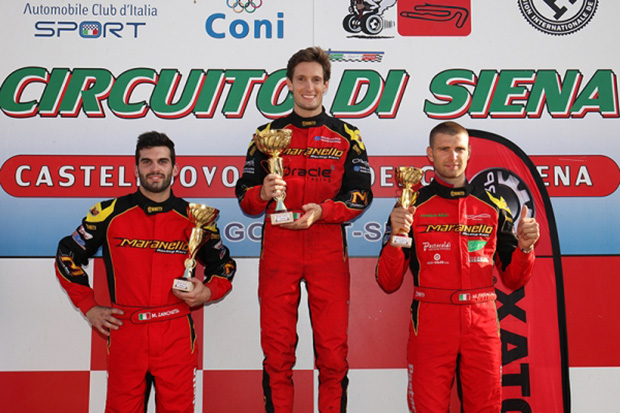 Flavio Sani won the KZ2 Final in the national race held in Siena, leading Marco Zanchetta and Marco Pastacaldi in an all-Maranello Kart podium. Maurizio Giberti victorious in KZ4, Roberto Ragone second in Rotax Mini.
Maranello Kart has displayed a great competitiveness taking an exceptional one-two-three in KZ2 at the Circuit of Siena during the national race valid for the Moho Trophy.
SANI, ZANCHETTA AND PASTACALDI SUPER IN KZ2
Flavio Sani, Marco Zanchetta and Marco Pastacaldi, all on Maranello-Tm, had a dominant run crossing the line in the order and locking out the podium. This excellent result followed the pole position posted by Pastacaldi in qualifying and the victory taken by Zanchetta in Prefinal.
Maranello Kart went to Siena to check its material ahead of the Italian ACI Karting Championship round that will take place on the Tuscany track on September 3rd, but with such a prologue all seems to be in place to end the Italian Championship on a high.
Before the closing round scheduled for September 3rd, Marco Zanchetta is leading KZ2 classification at 177 points and is followed by Palomba at 125 and Pastacaldi at 111,5.
Two finals will take place in the closer with coefficient 1.5, which will result in a total of 99 points up for grabs. Zanchetta has taken two wins and three podiums in the eight races run so far.
THE OTHER PROTAGONISTS IN SIENA ON MARANELLO KART
A good result for Maranello Kart was also obtained by Maurizio Giberti who won KZ4 in Siena.  Giberti is the provisional leader of the Italian Championship in this category.
A good podium was also obtained by the young Roberto Ragone in Rotax Mini. He has always been among the main protagonists, claiming second in the Final after winning the Prefinal.
Italian Championship's KZ3 Junior leader Luca Bombardelli struggled a bit more to find the right setup instead. "I had never raced on the Circuit of Siena before – Bombardelli said – and this race gave me the chance to work out where we need to improve to be strong in the race valid for the Italian Championship." Bombardelli was fourth in the KZ3 Junior's Final in Siena, while Mattia Giannini was on the third step of the podium on Maranello-Tm.
In KZ3 Under, Alessio Zanotti who is fifth in the Italian Championship, won Siena's Final on Maranello-Tm, but a 10s time penalty relegated him to P6. Regarding the other Maranello drivers in KZ3 Under, Alessandro Cetraro was third, Francesca Cifola seventh and Tiziano Iodice ninth.
In KZ3 Over, Cristian Griggio, who is currently standing seventh in the Italian Championship, had an incident on lap one of the Final. The other Maranello drivers did not have much of luck either, as  Claudio Ambrogi was 11th and Attilio Borghi also did not finish.