EKN TV: 2017 United States Pro Kart Series On-Board with James Egozi
Go from 15th to first in 17 laps with Koene USA Tony Kart - Comet Racing Engines power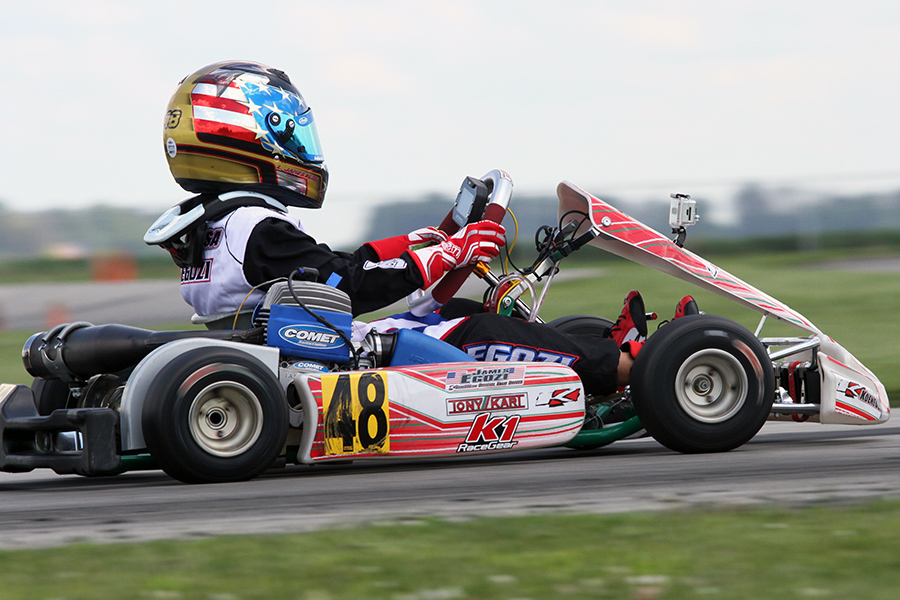 (Photo: EKN)
The third stop of the 2017 United States Pro Kart Series took teams and drivers to the New Castle Motorsports Park on July 28-30. The Hoosier Grand Prix took place on the 1-mile circuit in New Castle, Indiana to begin the second half of the championship season. For some, it was a chance to improve their title chase, while others took it to prepare for the upcoming SKUSA Pro Tour SummerNationals with just under 150 entries in the seven categories. The IAME classes were stacked with talent thanks to the season high total of 27 drivers.
Among them was Koene USA / Tony Kart driver James Egozi. The Florida native has racked up some victories and championships in the Micro divisions, including racing at the famed Rotax Grand Finals last year, placing fourth in the inaugural world championship. The 9-year-old who turns 10 in December is now into the Mini division, racing against drivers with two or three years of experience in the category. Egozi drove from 12th to sixth in the Saturday main event, showing speed on Day 1. Issues in qualifying put him 15th and was unable to improve after getting shuffled back mid-race of the Prefinal, finishing in the same spot. Ride along with the Comet Racing Engines powered driver as he navigates his way toward the front in the 17-lap feature, showing you don't need a bumper to move up through the field.
James would like to thank his following supporters: Tony Kart – OTK USA – Adam "ACE" Johnson, Martijn Koene and Mike Maurini with Koene USA – Mark Dismore Jr. with Comet Racing Engines – K1 Race Gear – Goodman Air Conditioning and Heating – Opustone Natural Stone Distributors – Coach Everton with VV Extreme Training – MSF Designs – The AC Outlet.com
Enjoy!