Ignite Challenge Invades Mid-State Kart Club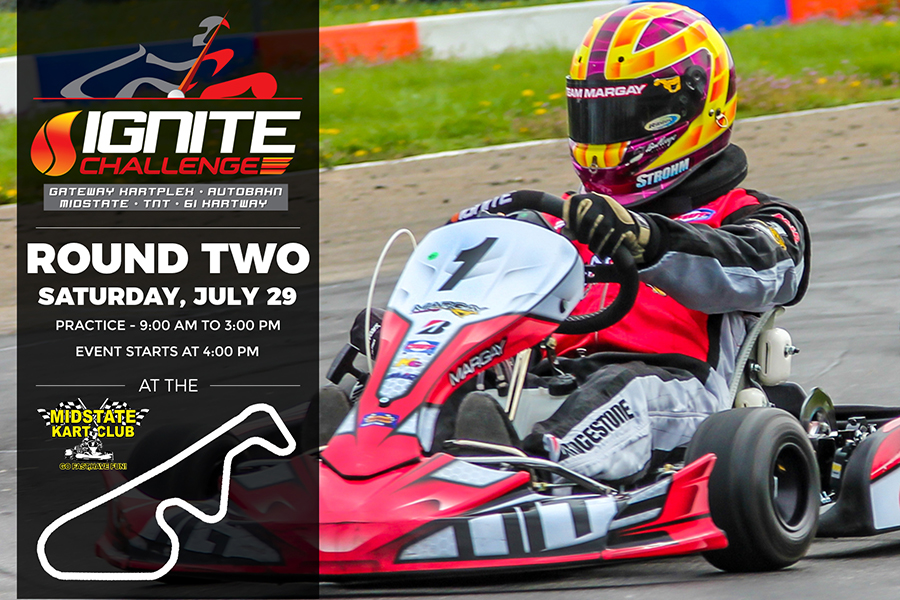 Saturday, July 29 marks the second round of the inaugural Ignite Challenge season at Mid-State Kart Club. After a successful first round at Autobahn Country Club, the Ignite drivers are geared up to run the backwards configuration under the lights at the historic Springfield, Illinois track.
For those unfamiliar with the spec Ignite classes, Margay Racing has provided a proven spec chassis equipped with the popular Briggs and Stratton LO206 engine, creating an extremely competitive, affordable and reliable racing kart. Targeting new karters, Margay has worked to remove or minimize entry barriers to the sport and has created a platform where drivers can focus on developing their on-track skills while keeping costs and maintenance to a minimum. The goal of the series is to give Ignite Series drivers an opportunity to affordably travel and compete at a new track without the extensive costs usually tied into a regional or national program along with utilizing the same rulebook across each track.
In Ignite Senior, Eric Loddeke looks to expand his points lead over the field after an impressive 3 wide, last lap pass for the win at Autobahn Country Club. Autobahn 2nd place finisher Matt Chubb, veteran karter "Pistol" Pete Vetter and Ryan Bettenhausen are also looking to make their way up the points table. Autobahn Ignite Masters winner, Rod Scharf, blew away the field in Joliet but two-time Gateway Kartplex Ignite Masters champion, Jon Vernier, will make his return this weekend looking to claim the regional championship. In Ignite Junior, Mid-State local Joey Curry looks to take on Autobahn's Jenson Benet and Gateway's stacked field of junior drivers.
For more information on the Ignite Challenge, visit www.margay.com/race-with-us/ignite-challenge.html
For updated Ignite Challenge points, visit www.margay.com/images/2017ignitechallengepoints.pdf
For Margay Racing updates, follow us on Facebook and Instagram.