Michael d'Orlando Flashes Speed in Le Mans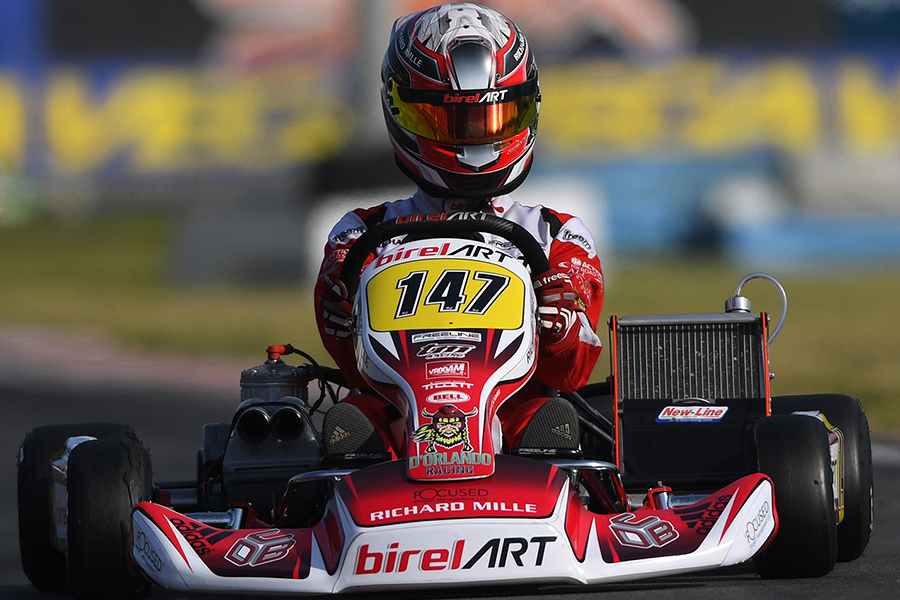 After heartbreak in New Jersey just a week before, Birel ART factory team driver, Michael d'Orlando returned overseas to race at one of the world's most renowned racetracks, Le Mans, France.  Let down by engine failure at the US Rotax Grand Nationals/US Open International combined event in New Jersey, while taking a dominating lead in the main event, d'Orlando was motivated to deliver the finish he deserved, in Le Mans.   And in his recent CIK FIA European Championship series events, d'Orlando has been on the move and turning heads.
Weeks removed from the 24 Hours of Le Mans, a stout field of 71 drivers showed up for the CIK FIA European Championship world-class competition.  The race weekend started off with teamwork from the Brothers d'Orlando, as Michael and younger brother, Nicholas (J3 Competition/COMPKART factory driver) worked together and the result gave both drivers their best qualifying efforts in European competition to date. Michael would put down the 6th fastest time in his Qualifying group, which would result in an impressive 16th place overall in the 71 driver OK (senior) category and a promising starting position of 7th for each of the four Heat races.
Heat racing would be head-to-head action as each group would compete on track in a 'round-robin' type format – (Michael in Group A vs each of groups B, C, D & E).  On Saturday, the eldest d'Orlando's first heat would draw some excitement in the d'Orlando Racing camp, as the Brothers d'Orlando would square off head-to-head against each other.  Michael's momentum from Qualifying continued with an impressive 5th place finish, and younger brother Nicholas only 2 positions behind.  But the momentum for Michael would slow from here.  After a tumultuous start with contact in the opening corners in his second heat race, causing him to fall back to 18th by lap two, Michael d'Orlando recovered to 14th at the finish line, however a bumper penalty caused by the early race contact would ultimately classify him as 20th.   And furthermore, d'Orlando's third heat to end the day would start with his entire inside row getting held up at the drop of the green flag, and once again he found himself recovering with a solid drive to finish 13th.
But it was his fourth & final heat on Sunday morning that was the end of the road for the OK (senior) rookie at Le Mans.  Although he would get a great start and pick up a couple positions by turn two, this is where the momentum stopped.  By turn three, while running in fourth position, the fifth place kart would hit Michael in the rear bumper, turning him sideways and resulting in another driver to run over the front of his kart, damaging his Birel ART machine too much to continue and ending his race.
The ultimate result was disappointing as the points tallied from the heat races were too much to earn one of only 34 spots in the Main event.  The heartbreaking result again does not embody how the Birel ART factory team and driver worked this weekend.  The whole team showed they have the speed, the driver and the promise to compete with the top drivers in the series, and therefore the world.
"Our weekend really got off to a great start and we put ourselves in a good position with the Qualifying session.  I was very confident for the heat races."  said Michael d'Orlando.  "The first heat showed we have the ability to make a run for the podium, but again, after New Jersey, I just didn't expect bad luck to pack it's bags to follow us to Le Mans.  There really wasn't much I could do in the opening corners of the last heat race, but sometimes all you can do is just put the kart where you know it needs to be and let the rest sort itself out.  It was very upsetting to get sandwiched like that and we were focused on a solid result to make the main event, but it just wasn't in the cards for me.  But we have proven we can be fast and I look forward to the next round in Finland."
Michael d'Orlando will be back to racing action this weekend at the CIK FIA European Championship Series in Alaharma, Finland. Stay tuned for continued updates and more information on Michael d'Orlando at www.dorlandoracing.com and be sure to follow him on Facebook (Michael d'Orlando Racing), Twitter (@dorlandoracing) and Instagram (@dorlandoracing).