Great Expectation for Heated Grand Finale on the CIK-FIA European Champs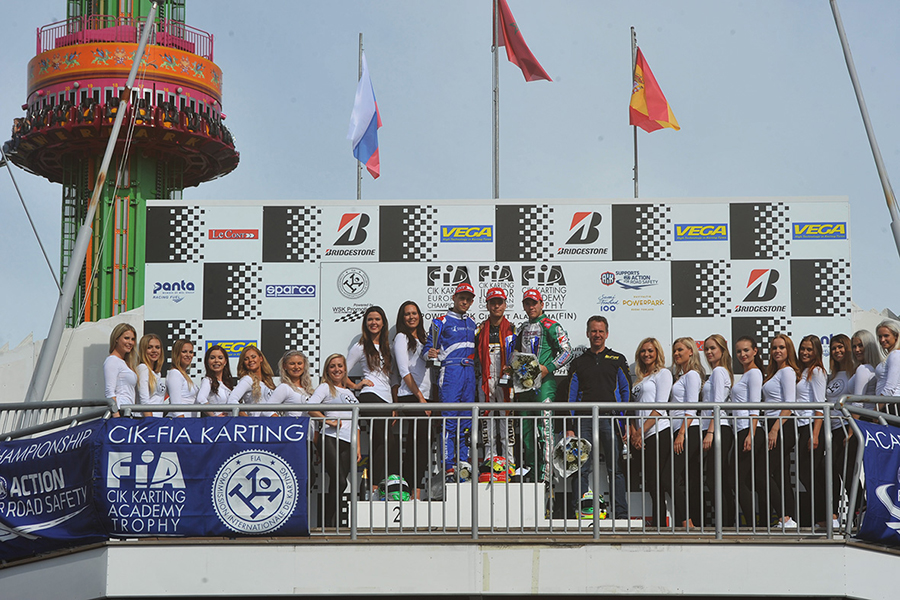 After today's race in Alaharma (FIN), the finale of the CIK-FIA European Champs – next weekend in Sweden – is going to be as spectacular as ever. At the Powerpark Circuit, the Finnish fans got literally enthralled by an impressive series of thrilling races and by a final standings which remained uncertain until the very end of the event. The Championship in both the categories will be decided only in the last round, with new drivers that, after today's results, have joined the battle for the final leadership. In the meantime, the CIK-FIA Karting Academy Trophy – at its third and final round in Finland – has been awarded: another topic to be discussed in the special TV report on Motorsport.TV next week.
Historical victory for Taoufik in OK
The spectators who followed the race found their man of the hour in the Moroccan driver Sami Taoufik (FA Kart-Vortex-LeCont). Taoufik overtook the Spanish Pedro Hiltbrand (Tony Kart-Vortex) at the beginning of the race and, from that moment onward, Hiltbrand could not keep the pace and lost some other positions. So, there was room for other protagonists, such as the Finnish Paavo Tonteri and the Russian Pavel Bulantsev (both on Tony Kart-Vortex): the latter even managed to pass Taoufik, even though for only one lap. The driver from Marrakech, in fact, managed to take back the leadership almost immediately and to win the race. Taoufik is the new leader of the Championship, in the day of his maiden victory for a driver coming from Morocco in a CIK-FIA race. Behind him, the runner-up was Bulantsev, while Hiltbrand managed to recover some positions and to finish third ahead of Tonteri.
Edgar wins the duel in OK Junior
The Australian Jack Doohan (FA Kart-Vortex-Vega) attacked in Qualifying but in the Final the English Jonny Edgar (Exprit-TM) was too tough a rival for him. The two drivers swapped positions at the head of the race many times, but in the last laps it was Edgar who had the upper hand after a thrilling duel. The Russian Ilya Morozov (Tony Kart-Vortex) took advantage of the situation: placing a daring overtaking manoeuvre on the last lap, he managed to pass Doohan and to place 2nd. For Doohan it was a fatal blow: he was overtaken also by the English Harry Thompson (FA Kart-Vortex) who grabbed the 3rd place in the last metres of the Final.
Melo D. Porto the new winner in Academy
He was the best in Qualifying and he won the Final: the Brazilian Francisco Melo D. Porto was at his first success in the Academy Trophy. Second place for the Belgian Xavier Handsaeme, the winner of the Trophy. Third place, after a recovery from the sixth row, for the Dutch Tijmen van der Helm (all drivers on Exprit-Vortex-Bridgestone).