Karting Challenge of Florida at Palm Beach Karting Created
Series presented by Vortex Engines and Bridgestone Tires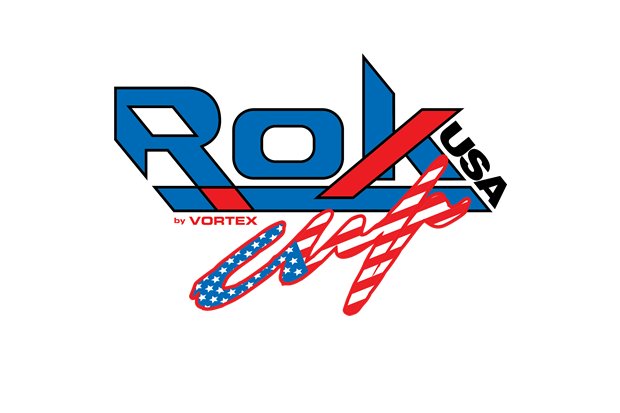 As the landscape of karting continues to change in North America, ROK Cup Promotions is pleased to announce the formation of Karting Challenge of Florida (KCF) Presented by Vortex Engines and Bridgestone Tires. Taking place at the ultra-fast and competitive Palm Beach Karting track, KCF will continue on where ROK Cup South Florida left off, and has big plans for the future to help grow the sport of karting in Florida.
"First off, all of us would like to personally thank Tony and Gina Schroeder for the support they have given the karting community for more than fifteen seasons," explains Luis Martinez, General Manager Palm Beach Karting. "Both of these individuals have given their heart and soul to karting in South Florida and we all look forward to seeing them trackside in the very near future."
As the ROK Cup South Florida moves north and changes locations, teams and competitors will see the great Vortex ROK racing which they have come to know and love.
"Each event will be operated by the ROK Cup USA Team," adds Garett Potter, ROK Cup USA Director of Operations. "Many of us understand it takes a lot of work and great people to run a facility like Palm Beach, and with our support looking after the series, Luis and his team can focus on growing the Florida market. You will also see some updates and very cool additions to the program such as 'Track Wars', amazing prize packages being offered and an association with the South Florida Kart Club Arrive and Drive program."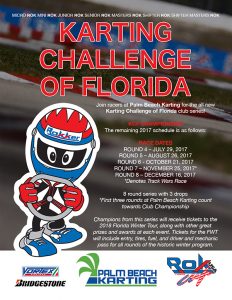 KCF Championship
The remaining 2017 schedule is as follows:
Championship:
8 round series with 3 drops
*First three rounds at Palm Beach Kart Center count towards Club Championship
Race Dates:
Round 4 – July 29, 2017
Round 5 – August 26, 2017
Round 6 – October 21, 2017
Round 7 – November 25, 2017*
Round 8 – December 16, 2017
*Denotes Track Wars Race
Champions from this series will receive tickets to the 2018 Florida Winter Tour, along with other great prizes and awards at each event. Tickets for the FWT will include entry, tires, fuel, and driver and mechanic pass for all rounds of the historic winter program.
Track Wars:
Track Wars will be an exciting new event that will utilize some old school karting from back in the day. With a format similar to sprint car racing, two events will be on the calendar for 2017. The first of two events will take place on November 25th at Palm Beach Karting while round two will be held December 3rd at the Orlando Kart Center.
Potter continued, "The starting grid for the first heat will be set at random and inverted for the second heat. After the heat races, points will be tallied and the grid for the main events will be set. Each racer will have a geographical tag to his or her registration showing what track he or she will represent and each racer will receive points based on his or her finishing position. At the end of the two rounds, the track garnering the most points will receive the bragging rights, and a coveted award to display for one calendar year."
Track Wars Race Schedule:
Round 1 – November 25, 2017 –  Palm Beach Karting
Round 2 – December 3, 2017 – OrlandoKartCenter
Arrive & Drive:
Helping to get people into the sport of karting, Karting Challenge of Florida will work with the South Florida Kart Club for an arrive and drive program. Bringing their program to select races of the new KCF will open up new drivers to a higher level of racing. Please feel free to invite anyone looking to get into karting to these events to experience a high level program at a fraction of the cost. Visit their website for more information at www.soflokc.com.
More information on race day format, registration, classes and awards is available HERE. KCF race day schedule is also available to download HERE.
For more information on Karting Challenge Florida, ROK Cup USA and ROK Cup Promotions, please feel free to contact ROK CUP USA at (407) 476-5635 or info@rokcupusa.com. For track information including testing, sales or general information contact Luis Martinez at (561) 578-5641 or manager@pbkarting.com.