Maranello Kart Scoring Strong Results in Adria, Siena and Wackersdorf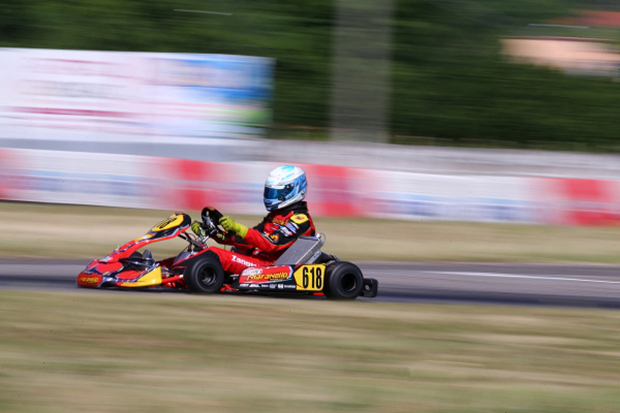 Maranello Kart has been protagonist in Adria in KZ3 with Cesari (Junior), Zanotti (Under) and Tonoli (Over). Zanchetta had to retire due to a puncture in KZ2. Iodice took the win in Siena's KZ3 Under, while Hold and Stumpf got good placings in Wackersdorf.
Maranello Kart obtained great results in the weekend of July 9th at the national race of the Adria Trophy, in the Rok Cup in Siena and in the prestigious DKM in Wackersdorf.
SEVERAL WINS IN KZ3 IN ADRIA
Eying the forthcoming round of the Italian Championship in Adria,  Marco Miastkowski and Roberto Cesari have been the main protagonists in KZ3 Junior on Maranello-Tm. Miastkowski managed to cross the finish line as first, but a 10s penalty handed the victory to Cesari, who is currently second in the Italian Championship. Miastkowski slipped down to the fourth place, while Mattia Giannini was seventh and Davide Carlo Franzoni 13th.
Maranello Kart has also been successful in KZ3 Under with Alessio Zanotti, who dominated the Prefinal and the Final. Michael dalle Stelle was fifth instead.
Another great victory came from KZ3 Over with Andrea Tonoli, who is currently second in the Italian Championship, while  Cristian Griggio obtained a very good third place in the same category.
Marco Zanchetta missed out on the big target in KZ2 instead. The current Italian Championship leader had unfortunately to retire from the Final due to a puncture when holding P3. Zanchetta is nevertheless going to be one of the main protagonists of the forthcoming Adria's round of the Italian Championship scheduled for next July 15-16.
IODICE WINNING KZ3 UNDER IN SIENA
Maranello Kart put another KZ3 Under win under its belt at the circuit of Siena. Tiziano Iodice claimed in fact the victory in the Final after being involved in an incident in Prefinal. In the very competitive Mini Rok,  Matteo Luvisi ended within the top ten in P10 on Maranello-Vortex, while the son of former F1 driver Nicola Larini, Davide Larini, was 20th after a few racing contacts.
GOOD RACES FOR HOLD AND STUMPF IN DKM
The Austrian driver of Maranello Kart Christoph Hold obtained the 21st place in Race-1 and the 20th in Race-2,  was 10th in his qualifying group and took P14 after heats in KZ2 at the third round of DKM in Wackersdorf (Germany). The German Stephen Stumpf of team Nees Racing, also put in a good weekend in  KZ2 Cup. He was in fact 11th in Race-1 and eighth in Race-2. The next round of the DKM will take place again in Wackersdorf next August 27th before the World Championship scheduled for September 10th at the same venue.