Fresher 13th at Indianapolis Motor Speedway Kart Race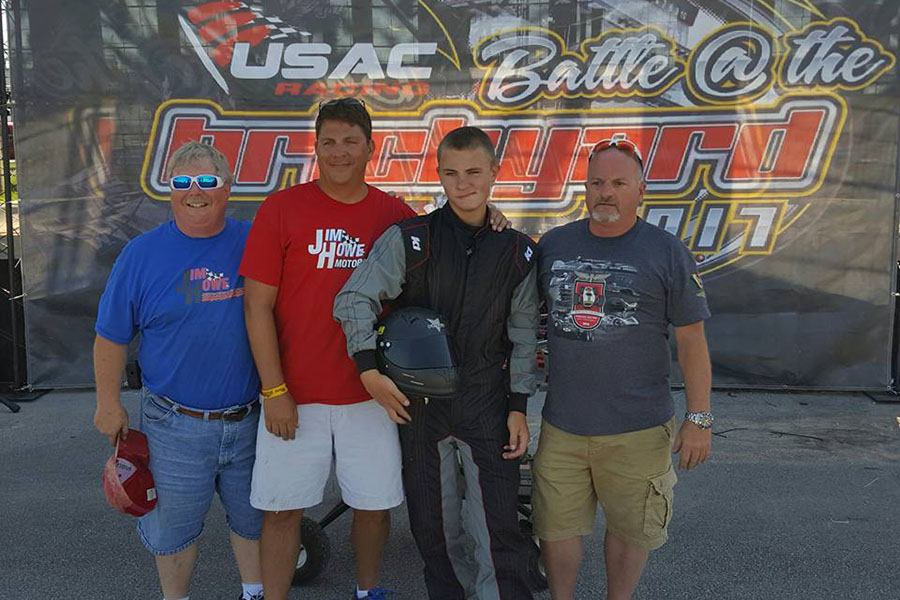 The JHM team after the race: Left to right: Jim Howe, Tom Fresher (father), Jordan Fresher, and Bob Chandler (Photo: Bob Chandler)
Columbus, Indiana-based Jim Howe Motorsports LLC finished 13th with driver Jordan Fresher (14, Avon, IN) in the Yamaha Junior portion of the inaugural USAC-sanctioned "Battle at the Brickyard" at Indianapolis Motor Speedway today.
Fresher started 12th in the 16-kart field and got as high as tenth before getting shuffled back three spots in drafting on the one-mile road course comprised of the oval's turn four, part of the infield road course, and infield service roads. The event featured 14 circuits of the temporary course.
The youth finished 51 seconds back of the leader, but still on the lead lap in his Edwards-Rigdon Construction / Dilling Group #62 BirelART powered by a BBS Race Engine Development Yamaha.
Fresher is in his second season driving for the team,but his first in the Yamaha Junior class which reached speeds of 70 mph at the IMS circuit.
"We didn't quite have the straightaway speed of several of our competitors," Team General Manager Jim Howe noted, "but Jordan was extremely strong in the turns. The draft was also something new as he had never been on a track this big or fast before. Despite that, he ran a flawless race."
In preliminary action, Fresher finished 12th in the heat as well as the prefinale, despite battling clutch problems off and on during the day. He missed the morning warm-up prior to the "Battle" finale as his JHM effected repairs.
The team returns to "club" action next weekend in Clinton (IN) for the Southern Indiana Racing Association-sanctioned "Clinton Grand Prix" street race.