Race Report: IKF 2C/4C Sprint Grand Nationals – Presented by Evinco and Briggs & Stratton Racing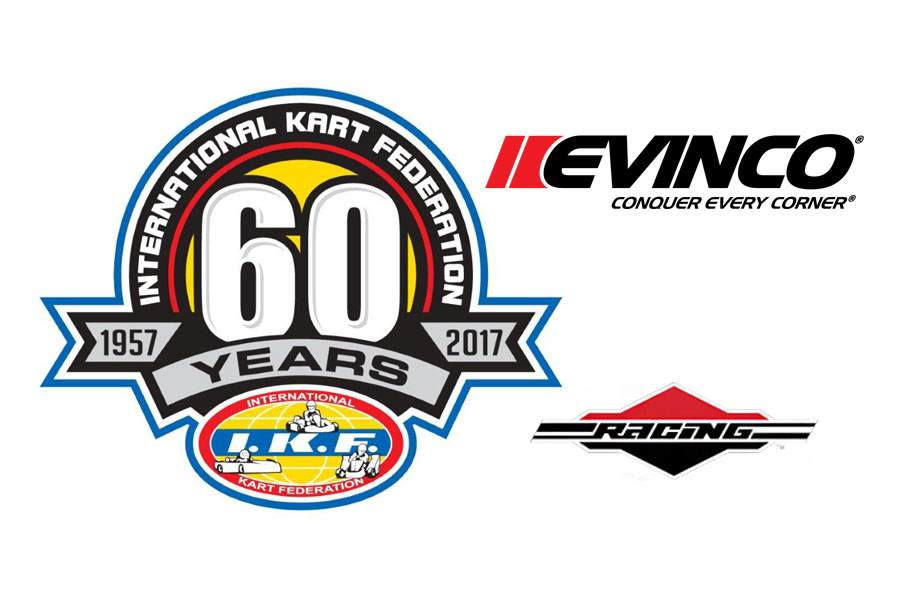 Roger Miller, IKF President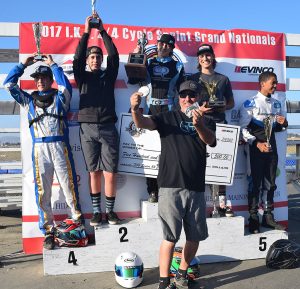 Overcast skies and moderate temperatures greeted over 150 entries, teams, crew members, families, and friends to the International Kart Federation 60th anniversary running of the 2 Cycle and 4 Cycle Sprint Grand Nationals for 2017.  This event included classes for the popular racing packages of IAME and Briggs & Stratton engines.
Senior LO206 and X30 Junior were the largest classes on each day, and all classes enjoyed great racing.  The parity of the engine packages was highlighted in all classes by the close racing groups on the track and many lead changes, and position changes in both the Prefinals and the Finals.  It was impressive the amount of clean driving, safe passes, and, minimum of bumping and pushing as had been highlighted in our driver's meetings.  This year Kid Kart Honda showed up with an increase in the number of entries, looks like this package is gaining momentum.
The Engine Builder Award for the event went to Jesus Vasquez of P1 Engines for having the best performance for engines throughout the event.
The Lake Speed Award for overall contribution and achievement in support of karting was awarded to Ron Perry and his family.  The Perry family has shown their devotion to our sport over the years and currently with their efforts with Central California Kart Racing Association (CCKRA) in Fresno, CA.
IKF thanks the sponsors, volunteers, staff and all event participants for supporting this great event.  In particular, Evinco for sponsoring several classes, and Briggs & Stratton for supporting classes and entry fee rebates and RLV for their support.  As well as the teams and shops, Nash Motorsports, Phil Giebler Racing, PKS, Cambrian Go Karts, Formula K, and Mike Manning.  And anyone I may have missed – you have my thanks for your support.
Full results are posted HERE and also available through the Central California Kart Racing Association listings. Below are the top-five finishers:
SATURDAY – DAY 1
SUNDAY – DAY 2
Mini Swift – Sponsored by Evinco
Mini Swift Heavy – Sponsored by

Russell Mainini and Franklin

1
10
Jonathan Portz
1
10
Jonathan Portz
2
0
Jackson Menchu
2
154c
Daniel Inzunza
3
77
Jesus Vasquez Jr.
3
0
Jackson Menchu
4
63
Tuesday Calderwood
4
77
Jesus Vasquez Jr.
5
152
Tyler Ruth
5
152
Tyler Ruth
Screaming Eagle Winner: Daniel Inzunza
Screaming Eagle Winner: Jonathan Portz
Honda Kid Kart – Sponsored by Rev Slo
Honda Kid Kart Heavy – Sponsored by

Nash Motorsports

1
44
John Antonino
1
44
John Antonino
2
15
Tarron Graves
2
20
Kyle Drysdale
3
4
Jesus Pulido
3
4
Jesus Pulido
4
86
Mason Garwood
4
86
Mason Garwood
5
71
Ryker Drysdale
5
15
Tarron Graves
Screaming Eagle Winner: John Antonino
Screaming Eagle Winner: John Antonino
Junior 1 LO206 – Sponsored by Noram
Junior 1 LO206 Heavy – Sponsored by PKS
1
0
Jackson Menchu
1
9
Parker DeLong
2
9
Parker DeLong
2
21y
Ethan Nascimento
3
2
Ashton Torgerson
3
0
Jackson Menchu
4
21y
Ethan Nascimento
4
3
Trey Arnzen
5
3
Trey Arnzen
5
63
Tuesday Calderwood
Screaming Eagle Winner:  Ashton Torgerson
Screaming Eagle Winner: Parker DeLong
X30 Junior – Sponsored by

Domas Capital Group, LLC

X30 Junior Heavy – Sponsored by

Cambrian Go Karts

1
117
Oliver Reed
1
117
Oliver Reed
2
34
Alex Siragusa
2
211
Edward Portz
3
211
Edward Portz
3
13
Jenson Altzman
4
05n
Joey Brienza
4
05d
Joey Brienza
5
13
Jenson Altzman
5
150c
Jacob Yesnick
Screaming Eagle Winner: Oliver Reed
Screaming Eagle Winner: Oliver Reed
Senior LO206 – Sponsored by Noram
 
Senior LO206 Heavy – Sponsored by

Briggs & Stratton

1
44
Tyler Agan
1
14
Henry Morse
2
1
Lloyd Mack
2
29
Jake Drew
3
29
Jake Drew
3
26
Phil Giebler
4
42
Derek Zimmerman
4
1
Lloyd Mack
5
14
Henry Morse
5
44
Tyler Agan
Screaming Eagle Winner: Tyler Agan
Screaming Eagle Winner: Tyler Agan
Micro Swift – Sponsored by NWM Advisors, LLC
Micro Swift Heavy – Sponsored by
Better Homes and Garden / Havens Properties
1
17c
Enzo Deligny
1
57
Logan Toke
2
21y
Ethan Nascimento
2
19
Parker DeLong
3
57
Logan Toke
3
21y
Ethan Nascimento
4
209y
Ryan Persing
4
17c
Enzo Deligny
5
95
Logan Ainsworth
5
209y
Ryan Persing
Screaming Eagle Winner: Enzo Deligny
Screaming Eagle Winner: Parker DeLong
X30 Senior – Sponsored by

King Taco Racing

X30 Senior Feature Race – Sponsored by Evinco
1
650
Nic Le Duc
1
115y
Colby DuBato
2
209y
Nick Persing
2
209y
Nick Persiing
3
115y
Colby DuBato
3
16
Gary Lyles
4
16
Gary Lyles
4
814c
Aidan Yoder
5
814c
Aidan Yoder
5
35
Grant Palmer
Screaming Eagle Winner: Nic Le Duc
Screaming Eagle Winner: Chance Skaufel
Junior 2 LO206 – Sponsored by Briggs & Stratton
Junior 2 LO206 Heavy – Sponsored by

Double R Racing / CCKRA

1
12y
Oliver Calvo
1
12y
Oliver Calvo
2
19
Boden Barnwell
2
19
Boden Barnwell
3
414y
Matt Winfrey
3
288
Austin Torgerson
4
11
Jacob Smith
4
36
Sophia Storey
5
288
Austin Torgeson
5
136
Logan Calderwood
Screaming Eagle Winner: Oliver Calvo
Screaming Eagle Winner: Boden Barnwell
Masters LO206  – Sponsored by

Infiniti Kart Services

1
05n
Phil Pignataro
2
109c
Bryan Bender
3
3
Tim Doyon
4
50
Ron Jenkins
5
23
Larry Fisher
Screaming Eagle Winner:  Phil Pignataro