Maranello Kart Wins the Summer Trophy in Lonato, Gonzales Stopped by a Tyre in Le Mans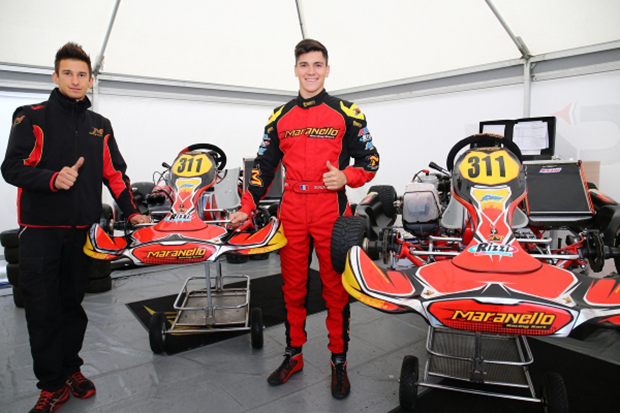 Maranello Kart had a double shift on track in the weekend of July 2nd. The Italian outfit managed to score an excellent result and several strong performances in the Summer Trophy held in Lonato del Garda, as it did in Le Mans where Nicolas Gonzales has been among the quickest in the KZ2 European Championship until a problem to a tyre that made him end his race early.
MASSIMO DANTE TAKING THE SECOND WIN AT THE SUMMER TROPHY
Massimo Dante on Maranello-Tm has been triumphant in KZ2 at the 4th Summer Trophy held at the South Garda Karting circuit of Lonato. He took therefore his career's second win at the Trophy after the victory scored back in 2015. Dante has been strong since qualifying and Prefinal, before taking a dominant win in the Final proceeding Lapina and team mate Alberto Cavalieri, who has also been very competitive. Maranello Kart's Luigi Del Vecchio was sixth in KZ2 and Sara Markucic 13th. Christoph Hold was forced to the retirement instead after finishing the Prefinal in 10th place.
The KZ3 Junior victory went to Roberto Cesari, on Maranello-Tm, who won the joint Final including also KZ3 Under. In the Under class, Michael Dalle Stelle closed his effort in fifth place, while Marco Delle Vedove was tenth. The KZ4 Final was won by Maranello's Maurizio Giberti, who has also won the Prefinal. Maranello Kart's drivers have also put in excellent performances in KZ3 Over, as Gianni Corti was second and Jarno Giusti fourth. Fabio Danti was seventh, due also to a 10s time penalty, but led Angelo De Santis and Patrik Thur, all on Maranello. Among the youngsters of 60 Mini, the Austrian of Maranello Kart Kiano Blum clinched the third step of the podium, while Pietro Ragone had to retire early from the Final of Mini Rok after a good qualifying.
GONZALES RETIRES FROM THE FINAL AT THE EUROPEAN CHAMPIONSHIP IN LE MANS
Nicolas Gonzales has been among the quickest in Le Mans on Maranello-Tm during the second round of the CIK-FIA KZ2 European Championship. He put in an excellent run up to the Final, when he had to retire due to a problem affecting one of his tyres. That was a real shame as the French driver of Maranello Kart had built a great weekend up to that point. He had started off with the eighth quickest time of his series in qualifying and continued with some excellent placings in the heats. Gonzales started the Final from the sixth row of the grid and led a good race until he suffered a problem with a tyre forcing him to an early stop.
"Qualifying has been difficult due to the changing weather – Gonzales stated at the end of the weekend in Le Mans – but after that we put in some great runs in the heats. Starting from the tenth position I could take a fifth place, then a sixth, a third – that was converted into a tenth due to a penalty for the dropped front fairing – and finally a fourth place. A problem to a tyre in the Final unfortunately ended my race. We will now work on improving our speed to get ready for the International CIK-FIA KZ2 in Wackersdorf in September."