First Ever 206 Cup Grand Championship Less Than 90 Days Away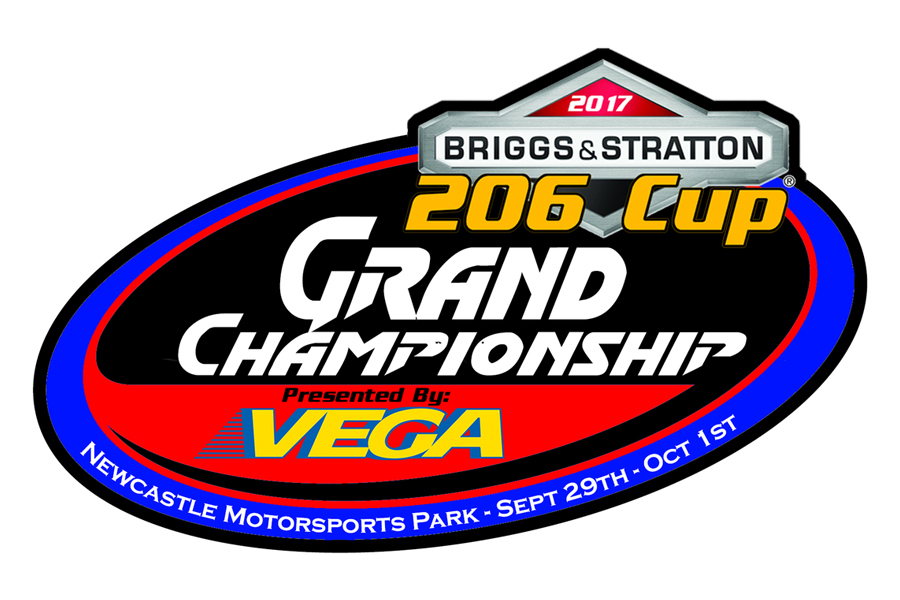 Planning is underway for the inaugural 206 Cup Grand Championship presented by Vega Tires! The goal for this event is simple; to make this the biggest and the best 206 race in the country for 2017. The event is set for September 29-October 1 at the New Castle Motorsports Park in New Castle, Indiana.
"Details will start coming out about the event over the coming weeks, as we are working feverishly to make this the greatest event possible," stated Greg Jasperson of 206 Cup. "We have already received confirmations from some of the larger national teams and manufactures that they will be attending. We expect competitors to attend from across the entire country, and beyond!"
Vega Tires has agreed to be the Presenting Sponsor for the Grand Championships. As many of you have read, the 206 Cup are requiring tires be purchased at the track for this event. TS Racing is bringing in all the tires for this event from the same batch, which means the racers will have the absolutely most consistent and equal playing field possible. And if that wasn't enough, they will be selling all the tires for the Grand Nationals at a discounted price! No matter if you want to buy 1 set or 3, all tires purchased for use in either practice or competition at the Grands will be at the lowest price ever! Vega/TS Racing will be at the event to provide tire support as well.
After a hard day of racing, nothing hits the spot quite like a big meal. 206 Cup friends from DR Kart Midwest / Bromberek Racing will be hosting a BBQ cookout Saturday night after racing concludes. The owner of DR Kart Midwest Robert Bromberek is an award winning chef, and has competed many times in national cooking competitions including winning the Food Network's Tailgate Warriors! Bring your favorite beverage and your appetites!
There is a lot more to come, including a new sponsor to the series that has pledged over $2000 in prizes themselves for the Grands alone! So stay tuned to the 206 Cup Facebook page and website for all the latest info! Pre-registration for the race will begin mid August, and as always will offer a discount versus registering at the track.
The 206 Cup North and Central programs have the following events remaining in 2017:
July 7-9: Wolf Paving Raceway – Dousman, Wisconsin (North)
July 21-23: Mid-State Kart Club – Springfield, Illinois (Central)
August 4-6: US Air Motorsports Raceway – Shawano, Wisconsin (North)
August 18-20: Concept Haulers Motor Speedway – Sheridan, Illinois (Central)