Top Five for Nicholas d'Orlando at New Jersey Motorsports Park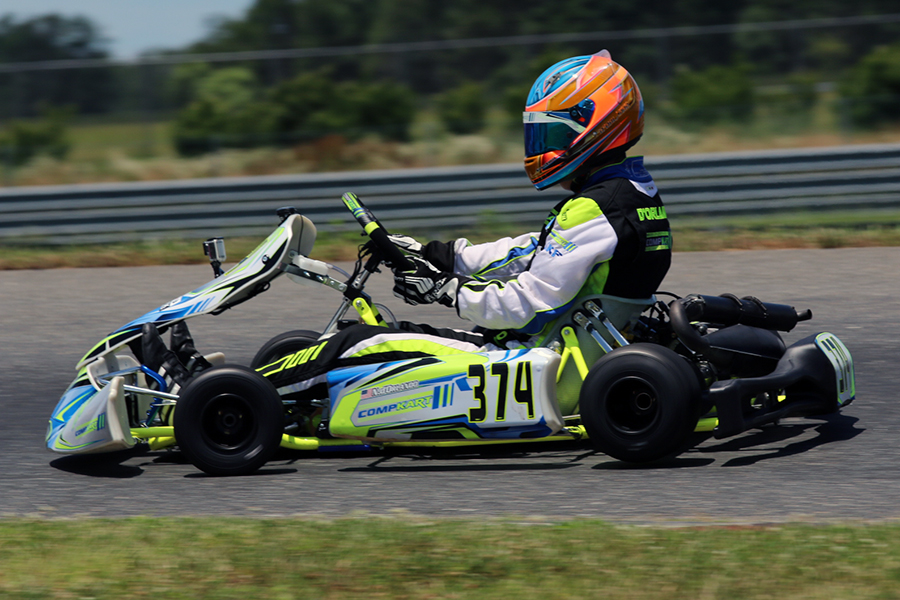 Back on US soil after a few weeks competing in European races, Nicholas d'Orlando and his J3 Competition/COMPKART team were back in action at the US Rotax Grand Nationals/US Open Rotax International combined event, at New Jersey Motorsports Park in Millville, NJ.  Making his debut in the Senior class in the US, the young rookie took on the competition of 27 top US and international MAX-Senior drivers, including his older brother, Michael d'Orlando.  With the winner of the race taking home the ultimate prize of a ticket to the Rotax Max Challenge Grand Finals in Portimao, Portugal, and Nicholas' focused on achieving another national championship title for his resume, you could say the stakes were high.
The race weekend started off with a respectable qualifying position of 7th place, which would be his starting position for the three (3) heat races. Although trouble was found in the opening laps of the first heat to ultimately finish 23rd, the 8th & 6th place finishes in Heats 2 & 3 would be enough to put him in position to start the Pre-Final in 13th spot, after the points were tallied.  And from there, he continued to move forward to finish 7th in the Pre-Final, putting him in striking distance of a podium step in the Main event.
The Rotax MAX Senior main event on Sunday proved that the young rookie cannot be underestimated.  Maintaining race composure and focused on moving ahead for the duration of the 17 lap race, Nicholas d'Orlando would run a solid race keeping his No.374 COMPKART in top 5 spot all race long.  Sliding into 4th on lap 11 and maintaining his pace and position, his consistent efforts earned him a 4th place final result.
"It was a good race here in New Jersey.  We were was fast and showed continuous improvement throughout the weekend" said Nicholas d'Orlando. "Even tho the trouble in Heat 1 really set us back a little bit, I learned from it to make sure we didn't have the same problems for the next two heats.   And we did what we needed to do in the PreFinal, by moving up for a better starting position for the Final.   I felt good going into Sundays Final, and I knew we had a good kart.  We just needed to run a smart race.  I can't thank the guys at J3 Competition enough, for giving me such a good kart to drive and the support & leadership to bring it home in the top 5."
The result was a little short to earn that ticket to Portugal or another championship title, but the young d'Orlando is making waves in the senior ranks.
Nicholas d'Orlando will be back to racing action on June 30th-July 2nd at the CIK FIA European Championship Series in LeMans, France.  Stay tuned for continued updates and more information on Nicholas d'Orlando at www.dorlandoracing.com and be sure to follow him on Facebook (Nicholas d'Orlando Racing), Twitter (@dorlandoracing) and Instagram (@dorlandoracing).
d'Orlando Enterprises would like to thank J3 Competition (www.j3competition.com) for their support and leadership throughout the year. And a sincere Thank You to all our family, friends & fans, especially to those that made the trip to south NJ to take support us personally.