Strength in Numbers for Birel ART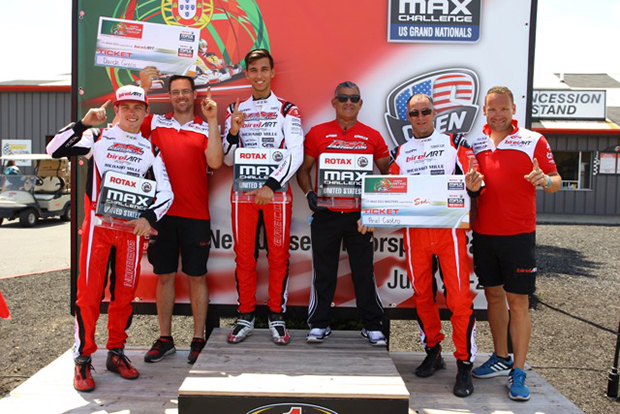 Last weekend saw the flag drop with 135+ Rotax drivers for the the US Grand National / US Open combined event at the famous New Jersey Motorsport Park. The #redarmy put the red machines to the front with big teams like Andersen Karting , Prime Power Team and PSL/BCR , who continue to show why they are ranked amongst the best in North America.
Senior Rotax standouts, Norberg, D'Orlando , Mallozzi and Ramirez were able to impress all weekend. D'Orlando spent the majority of his weekend leading all the races as clearly his International experience is paying off. However, a complete engine failure in the main would take him out from any results. After a poor qualifying and a DNF in one heat race, Norberg had the fastest kart on track in the final to finish P2. Mallozzi would just barely miss his chance at a Grand Finals ticket, but his performance was notable and very strong.
DD2 was dominated by Greco, taking pole ,wining all the heat races pre-final and final against his #redarmy team members, McCarthy (P2) (Andersen Racing), followed by Prime Power Team's Luik (P3). An all red front row made a statement that the Birel ART is strong across every category. Another long industry member, racer, team owner and engine builder, Ariel Castro, was able to successfully put his red wagon on the top step in DD2 Masters and also earn his ticket to the Grand Finals. Nathan Mauel, a PSL customer and driver for over 10 years earned his 8th trip to the Grand Finals by finishing P2 behind Castro. Howard would follow behind to finish P3.
Despite the results, the youngest members of the team, Thomas Nepveu (Junior) and Justin Arseneau (Mini) would have their work cut out for them during the heats and final. Thomas was one of the fastest on track, but was involved in an accident that put him in the back of the field to finish 11th. Arseneau would get the second fastest lap, but finish P7 overall.
"We have a program that works, but for us and just like our customers, we can focus on the drivers and the small adjustments because the chassis is so adaptable during the race day. I am very proud of the team and everything they accomplished, and especially thankful of our partners and their commitment to our program" – Coy Arbor, Team Manager PSL
As always, the equipment used in last weekends race is for sale at a great price structure. For inquires, please contact info@pslkarting.com or visit www.pslkarting.com . To follow our events and learn about special promotions, follow our Instagram @pslkartingofficial and facebook.com/PSLkarting. To join our growing network and become a dealer, please send contact info@pslkarting.com or call 819-377-5566.