Heartbreak for Michael d'Orlando at New Jersey Motorsports Park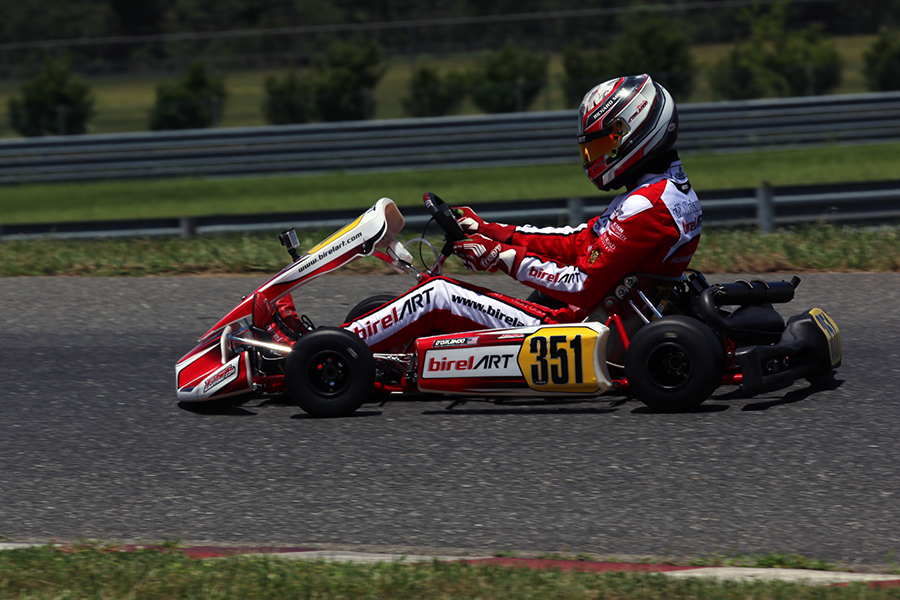 What a roller coaster weekend for Michael d'Orlando and his PSL Birel ART team at the US Rotax Grand Nationals / US Open Rotax International combined event, at New Jersey Motorsports Park in Millville, NJ.  d'Orlando returned to North American racing action just over a week ago, after joining Italy's Birel ART factory team last year to compete in the CIK FIA European championship series.  Making his debut in the Rotax MAX Senior class,  he would set the pace for the 27 international drivers, which also included his younger brother, Nicholas d'Orlando.  The goal for the weekend was simply to bring home the victory & another national championship title, which would also result in another opportunity to represent Team USA at the Rotax Max Challenge Grand Finals in Portimao, Portugal.
d'Orlando would kick off Friday's racing action by qualifying his No.351 PSL Birel ART machine in the number one spot. Leading the entire field for the starts of all three heat races, d'Orlando continued his dominating performance with two victories and a second place finish, earning him the top spot Pole Position  for the Pre-Final event.  Although a controversial start of the PreFinal would force him to fall back a few spots in the opening corners, d'Orlando would waste no time to recover up to 3rd, giving him a reasonable starting position for Sunday's main event.
Heading into Sunday's MAX-Senior Final, d'Orlando seemed to be the driver to beat.  And like an experienced pro, he slid into second slot behind seasoned veteran, Luke Selliken, in the opening corners and continued to work with Selliken by putting some distance between them and the rest of the field.  Moving to the point in lap 6 of the 17 lap race, d'Orlando looked flawless and over the next few laps he seemed to make room for himself from Selliken too, in an attempt bring it home in dominating fashion.  But then disaster struck.  With only a few more laps to go in search of victory, unfortunate engine failure of his Rotax 125 MAX Evo package resulted and d'Orlando was forced to move off the race line to watch Selliken and the rest of the field go by.  Retiring to the scales before he could complete the race, it was a heartbreaking result.
"It felt great to be back here close to home at New Jersey Motorsports Park." said Michael d'Orlando. "This is one of the tracks that I got started in karting at and to be back here with PSL and my Birel ART coach, Rickard Franchini, was an amazing feeling. We were so fast all week."
"But when something like this happens [equipment failure], especially when leading a competition of this level, it really is disappointing and heartbreaking.  But it does happen.  And I could not be any prouder of everyone here at PSL and to my coach, for giving me an amazing Birel ART kart to drive.  And what can you say?  At the end of the day, that's racing."
Michael d'Orlando will be back to racing action on June 30th-July 2nd at the CIK FIA European Championship Series in LeMans, France.  Stay tuned for continued updates and more information on Michael d'Orlando at www.dorlandoracing.com and be sure to follow him on Facebook (Michael d'Orlando Racing), Twitter (@dorlandoracing) and Instagram (@dorlandoracing).
Special thanks to Birel ART and the entire staff at PSL Karting (www.pslkarting.com) for their ongoing support and leadership.   And a sincere Thank You to all our family, friends & fans, especially to those that made the trip to south NJ to take support us personally.