45 Drivers Highlight the 2017 Ignite Battle at the Brickyard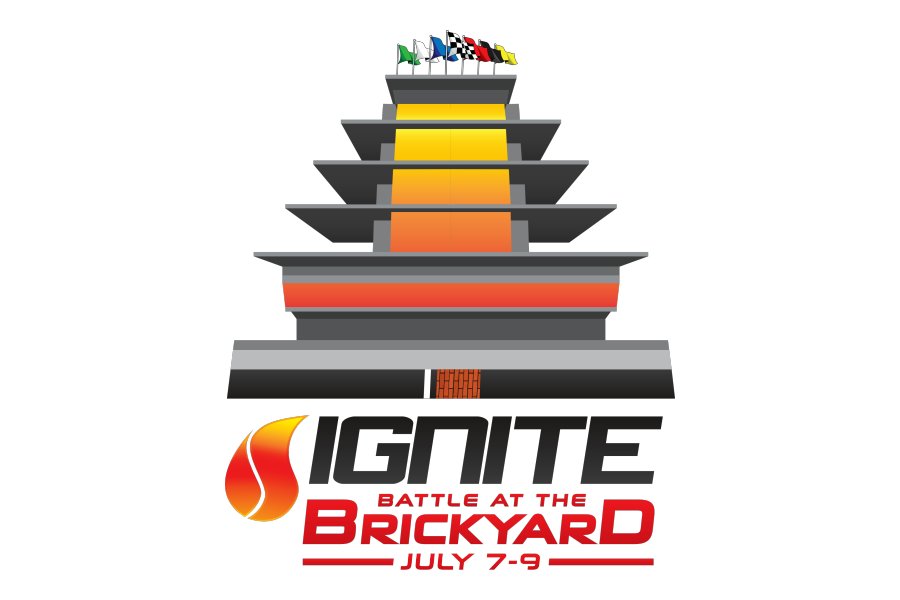 45 racing kart drivers representing 11 states and three countries will compete at the famed Indianapolis Motor Speedway in pursuit of the inaugural Ignite Battle at The Brickyard championship as karts race for the first time ever at the Speedway on July 7th, 8th & 9th. USAC Karting has paved the way for the Ignite class to compete at the Brickyard and drivers have responded by signing on with an event-high 45 entries.
The Gateway Kartplex at Gateway Motorsports Park in Madison, IL is the home to the all-spec Ignite series and the Battle at the Brickyard will see many series veterans eager to challenge for the win and the Brick that goes to the champion. Leading the way is seven-time series winner and third-generation member of the famed racing family, Ryan Bettenhausen. Bettenhausen is the most recent Ignite series winner and he can expect to be pushed hard by other long-time karting standouts from the St. Louis area including Spike Kohlbecker, Nick Todtenhaupt, 'Pistol' Pete Vetter, Ken Williams and 2015 Rock Island Grand Prix Ignite class winner, Jeremy Remick.
Eric Loddeke, Evan Stamer and Gage Rucker are three drivers to watch as Loddeke has shown consistent speed this season while Stamer & Rucker are making their senior class debuts. Kohlbecker, Rucker and Stamer will all be pulling double duty by competing in Ignite Senior and additional classes.
Two-time Ignite Masters champion Jon Vernier will also be representing Gateway Kartplex along with series regulars Jim Rucker, Brandin Moore, Mike Lebrun, Paul Fodde, Dillon Emerson, Jim Miller, Avery Schwalm, Rich Fasching, Hunter Richardson, Davis Worley, Rockwell Secrest and 2015 Gateway Kartplex iDrive champion Matthew Cowhey.
St. Petersburg, FL native Hunter Fox will be making his Ignite class debut with high expectations after compiling an impressive list of early season results. Tim Benoit and Jordan Missig will be representing the Autobahn Country Club. Look for both to make their way to the front over the course of the weekend.
Representing the North Texas Kart Club are karting veterans Edwin Ruiz De Val and Jeffrey Dolian. Dolian brings an impressive list of past wins with him and at the top of that list is the Ignite class win at last years Rock Island Grand Prix.
Six hoosier drivers will take the field including Ignite masters class winner, Rod Scharf. Indianapolis's own Dorian Serf-Pimpton will represent the (NXG) Lucas Oil NexGeneRacers group. Rounding out the Indiana Ignite effort will be the father-daughter team of Mike and Staci Bymaster, Jeff Scales and Roger Smith.
Long-time road racer Doug Kittelson makes the trek form Nebraska along with MyRacePass.com founders Josh Holt and Ross VanEck. Racing Industry veteran Mike Long will also be attempting to take the Ignite brick back home to Nebraska.
Briggs racing standouts Phillip Eastmead and Justin Vancil will be threats to win and take the Ignite Brick back to North Carolina's GoPro Motorsports Park while Illinois racing enthusiast Rick Skinner and New York's Scott Banner are set to battle in their second Ignite major event. Florida's John Morris and Ohio's Zach Buchanan join the Ignite field for the first time and look to make a solid impression at the speedway.
Adding an international flavor to the event will be Canadian Charlotte Lalonde and Gonzolo Najera who hails from Mexico City. Lalonde is a standout driver from the province of Ottawa who has also won in the WKA Manufacturers Cup series while Najera comes from a racing family south of the border and recently made his Ignite Challenge series debut at Autobahn Country Club.
The all-spec Ignite class features the factory-sealed Briggs Racing 206 engine on identically equipped Margay Ignite K3 racing karts. Developed to minimize cost and maintenance while maximizing track time, the Ignite class is geared toward the competitive racer who wants to focus on driver development while racing at some of the countries unique venues as well as local and regional tracks. With 45 drivers all vying for the first ever 'Ignite Brick', Sundays race promises to be a highlight of the event.
Follow MargayRacing at Facebook and Instagram for all the latest updates and be sure to tag your own updates with #IgniteAtIndy.
2017 Margay Ignite Brickyard Entry List