Trackside Karting Services Back on the Podium at the Texas Sprint Race Series
A win, podium, and multiple top-ten finishes for the Texas-based team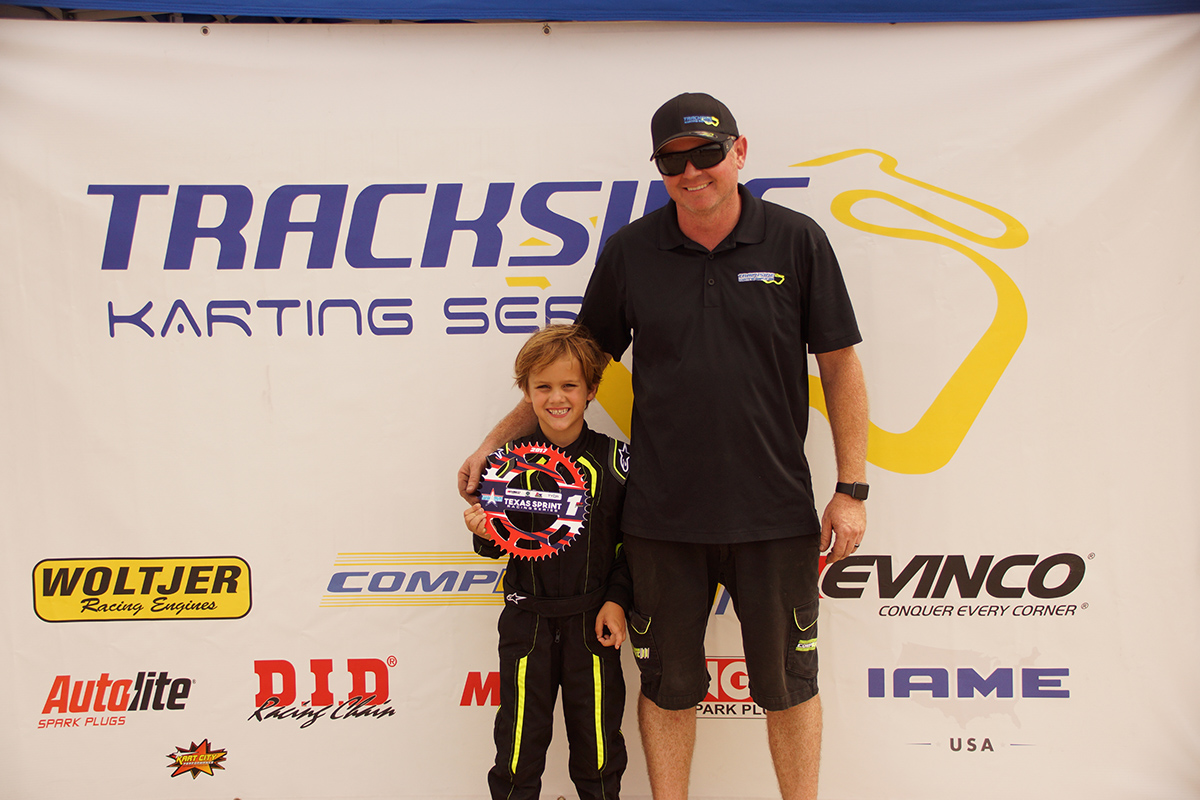 Trackside Karting Services (TKS) was on track again this past weekend at the Texas Sprint Racing Series with another talented squad of COMPKART drivers. With both new and existing drivers in attendance, TKS pilots continued their 2017 success with another strong outing claiming race wins and podium results.
New TKS driver Carson Garvish entered his first race with the team at Hill Country Kart Club in New Braunfels, Texas, in LO206 Cadet. After winning the Kid Kart championship, Carson tried his new COMPKART chassis and was instantly at the top claiming a demanding victory. Qualifying on the pole position and winning heat one, Garvish claimed second in heat two before adding another heat race win in heat three. In the main event Garvish and his Kart City Performance COMPKART won the first race he entered at Texas Sprint Race Series program by more than a two second gap.
In TaG Cadet, three COMPKARTs would race under the Trackside Karting Services banner. Hailey Taylor qualified in the second position and had good heat race finishes with a fourth and two third place results resulting in a third place starting position for the main event. Taylor would have a good result and add a solid fifth place finish in the main event. Ryan Shehan would qualify his COMPKART in the fourth position and improved or maintained positions in all three heats with third, second and fourth place finishes. Claiming the outside pole position for the start of the main event, Shehan would make his bid for the lead on a few occasions but could not hold the position, eventually ending the day with a second place podium result.  McKenzy Cresswell had a long weekend as he was a pound short after qualifying in the sixth position and would be forced to start shotgun on the field. Starting last in all three heats, he would move up forward to finish sixth, sixth and ninth. Starting the final in the fourth row, Cresswell would never give up and would take the last step on the podium with an impressive third place finish.
World Formula Heavy saw Mark Cresswell qualify in the second position and followed that effort up with some solid heat race results; heat one finishing in second, heat two with a victory and heat three with another runner-up finish. Cresswell would fight for the win and would try for a late braking pass but ended off the track and couldn't get back to the pack finishing his weekend with a third place podium finish.
TaG Junior had Ethan Arndt showing he was the guy to beat all weekend long. Qualifying on the pole and sweeping all heats, Arndt made it a perfect day by claiming a 7.5 second victory in the main event.
Travis Wiley had another good weekend. Wiley qualified fourth before claiming fourth in heat one and a setback in heat two saw him end with a seventh place finish before rebounding in heat three for a third place result. In the main event, Wiley would maintain his position and put another Trackside Karting Services COMPKART on the podium with a third place finish.
Trackside Karting Services would like to thank everyone at Woljter Racing Engines and Kart City Performance for the power and support this weekend. The TKS team continues to grow and the Lobaugh family thanks their customers for another fantastic weekend.
For more information on Trackside Karting Services, COMPKART or to participate with the Texas based team, please contact Tim Lobaugh at 269.519.7593 or via e-mail to TracksideKartingServices@gmail.com.