Boon Bags 4 AKRA Sprint Cup Wins at Home Track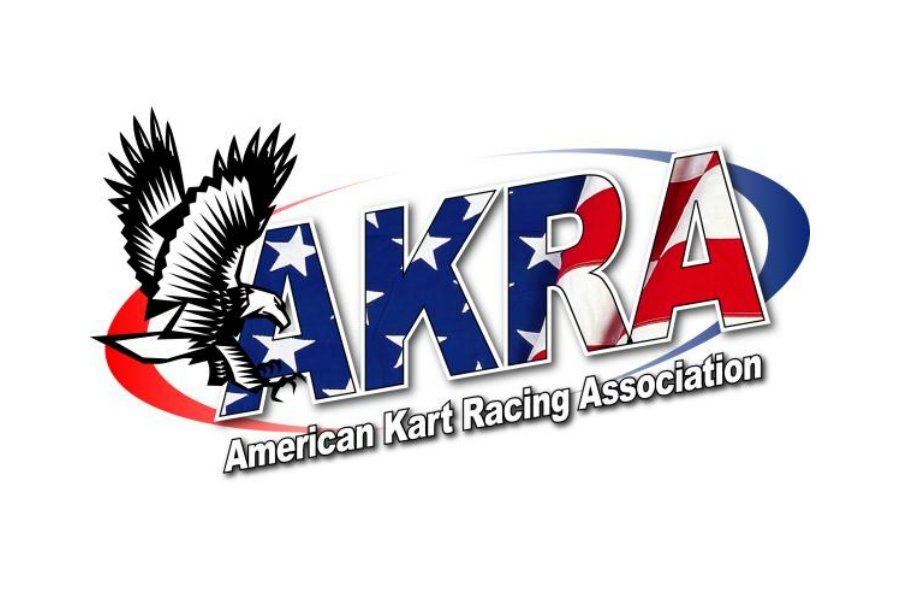 With his right foot planted firmly on the accelerator, nine-year-old Blake Boon, of Rochester, NY, drove his way to four wins from their poles last weekend (June 9-11) at his home track Genesee Valley Kart Club in Avon, NY who was hosting the American Kart Racing Association's  (AKRA) American Sprint Cup Northern Tour Round two presented by Boon & Sons.
Piloting a GT Machine powered Coyote Kart, Boon began his winning weekend capturing 206 Cadet's pole with a 36.068 seconds lap on the ¾-mile road course. Coming from a fourth place start Camden Grubber trailed Boon across the stripe 5.349 seconds later.  Lachlan Christie started third and finished third. Joey Cline crossed fourth and Will Loller capped the top five.
"I was just having fun out there on the track," Boon said of his first win adding, "I want to thank my parents for helping with my kart and GT Machine for my fast engines."
Boon earned his second pole, this one in PRO Gas Cadet, with a 35.424 seconds trip that was 0.904 seconds faster than Gruber's 36.328 seconds lap that earned him the outside front row starting position.  When the Feature's green flag flew so did Boon who broke away from Gruber once again.  This time Gruber closed the gap to 3.050 seconds.
After his second win Boon said, "The Coyote Kart handled fine. "It was good."
Sunday Boon returned for another pair of wins again starting with 206 Cadet where he dialed in the pole lap with a 36.061 seconds time.  From there he dominated the field winning the Heat and Feature races.  Boon grabbed the 206 Cadet pole in 36.061 seconds lap that was just 0.506 seconds slower than Gruber's best lap of 36.567 seconds.  Leaving a falling field behind them, Gruber stayed in striking distance for a few laps.  Boon blasted away building a 2.624 seconds finish line advantage.
Will Loller quickly took second place from Gruber and then went after Boon, but Boon was gone finishing with a comfortable 4.369 seconds lead over Loller.  Gruber held onto third with Lachlan Christie following in fourth and Joey Cline capping the top five.
Boon turned PRO Gas Cadet's fastest qualifying lap in 35.622 seconds.  Gruber was 0.915 seconds slower posting a 36.537 seconds lap.  Boon beat Gruber in the Heat and Feature races. He took the Heat race win with a 5.525 advantage over Gruber and followed with the Feature win where he was comfortably 6.979 seconds ahead of Gruber.
Three racers were double winners that weekend.  Pittsburgh, PA based PCR kart pilot Roger Myers swept both day's Yamaha Senior classes from their poles turning the weekend's fastest lap on his way.  Starting with Saturday's qualifying were the Adkins Speed Center powered Myers best time of 34.972 seconds was the weekend's fastest lap. It took him 6:59.0889 minutes to complete 12 laps with a best single fastest lap of 34.824 seconds.
" Everything came together, the kart was handling good    We made some tweaks on the chassis and tried to get more consistent today and it worked out really well, the kart was good," Myers said. "It was really smooth," Myers said describing his record lap. "Until I looked back I didn't even know I did it. It was just really, really good. When you're in the moment it was probably the least stressful lap of the day, it was really fun. The kart was consistent all day.  I think the engine has a little more to give.  We'll see if we can get a few more RPMs out of it and go a little faster tomorrow."
Sunday Roger ruled qualifying with a fast time lap of 35.522 seconds.  In the Heat race he ran eight laps in 4:34.196 minutes turning a fastest lap in 34.795 seconds. Myers mastered the Feature's 12 laps in 6:48. 237 seconds with a single fastest lap of 34.842 seconds.
"I noticed there's more rubber on the track today then there was yesterday and I noticed there was more rubber in some of the turns," Myers said after Sunday's first round of practice.
Long Island, NY native Andrew Cirillo won both 206 CIK Senior Medium offerings. Cirillo was piloting a Margay IGNITE K3 Briggs LO206 package.  Margay specifically designed this package for Briggs LO206 CIK bodywork classes.
Cirillo set Saturday's pace with a 36.500 second top qualifying lap.  Jason Pica posted a 36.947 seconds lap for the outside pole. Early on to mid-race the Feature was a brutal door-to-door battle.   Cirillo caught Pica a turn and passed him for the led that he stretched out in the final laps.
"He (Pica) really had me at the start," Cirillo said. "It took awhile to pass him.  I don't even remember it. He (Pica) He was really driving hard.  He messed up coming out of one of the turns and that's when I finally got the better run on him.  He had a little bit better acceleration then me.  It was not easy it was really not easy getting around him.  I want to thank my father, my brother, Margay cause every time I call them with tech questions they really help me and I also want to thank Dover Power."
Pica kept the pressure on Cirillo Sunday.   Only 0.195 seconds separated their best qualifying times.  Cirillo spun a 36.440 seconds run and Pica's time was 36.635 seconds.  Cirillo won the Heat and finished the Feature with a 0.415 seconds advantage.
Piloting a Kart City Performance powered Coyote Wide Track chassis Rochester, NY based racer Jason Zobkiow earned two tough 206 Senior Heavy wins from their poles.  Saturday Zobkiow set the pace with a 35.778 seconds run through the course. Second fastest was Anthony DiMaggio who missed the bar by 0.290 seconds with a fast time lap of 36.068 seconds.  Behind them in row two were Jacob Connors and Matthew Moreau.
Zobkiow, who is always a threat in this class, shook of a few early threats before roaring away for a commanding 13.692 seconds lead over DiMaggio at the stripe. Long Island, NY native Chris Cirillo was third, Moreau fourth with Connors capping the top five.
"It was a really, really good race.  My first thought was I'm glad it stopped raining for once up here so we could come out to the racetrack and have a good weekend.  The class was very competitive we had a decent field this time around. It was good to see everyone out here," noted the 34-year-old winner.  " Thanks to Kart City Performance and Coyote Karts I was able to get the job done."
Sunday Zobkiow and DiMaggio were again on front row for the Heat race start. This time they turned qualifying times of 35.692 and 36.233 seconds for a 0.541 difference.  When the Heat race's green flag flew Connors drove past DiMaggio for second with Zobkiow in the zone out front. Connors tried to close the gap but Zobkiow had him by 2.778 seconds at the stripe.  DiMaggio and Cirillo crossed third and fourth.
Zobkiow tweaked his air pressure and won the Feature by a much wider gap of 4.532 seconds over DiMaggio.  Connors, Cirillo and Scott Banner were in third, fourth and fifth.
"I think air pressure was key.  I went up a half a pound for qualifying. That gave me clean air so I could attack the track and it helped me hit my marks, I didn't have to worry about the people behind me and luckily came through with the win," Zobkiow credited Sunday.
Yamaha Cadet racers produced some fast qualifying laps.  On Saturday's poles were New York racer Kyle Raymond and JT Novosielski, of Richfield, OH.  They turned times of 36.031 and 36.841, for a 0.810 seconds difference.
Raymond ruled the Feature race from start to finish with Novosielski trailing by 2.706 seconds.
"The green flag came out and I didn't get such a great start," said the 10-year-old Woltjer Racing Engines powered Top Kart pilot.  "But I held off JT (Novosielsk) in the first corner.  Later in the race I tried to pass a 4-Cycle racer and spun out.  Luckily I held my position and won the race. The Top Kart ran really, really well and the Woltjer Racing Engine worked good.  I want to thank my mom and dad, VEGA Tires, I love their tires."
Novosielski and Jesse Coon won the 2-Cycle Rookie offerings. Coon captured Saturday's pole with a 35.566 seconds lap that was 0.534 seconds faster than the 36.100 seconds time turned by Novosielski.   Novosielski, piloting an Ellison Racing Engines powered PCR Chassis, got the drop on Coon at the start and led the way finishing just 0.127 seconds ahead of Coon.
"I came here to have a very good weekend and race with my friends and have fun," said nine-year-old Novosielski.  "The kart handled pretty good.  I got a good start and caught up to Jesse (Coons).  He (Coons) was faster, but I could hang with it and I started blocking him to keep my spot."
Coon, of Honeoye, NY, turned Sunday's pole lap in 34.707 seconds. Novosielski's best qualifying lap of 36.007 seconds was 1.300 seconds slower. Coon was on a roll taking the Heat and Feature wins with over an 11 seconds advantage. In the Heat race Novosielski was 11.285 seconds behind Coon in the Heat race and by 11.009 seconds when it counted in the Feature.
"I didn't have the best of starts. JT (Novosielski) ran me down and got around me.  But later he went to the inside and I got him on the outside in turn one.  From there I led the rest of the race," described the nine-year-old Allison Racing Engines powered Competition Karts pilot.  "I want to thank Gear Up F Series of New Jersey, Allison Racing Engines, VEGA Racing Tires, my parents and everyone in my family for supporting me and my dad for setting up the kart."
Sunday a Local Option class was offered.  Shaylan Johnson was a healthy 6.403 seconds ahead of Fran Johnson.
Now that round two is in the record books AKRA Sprint Cup Northern Tour racers will head to Thompson Speedway Motorsports Park in Thompson, Ohio August 4-6.  Then it's off to Chestertown, MD's Nicholson Speedway for the last Northern Tour race.  The Sprint Cup Grand National will be held October 27-29 at the 103rd Street Sports Complex in Jacksonville, FL.