Tuto Super One Series – Round 6 Report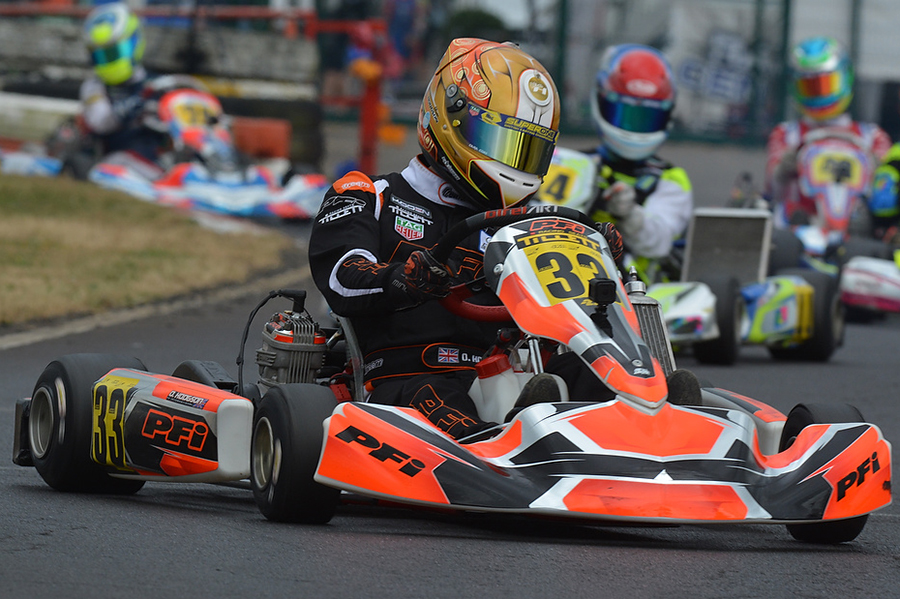 The sixth round of the Tuto Super One Series was the scene of highly competitive racing in every class and with seven classes racing at Fulbeck, the Super One and Lincolnshire Kart Racing Club teams worked very hard to keep the meeting running smoothly. The weather was fine but slightly overcast.
It was the fourth round for IAME Cadet and the TKM, X30 and Rotax classes, with either two or three rounds left depending on the class. Everyone will reconvene in two weeks at Glan-Y-Gors in North Wales.
MSA British Cadet Kart Championship
Championship leader Taylor Barnard surprised no one by taking pole, 0.04s ahead of Alex Dunne. He went on to win both heats and in Final 1 got away closely followed by Arvid Lindblad with Alex Dunne heading a small group about a second behind. Dunne was overtaken by Christopher Draper a lap from the end to take 3rd.
At the start of Final 2 Barnard held the lead with Draper overtaking Lindblad for 2nd, and after a few laps the top four were quite well spread out. The slow flag came out to sort out an incident and the restart allowed Matthew Rees to take 2nd, soon replaced by Rashan Chigorimbo before a coup from Draper. All this allowed Barnard an unassailable lead and he finished 3.32s ahead of Draper, Rees and Lindblad to remain unbeaten in the 2017 Super One Series. However, Draper was disqualified for clutch irregularities which put Rees in 2nd and consolidated his 2nd place in the Championship, 68 points behind Barnard.
ABkC Minimax National Championship
Lewis Gilbert qualified on pole and he shared the two heat wins with Kai Hunter. In Final 1 Gilbert and Jamie Day fought for the lead which was eventually secured by Gilbert, with Adams sneaking through to 2nd on the last lap ahead of Day.
Final 2 saw six lead changes, not bad for a class with only six entries, with Gilbert, Day, Hunter and Adams all having a turn in the hot seat. The race settled down with Adams leading from Day and Gilbert, with Hunter also finishing within the same second. Gilbert now leads by 14 points from Adams with Hunter 33 points behind that.
ABkC Junior Max National Championship
Lewis Gilbert headed Timed Qualifying in Junior Max as well but faced problems in the heats while Clayton Ravenscroft won both of his heats from 2nd on the grid.
Ravenscroft was the early leader of Final 1 with Tyler Chesterton a short gap behind leading the pack and closing up. After battles at the front Chesterton took the win from Rhys Hunter and Tom Edmunds with Ravenscroft finishing 5th behind Tommy Foster.
In Final 2 Chesterton took the lead on the first lap ahead of Hunter, Edmunds and Ravenscroft with constant challenges for the lead. Towards the end it was an eight-way battle with Chesterton taking the lead on the last lap to win from Ravenscroft and Guy Cunnington. Chesterton now leads the Championship 37 points ahead of Hunter.
MSA X30 Junior National Championship
Dragan Pinsent qualified fastest and retained pole after the heats despite equal results from Morgan Porter and Louie Westover.
In Final 1 the slow procedure was initiated after a first lap crash at the hairpin involving Jonny Wilkinson and Caden McQueen. After the restart the top six was led by Reggie Duhy, soon to be overtaken by Westover and Pinsent although the lead group stayed together and finished with Pinsent leading from Westover and Duhy with Porter 4th.
Westover took the lead at the hairpin on the first lap of Final 2 with Porter coming through to 2nd ahead of poleman Pinsent. Porter made his attempt at the first chicane with Samuel White following through and Westover later overtaken by Pinsent. White was pushing Porter in the lead in the closing stages but they finished with Porter 1st from White, Pinsent and Westover. Westover still leads the Championship by 34 points from Duhy with Porter a further 12 points behind.
MSA X30 Senior National Championship
Joe Turney took pole in Timed Qualifying ahead of local Nathan Chafer and with two wins retained pole for Final 1. Turney held the lead from the start, followed by Danny Keirle and Thomas Turner, but then Keirle took the lead and Turney dropped back to 7th. Oliver Hodgson was also on the attack and once he had joined the lead pack he quickly worked his way through to 3rd, in touch with the leaders. They finished with Elliot Harvey leading from Hodgson and Turney who had recovered to 3rd, however Harvey received a bumper penalty which gave the win to Hodgson.
In Final 2 Keirle took the lead ahead of Hodgson and Bradley Pennell but the field stayed bunched up before the poleman Hodgson retook control. Pennell and Turner also overtook Keirle but a few laps later the slow flag came out to sort out an incident, then a red flag. Hodgson pulled out a bit more of a lead at the restart to win from Pennell and Keirle.
Keirle and Turner are still at the front of the Championship with Harvey 3rd, while Hodgson has now moved up to 5th.
MSA TKM Junior National Championship
James Pashley qualified fastest by 0.07s and he and Daniel Butterworth shared the heat wins which gave Pashley pole for Final 1 too. Pashley led for half the race before Championship leader Abbi Pulling and Ross Deal overtook, finishing in that order.
Final 2 was an excellent race where Pulling, Deal and E Plate Kurt Roberts swapped the lead between them continuously but in the end the two leaders finished the other way round, Deal and Pulling joined on the podium by Roberts. Pashley finished 4th and Zak Oates 5th, the top five all in the same second. Pulling still leads the Championship 15 points ahead of Deal who has overtaken Pashley.
MSA TKM Senior National Championship
Sam Fowler took pole ahead of Christopher Whitton with the two sharing the heat wins. Several went off at the hairpin on the first lap of Final 1 including Kyle Sproat who had started 3rd and Matthew Taylor who started 22nd, leaving Fowler to lead the race from Whitton and Sparrow. Towards the end the lead group was Fowler, Whitton, Moore and Stockford, and Whitton took the lead at the chicane with a minute to go and created a small gap. Whitton took the chequered flag first from Fowler, Moore and Stockford but was penalised for a dislodged bumper so ended up 8th with Fowler the winner.
In Final 2 Fowler held the lead at the start with Letts moving up to 2nd and Stockford to 3rd, with Stockford soon taking 2nd. The fighting allowed Vercoe the opportunity to push through and take 2nd ahead of Letts, although with 12 karts in a train anything was possible. After several changes for 2nd place reigning champion Moore took it and was starting to eat into Fowler's lead. On the last lap Moore wasn't quite close enough to attack so the race finished with Fowler winning from Moore and Stockford. Letts is still the Championship leader, by 31 points from Vercoe, with Fowler moving up to 3rd.
Results
MSA British Cadet Kart Championship
Final 1 (15 laps): 1 Taylor Barnard (Synergy); 2 Arvid Lindblad (Synergy); 3 Christopher Draper (Tonykart); 4 William McIntyre (Synergy); 5 Matthew Rees (Zip); 6 Oliver Denny (Synergy)
Final 2 (14 laps): 1 Barnard; 2 Rees; 3 Lindblad; 4 Rashan Chigorimbo (Synergy); 5 McIntyre; 6 Maxwell Dodds (Tonykart)
Championship Standings
1 Barnard 780
2 Rees 712
3 Lindblad 662
4 Dodds 647
5 Freddie Slater (Synergy) 639
6 Alex Dunne (Synergy) 631
ABkC Minimax National Championship
Final 1 (17 laps): 1 Lewis Gilbert (Tonykart); 2 Tom Adams (Tonykart); 3 Jamie Day (Energy); 4 Kai Hunter (Kosmic); 5 Jenson Parker; 6 Ben Caisley (Tonykart)
Final 2 (18 laps): 1 Adams; 2 Day; 3 Gilbert; 4 Hunter; 5 Parker; 6 Caisley
Championship Standings
1 Gilbert 731
2 Adams 717
3 Hunter 684
4 Caisley 668
5 Day 378
6 Van Knapton 344
ABkC Junior Max National Championship
Final 1 (17 laps): 1 Tyler Chesterton (Tonykart); 2 Rhys Hunter (Kosmic); 3 Tom Edmunds (Kosmic); 4 Tommy Foster (Tonykart); 5 Clayton Ravenscroft (Tonykart); 6 Bradley Barrett (Tonykart)
Final 2 (17 laps): 1 Chesterton; 2 Finlay Bunce (Kosmic); 3 Edmunds; 4 Hunter; 5 Barrett; 6 Ben Burgess (Tonykart)
Championship Standings
1 Chesterton 734
2 Hunter 697
3 Barrett 673
4 Ravenscroft 639
5 Bunce 626
6 James Lowther (Tonykart) 613
MSA X30 Junior National Championship
Final 1 (16 laps): 1 Dragan Pinsent (Exprit); 2 Louie Westover (Kosmic); 3 Reggie Duhy (CompKart); 4 Morgan Porter (Tonykart); 5 Alex Simmonds (Tonykart); 6 Nelson King (Tonykart)
Final 2 (17 laps): 1 Porter; 2 Samuel White (Tonykart); 3 Pinsent; 4 Westover; 5 Duhy; 6 King
Championship Standings
1 Westover 744
2 Duhy 710
3 Porter 698
4 Sean Butcher (Tonykart) 694
5 Pinsent 683
6 Jonny Wilkinson (Tonykart) 662
MSA X30 Senior National Championship
Final 1 (17 laps): 1 Oliver Hodgson (Birel ART); 2 Joe Turney (Kosmic); 3 Danny Keirle (Fullerton); 4 Thomas Turner (Tonykart); 5 Bradley Pennell (CompKart); 6 Euan Wilson (Alonso)
Final 2 (17 laps): 1 Hodgson; 2 Pennell; 3 Keirle; 4 Josh Skelton (Tonykart); 5 Turner; 6 Elliot Harvey (Alonso)
Championship Standings
1 Keirle 764
2 Turner 719
3 Harvey 678
4 Brett Ward (Alonso) 642
5 Hodgson 633
6 Skelton 632
MSA TKM Junior National Championship
Final 1 (17 laps): 1 Abbi Pulling (Tal-Ko); 2 Ross Deal (Tal-Ko); 3 James Pashley (Jade); 4 Kurt Roberts (Jade); 5 Zak Oates (ARC); 6 Zak Taylor (Jade)
Final 2 (17 laps): 1 Deal; 2 Pulling; 3 Roberts; 4 Pashley; 5 Oates; 6 Scott McIntyre (Tal-Ko)
Championship Standings
1 Pulling 734
2 Deal 719
3 Pashley 715
4 Roberts 686
5 Alexander Page (Tonykart) 602
6 Theo Hesketh (Tonykart) 591
MSA TKM Senior National Championship
Final 1 (17 laps): 1 Sam Fowler (Jade); 2 Harry Moore (Jade); 3 Joe Stockford (Tal-Ko); 4 Stephen Letts (Tonykart); 5 Adam Sparrow (Tonykart); 6 James Ogden (Jade)
Final 2 (17 laps): 1 Fowler; 2 Moore; 3 Stockford; 4 Christopher Whitton (Tonykart); 5 Lee Whittingham (Tal-Ko); 6 Simon Vercoe (Tal-Ko)
Championship Standings
1 Letts 723
2 Vercoe 692
3 Fowler 672
4 Moore 632
5 Sparrow 630
6 Matthew Taylor (Tonykart) 623