Morning Coffee: Sprint Karting on Dirt in SoCal?
The intriguing experience of dirt road course competition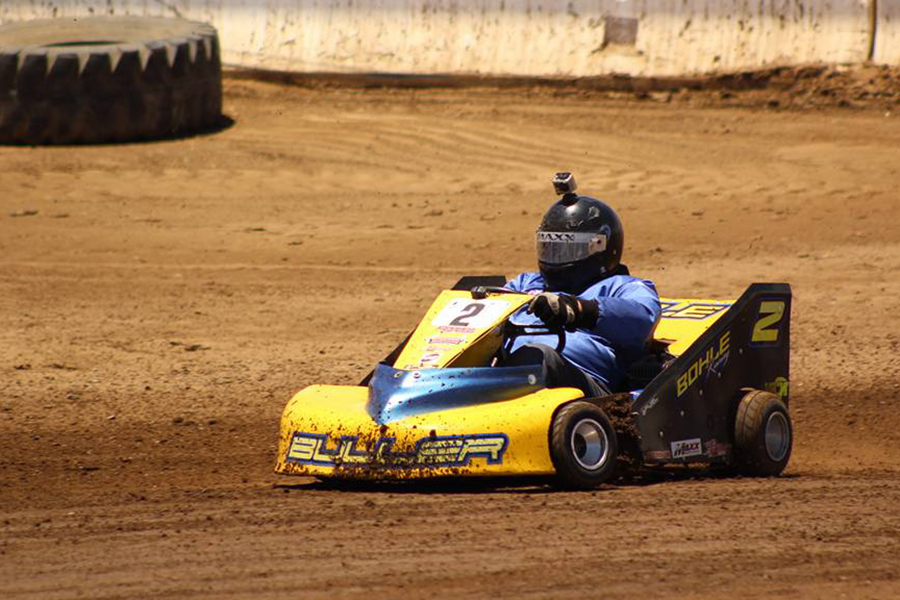 (Photo: Ronnie Benton)
I'm a big fan of karting, in general, meaning all its unique disciplines. I've raced four-cycle and two-cycle, I've driven in street races like Rock Island and Quincy in the Park, and on big car tracks like Mid-Ohio.  I've competed in the Florida Winter Tour in a 125cc shifter and driven on the dirt in a Champ buggy at Municipal Stadium in Daytona Beach during WKA KartWeek. There is one thing that I haven't done and I'd most definitely like to give it a shot, because I know that it would be a blast.  I want to try driving a sprint kart on a dirt road course.  Sounds awesome, doesn't it? Sliding left and right, full drifting while rolling on the throttle, pitching the kart from right to left to set up for a right hander….yes, it's karting's version of Red Bull Global Rallycross, minus the jumps and the million-dollar price tags.
Karting in Southern California is, and for the most part has always been, dominated by asphalt sprint karting.  Heck, that's where the sport was born. That said, dirt karting has been part of the SoCal seen for decades and thankfully, there is still a group that is focused on dirt oval racing in the region, running in Victorville and Perris. And, at least once a year, they head to Perris Auto Speedway to take on the challenge of dirt road course karting.  The So Cal Oval Karters does it a little different than the 'dirt' karters in the East and Midwest, who run slick tires on racing surfaces that get close to pavement on some nights. Modern dirt karting is a tire game, and hitting the right durometer numbers through the use of tire prep can mean the difference between winning and running at the back. Being quick and in the hunt for dirt oval wins means having a wall of your trailer dedicated to tires, featured countless sets that are prepped to hit certain durometer and stagger numbers.  The SCOK runs a true loose dirt surface more akin to the bigger full-size car dirt tracks, where grip isn't as prevalent.  They run Burris treaded tires, as opposed to shaved slicks, and new modern-tech offset dirt chassis are not mandatory for success. It's a super cool program where their members race hard, but have a great time.
The club ran their annual dirt road course event on June 10 and they attracted a great group of drivers, even drawing in a few sprinters who came looking for a new experience. I chatted with club president Mike Nigh and we talked about the event and how its developed. I was not surprised when Mike let me know that most of the club members were resistant at first to give the road course a try, being oval guys.  However, as a non-points event, everyone comes with a different attitude to just have fun, but of course, once the helmets go on the competitiveness comes out.
The club sent me a little overview with some event notes, which I wanted to pass on.
For the fifth consecutive year, Perris Auto Speedway Track Promoter Don Kazarian and his staff cut the club a dirt road course in the infield of the track. Each year, Don designs a unique course, and this year's layout was the raciest and provided many passing opportunities.  One of the club members from San Diego invited a few of his pavement karting friends up to give dirt a try, and they had a handful of racers join the party. There's even a push to have all the club events at the PAS be road course events in the future, but the club is currently looking to add two more dates scheduled there this year and they are working on at least one to be a road course.
The weather for the Saturday event was a pleasant surprise for the SCOK competitors and officials.  Cool temperatures and a light breeze made for a comfortable setting at the track, which is located just a few hundred feet from the base of the Lake Perris Dam.  In addition to the pleasant weather, officials and racers were pleased with the number of entries for the event.  Being a road course race for the oval track club, and considering the fact that it is a non-point race, this usually results in lower entries. However, no less than 35 karters signed in, making it the largest turnout for the SCOK in nearly two years. Each of the four classes contested two six-lap heat races and a 16-lap main event on the course that measured just over a quarter-mile long.  Despite it being the only road race scheduled so far this year, the action was clean and fast all day with only a handful of yellow flags.
This is a tremendous program and should be of interest to any SoCal karter who wants to come out and try something new.  If you're looking to expand your program, or want to check out the next SoCal Oval Karters road course event, make sure to check out their website, or follow them on Facebook.  I've included the links below.  I know that it's certainly on my bucket list for 2018.
SoCal Oval Karters
Club President: Mike Nigh – scokart@gmail.com
Website: www.socalovalkarters.com
Facebook: socal.ovalkarters