EKN Driver Diary: Andrew Byrne – Puget Sound Road Race Association
First time Road Racer experiences The Ridge in shifterkart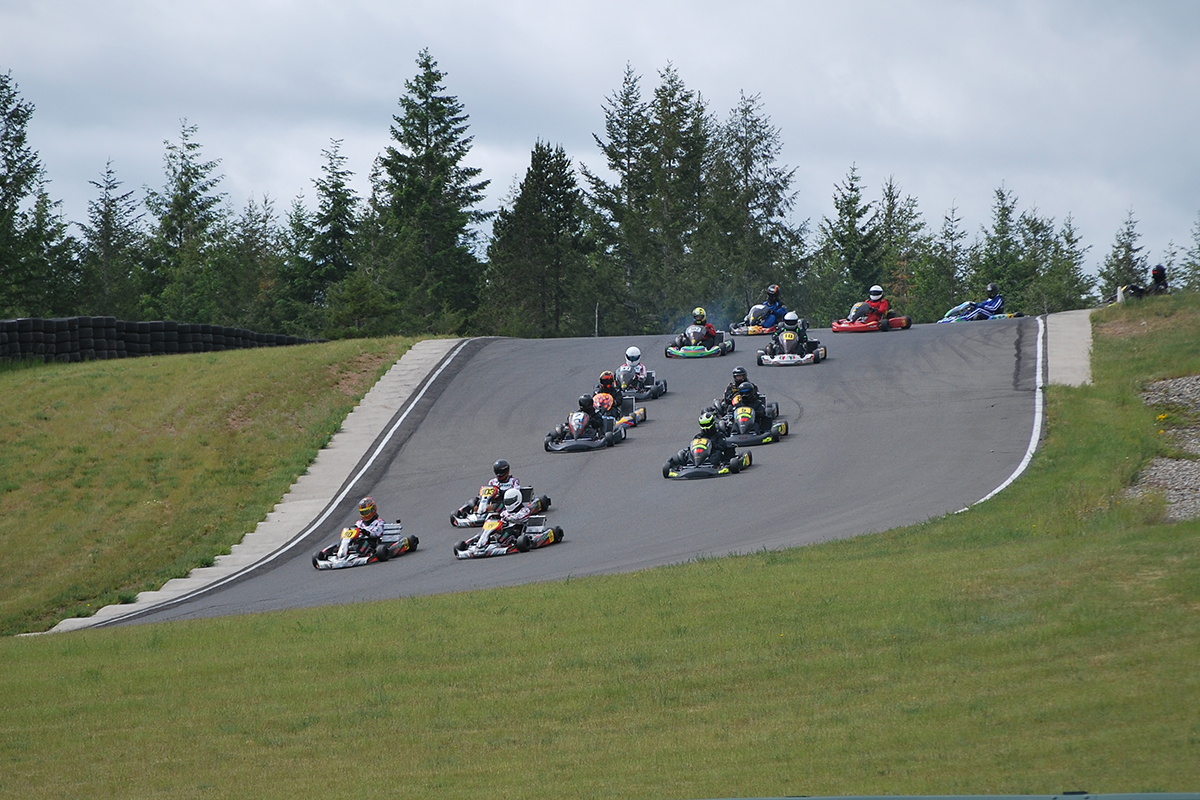 Shifterkarts completing their pace lap as they enter the Ridge Complex of the 2.47-mile course (Photo: A Byrne)
The following is from Andrew Byrne of Victoria, British Columbia. The 19-year-old began racing a TaG kart at Sumas International Motorsport Academy (SIMA) in northern Washington before moving up to a shifterkart last year. Having only raced at two sprint tracks (SIMA and Tri-Cities), Byrne took on the adventure of trying a road racing track, joining the Puget Sound Road Race Association at The Ridge.
Since I began karting in 2014, all I've known was the brutality and pure intensity of sprint racing. Having corners jumping at you faster than you can think and racing wheel-to-wheel every lap is what I live for.  Last weekend, however, I had the opportunity to try my hand at road racing for the first time in my karting career. This event took place on June 3 at the well-known Ridge Motorsport Park in Shelton Washington, hosted by the Stanford family at the Puget Sound Road Race Association.
As I mentioned above, all my experience in karting has come from sprint racing.  My club track is the Sumas International Motorsports Academy, where I race regionally in the TaG and shifter classes in my #90 Italkart.  The opportunity to try road racing came when my Italkart teammate Monroe Jordan mentioned that he was thinking about racing at The Ridge.  This was also his first time tackling a road race.  With such short notice, I had very little time to prepare myself for a vastly different style of racing.  I must have watched at least 15 hours of footage from road racing all over the world, and spoke with as many experienced racers as I could to learn as much as I could beforehand.
I arrived at the track a day early and met with many full-time road racers to discuss the differences between the two sides of karting.  The most common advice that I received was to be patient, learn how to draft, and to NOT attempt dive-bomb overtakes.  Most importantly, I was told to always have a drafting partner; if I was out in front but alone, it would only be a matter of time before I was hung out to dry.  As far as chassis setup, the only major change to make was my gearing.  In addition, I took out 1° of tow on each side as to aid my top speed, but not so much as to harm my turn in.
Come Friday practice, Monroe and I were massively eager to just get out on-track.  Despite the excitement, I took my time setting up my kart to make sure I left no stone unturned.  For me, my biggest concern was the longevity of my engine.  I was running my TM KZ10C shifter in the Formula 125 class.  At the Ridge, you are pinned at full throttle for over 25 seconds on the main straight; so to prevent sticking my engine at 110 mph, I set my jetting extremely rich, about 30% richer than my sprint setup.  My mindset coming into the weekend was to have fun, learn everything I could, and to not blow up!
Rolling out onto the track for the first time was a fantastic rush of new sensations.  In all honesty, the speed itself was nothing unexpected.  But what was surprising was the intensity of the wind pushing back on my head!  My first session was short as I came in after the wind blew off my neck brace on my first flying lap.  Despite the short run, when I came back into the pits I yelled out loud, "That was amazing!!"
Driving on a road track really is vastly different from sprint tracks.  Throughout the day, I tweaked jetting, tire pressures, and every lap I pushed the speeds that little bit further.  Once my teammate got on track later in the afternoon, we began practicing our race craft.  Drafting in itself is nothing out of the ordinary, but what was more difficult to learn was when to pull out of the draft when you have a run on another kart.  Pulling out of the turbulent air feels like deploying a parachute!  Running in a good slipstream is worth almost 10 mph, and you can also run at only 1/4 throttle and still match the leading kart's speed.  For the rest of the day, we practiced drafting, overtaking, and managing pace to conserve fuel.  With the races being 30 minutes long, and only 8.5 liter tanks, we knew our fuel consumption with the KZ engines could be a deciding factor.
Race day!
We had almost 200 entries from all over the Northwest.  The karts ranged from sprint karts like ours, to superkarts, laydowns, and engine diversity like I've never seen before.  Morning practice went smoothly, I scrubbed in my race tires and honed in my tire pressures.  I became concerned though after a rough calculation showed my fuel consumption would have me running out of fuel about five laps before the end.  The only chance I could make to help was to scrap my safe jetting and lean out my main jet by 15 stops to suck back a little bit less fuel.  To compensate for the leaner jetting, I backed off the advance on my ignition to bring down my EGT, even though I knew this would sacrifice my top end power.
Monroe and I started our first race leading the field in Formula 125 Limited; it is to be noted that in this race format, starting position is based on when you registered at the track.  Our game plan was to pull a gap to the Hondas and in the last few laps, race hard for the win.  He got the better start so I dropped in behind where I held station for the majority of the race, running in his draft and lifting early to conserve fuel.  The two of us pulled out a big lead; we had more than half of the main straight to the following karts.  Four laps from the end, Monroe put up his hand and pulled off having run out of fuel.  I lasted one more lap before running out myself.  Back in the pits, we needed to come up with a plan to finish our final race.  No one I could find or had a larger fuel tank I could use, so I could only continue leaning my engine and also fully backed off my ignition.
For the final, we again started on the front row, only this time we had to massively manage our pace.  I again dropped in behind to stay in the draft, only to lose a couple positions which I quickly got back.  Once we were 1-2, we backed off our pace, short shifting, drafting, lifting early in a last ditch effort to finish the race.  The #2 kart of Chris Hegar got in front of us in the closing laps, only for my drafting partner to retire with a sheared rear sprocket.  In the final laps, I had a fantastic battle with Hegar, taking back the lead and coming away with the victory on the final lap!
Summarizing, I must say that my first road race was a fantastic and memorable experience.  Massive thanks to Claudio Valiante and Chris, Italian Motors USA and all the new people and friends I met for making this a successful debut on a road course.  I strongly encourage all karters out there to try road racing at their next opportunity. Myself, I learned so much this past weekend, some of which I hope to improve my performance on the sprint track.  I look forward to a return to the road course scene soon, possibly for the IKF Road Race Grand Nationals at The Ridge on August 1-4.