Vantage Karting Group Taking Over Operations Of Homestead-Miami Kart Track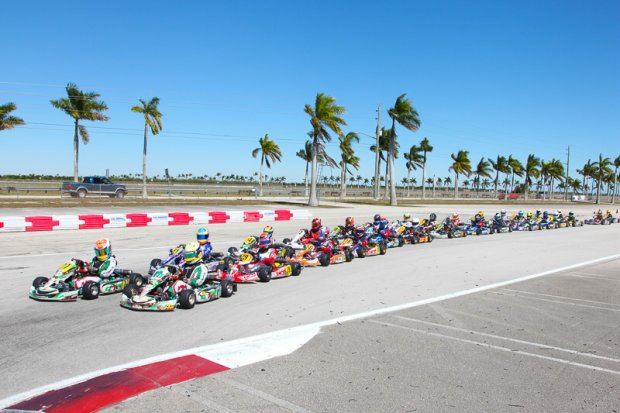 (Photo: Ken Johnson - Studio52.us)
Homestead-Miami Speedway and newly formed Vantage Karting Group (VKG) Entertainment announced today a new long-term partnership that will allow VKG Entertainment to assume an operational and managerial role of Homestead-Miami Speedway's premier kart track. The track, located on the Speedway grounds, is a multi-configuration 7/10-mile sprint course that hosts some of the most competitive kart racing events in North America.
Vantage Karting Group was formed by business partners Eric Jones and Justin Marks to streamline the import and distribution businesses of KartSport North America, IAME USA East and the Eastern North American distribution of MG Tires. Vantage Karting Group's track operations arm, VGK Entertainment, will be the official operator of the kart track at Homestead-Miami Speedway and will also operate all future karting facilities planned by Jones and Marks. Marks is a veteran of 69 NASCAR national series races between 2007-16, including two in the Monster Energy NASCAR Cup Series, 30 in the XFINITY Series and 37 in the Camping World Truck Series.
"Partnering with Homestead-Miami Speedway is something VKG Entertainment was created to do," said Jones.  "We're thrilled at the opportunity in South Florida and especially with such a great facility.  As our business expands and continues to grow, new opportunities in exciting markets is a top priority for me and Justin. Starting it all off at Homestead-Miami Speedway is a great way to bring our vision of entertainment, service and quality karting operations to new locations."
VKG Entertainment and Homestead-Miami Speedway are both committed to helping grow and develop the karting industry and provide racers and consumers with a first-class karting experience. The partnership will bring a heightened level of excitement to the facility.
"We are excited about the future of karting activities at Homestead-Miami Speedway," said Homestead-Miami Speedway President Matthew Becherer.  "We searched and considered many options in the karting industry and feel that VKG Entertainment was the best fit for operating the facility and realizing its full potential within a passionate and extensive South Florida karting market."
VKG Entertainment will move in to the facility and begin making improvements in mid-August. Some of the enhancements planned will include a rental kart fleet, a second track for rental racers, and a corporate hospitality area. VKG Entertainment has secured a title sponsor for the facility and will be announcing the sponsor and the new track name in addition to more exciting developments in the coming weeks.
Please follow and like us: