Conlon Scores Career First Wins in WKA Summit Point Nationals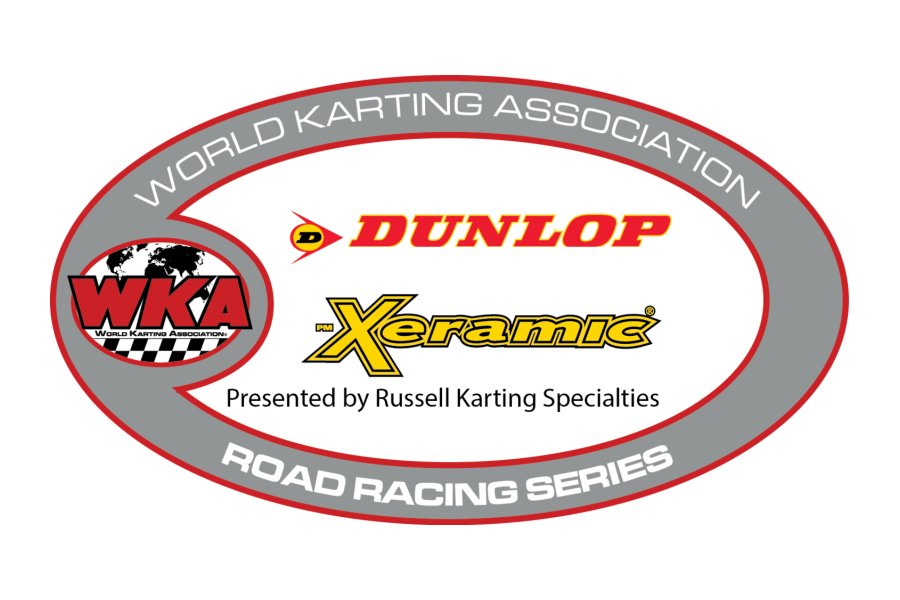 The third national event of the season for the Dunlop / Xeramic National Road Race Series presented by Russell Karting found some new faces in victory lane, along with some outstanding on track competition all weekend long at Summit Point Raceway in West Virginia.
Headlining the win category was Sean Conlon, scoring his first two career wins in one of the toughest classes of the weekend, the WT Racing IAME Sprint class, sweeping the weekends activities.
Other multiple winners over the weekend included Jason Lorang, again winning in laydown and situp by virtue of his Formula 100 and TaG Heavy wins. Louie Magiera swept the WKA Sprint category, while Jonathan Tedder took the top honors both days in a stout Animal Heavy field. Pascual Torres cleaned house in Stock Honda competition, while Sean O'Shea did the same in the 100cc Controlled class. Dan Febroriello pulled the broom out in the Yamaha Sportsman Sprint class, while Bill Holder took top honors in both Yamaha Sportsman Medium and Heavy.
For Conlon, his first win came Saturday in the WT Racing IAME Sprint class, topping Clark Gaynor Jr, Brad Adams, Chase Speacht, and Travis Waddell. Sundays race mirrored a Talladega finish, with the  top 6 running nose to tail, then fanning out 4 and 5 wide coming to the stripe, with Conlon again scoring the win, this time over Waddell, with Gaynor, Speacht, and Adams the top 5.
Bill Holder began his weekend off on the right foot, taking the CKI Yamaha Sportsman Medium class honors on Saturday over Scott Clark, Robert Cacoilo, Scott Dixon, and Simon Whitnell. On Sunday, Holder strapped on a little extra weight, taking the Heavy win over Whitnell, Michael Marr, and Scott Clark.
Midwesterner Jason Lorang continued his impressive season in both styles of Road Racing, first taking the KALL Racing/Millers Dynotime Racing Formula 100 event over Travis Miller, then taking the West Texas Outlaws TaG Heavy class over John Bryant, Gary Sircy, Brad Adams, and Charles Speacht. Lorang returned on Sunday for a sweep of the TaG Heavy action, besting Adams, Sircy, Speacht, and Bryant.
Louie Magiera continues his steady pace of wins, racking up another pair in the WKA Sprint category, first on Saturday over John Leins, James Leins, and Ian Krueger, then returning for the Sunday sweep over John Leins, JC Sanders, George Williams, and Ian Krueger.
Dan Febbroriello was next in line, taking the Yamaha Sportsman Sprint main over son Daniel, with the same result taking place on Day 2.
Sean O'Shea swept the 100cc Controlled class over the weekend, topping Ian Morgan both days, while Jonathan Tedder led the 4 Cycle charge, taking control of both Hoosier Racing Tires Animal Heavy wins. Tedder topped Rob Garland, Andrew Boyer, Ethan Beasom, and Bill Lewis on the first day, with David Clevenger, Tony Wimmer, Garland, and Boyer chasing Tedder across the stripe on Day 2.
Joining Jonathan Tedder in the 4 Cycle sweep category was Ben Thomason, taking both days of action in the Animal Lite class.
Pascual Torres was the final duel event winner over the weekend, sweeping the Fisher Racing Engines Stock Honda class, first topping David Harding, Steven Waddell, Gonzalo Correa, and Denver Liabenow on day 1, then returning on Sunday to best Waddell, Harding, Daniel Justice, and Collin Johnson.
Other winners over the weekend included:
Day 1:
Animal Medium: David Clevenger
Clone/LO206 Heavy: James Cartledge
Clone/LO206 Lite: Peter Mazzarella
125 Sprint Shifter: Thomas Dupont
The Agile Group Unlimited: George Sunderland
Yamaha Sportsman Heavy: Scott Clark
Junior Enduro: Logan Nedelka
TaG Junior: Jalen Dhanoolal
Junior Animal: Croix Beasom
CIK/LO206 Senior: Clark Gaynor Sr
X30 Laydown: JC Sanders
Yamaha Senior: James Rupert
WKC Vintage Open: Tony Elliason
WKC Open Sprint: Brad Schmider
WKC Vintage Piston Port: Arthur McKenny
Day 2:
CIKLO206 Senior: Clark Gaynor Sr
Junior TaG: Jalen Dhanoolal
Animal Medium: Tony Wimmer
Junior Animal: Croix Beasom
Clone LO206 Heavy: Andrew Boyer
Junior Enduro: Logan Nedelka
Yamaha Senior: Don Johnson
WKC Vintage Euro: Derek Somers
WKC Vintage Open: Fiona Anderson
The weekend wasn't entirely about on track activity, as longtime veteran supporters Bill and Peyton Miller became the latest 2 inductees into the World Karting Hall of Fame, during the Saturday morning drivers meeting, while many of the Woodbridge Kart Club competitors were honored Saturday evening at a cookout at the track, being recognized for their efforts in 2016.
Special thanks to WKC President Rodney Smith and his entire staff for their great hospitality and professionalism throughout the weekend.
The WKA and WKC will unite once again July 21-23 for the 4th national event of the season at the newly repaved Virginia International Raceway. Entry info will be made available shortly on the Woodbridge Kart Club site.
Please follow and like us: